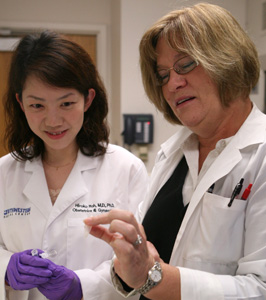 The Department of Obstetrics and Gynecology has a long history of conducting basic research. Today, faculty in the Division of Basic Reproductive Biology Research are studying diverse aspects of female reproductive biology with a focus on molecular mechanisms.
Bruce Carr, M.D., is studying the role of CYP17 (17-hydroxylase) in polycystic ovary syndrome (PCOS), a hormonal disorder that can affect a woman's ability to become pregnant. He and former faculty member Victor Beshay, M.D., have identified a transcription factor, c-FOS, which appears to control and inhibit CYP17 production in the ovary. The ultimate goal of this research is to develop new clinical protocols to treat women suffering from PCOS.
In the Cecil H. and Ida Green Center for Reproductive Biology Sciences, W. Lee Kraus, Ph.D.'s research focuses on signaling and gene regulation in a cell's nucleus by small molecules, including the steroid hormone, estrogen. His investigations are aimed at understanding how these fundamental processes might occur differently in cells of the reproductive tract than in cells of other systems in the body, and how these processes go awry in disease states like cancer.
Mala Mahendroo, Ph.D.'s research focuses on understanding the molecular events throughout pregnancy that bring about remodeling of the cervix from a closed, rigid structure to one that expands sufficiently to allow passage of a term fetus.
In Clifford Wai, M.D.'s laboratory, the focus is on female pelvic floor disorders and understanding the functional anatomy of the lower urinary tract and sphincter.
Several faculty members with appointments in the Department of Obstetrics and Gynecology have their laboratories in the Green Center. Laura Banaszynski, Ph.D., is focusing on improving our understanding of the chromatin-based mechanisms regulating fundamental cell-fate decisions in pluripotency and differentiation that are essential to our understanding of developmental processes. Gary Hon, Ph.D., is developing a comprehensive understanding of how the millions of non-coding regulatory elements encoded in our genomes precisely coordinate gene expression in developmental and disease contexts. Xin Liu, Ph.D., is addressing the molecular mechanisms of start site selection for RNA polymerase II, and exploring the RNA polymerase II transcription in the context of the three-dimensional structure of the genome.
Cristel Camacho, Ph.D. is characterizing the molecular basis of breast cancer phenotypes with an emphasis on PARP biology. Haiqi Chen, Ph.D. focuses on understanding the molecular regulation of gametogenesis, mechanisms of transgenerational inheritance, and the etiology and treatment of infertility. Ed Grow, Ph.D. studies how the early embryo transitions from global transcriptional quiescence to activation during a process called embryonic genome activation. Ben Sabari, Ph.D. focuses on the roles of protein disorder, regulatory DNA element clustering, non-coding RNA, and active processes in regulating nuclear condensate formation and function.
Program Project Grant
In addition to individual investigator-initiated research grants (R01s, R21s) from the National Institutes of Health (NIH) and private research foundations, faculty in the Division of Basic Reproductive Biology Research also have a program-project grant (P01) from the NIH.
This research program, titled "Initiation of Human Labor: Prevention of Prematurity," has been continuously funded by NIH since 1974. Although initially funded as a program project grant, in 1977 the funding mechanism was changed to that of a Major Research Program. In 1983, the funding mechanism was again modified with implementation of the Perinatal Emphasis Research Center program. In 1997, the competing renewal again took the form of a Program Project Proposal.
Over the course of its life, the program project grant has included many different faculty with primary or secondary appointments in the Department of Obstetrics and Gynecology.
The current program director is Carole Mendelson, Ph.D., who has a secondary appointment in the Department of Obstetrics and Gynecology. In addition to Dr. Mendelson, participating faculty include Drs. W. Lee Kraus, Mala Mahendroo, and Ann Word.
The grant provides support for the Department's core tissue laboratory for both the acquisition and processing of human tissue to meet the experimental needs of various projects.
Under the direction of Dr. Word, the Human Tissue Acquisition and Uterine Monitoring Laboratory contains phenotypically well-characterized tissues from pregnant and non-pregnant women cared for on our services. These tissues are not only critically important for research being conducted in the Department but also help support research elsewhere on campus.
In partnership with Sandia National Laboratories, the core laboratory is also working on the development of intrauterine pressure sensors, data acquisition, and data analysis.