Whitney Stuard
Medical School Class of 2021
As I was sitting in the lab staring at the petri dish of cells, I began counting down the seconds to when I would add the last ingredient. If my cells were "stressed," then they would turn yellow due to the presence of a protein called IGFBP-3. If they weren't, it was right back to the drawing board. At that moment, I was not sure if my cells were stressed, but I knew that I was.
I was researching different inflammatory proteins in the eyes and how they affected the sub-basal corneal nerve plexus in relationship to Diabetes Mellitus Type 2. This was the first step in a new evaluation technique of diabetes progression, particularly in one of diabetes' most devastating side effects, retinopathy and keratopathy.
Drawn to discovery and impact of research
Although it often takes many years for a screening technique to become sustainable and translatable to clinical practice, experiments like these are the first steps. It is this potential for discovery and laboratory impact that first drew me to research.
When I was six years old, I visited my first ophthalmologist because my eye was punctured by a pair of scissors, which nearly left me blind in one eye. At the time, I did not realize "an ophthalmologist" was a type of doctor, but I was thankful to the person who allowed me to keep my sight. For the next few months, I wore an eye patch and pretended I was a pirate. However, I never forgot the fear of losing my vision and since then I have wanted to become a doctor who works with eyesight.
As I developed a passion for care, I found an equally exciting passion for the academics of medicine. Academics opened me up to the world of research, which allows me to explore new ideas through collaboration with peers. In medical school, I further explored my interest in ophthalmology, which inspired me to study the effects of diabetes and crack cocaine on corneal nerves.
During my first summer and scholarly activity block, I had the opportunity to devote myself to research full time. Throughout this, I have been able to present at national and international conferences as well as published first authored manuscripts in academic journals. I was also able to participate in Works-in-Progress seminars in my department and Journal Clubs with other students.
Uncovered passion for research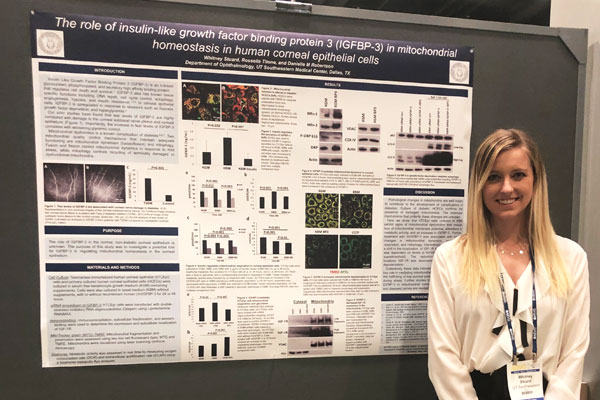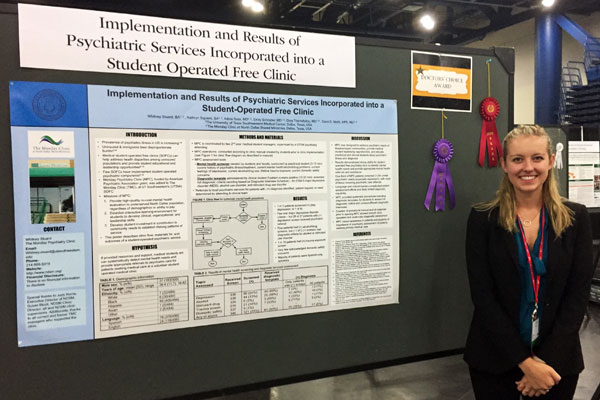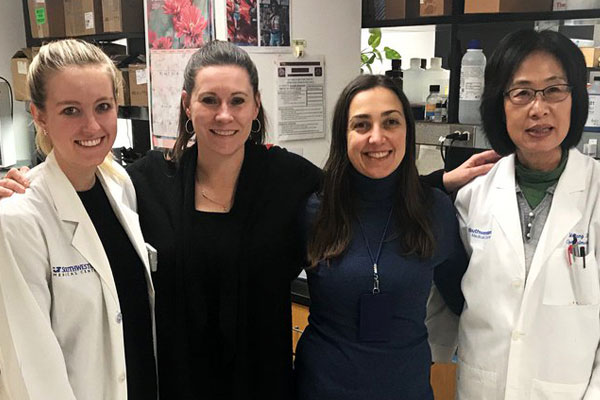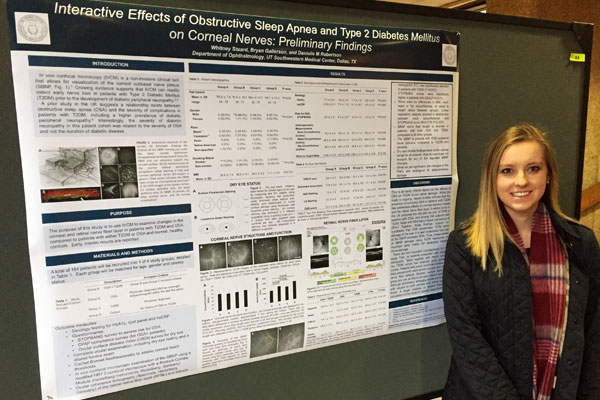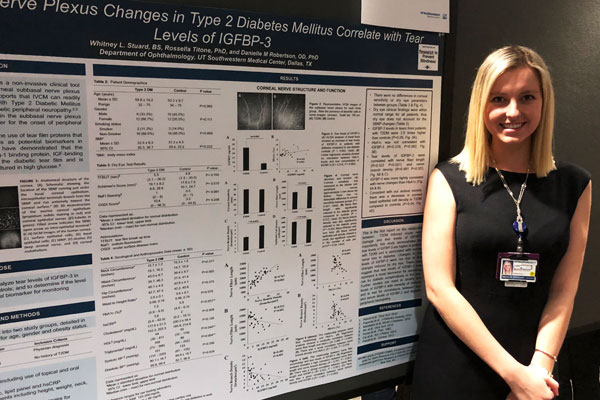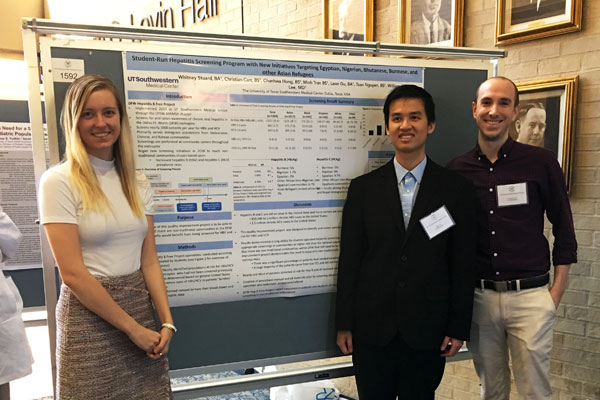 These activities allowed me to start to understand how to interpret and apply data. Both designated research times allowed me to uncover my passion for research that I may not have otherwise been able to explore. The programs allowed me to pursue research that I was interested in and mold my own pathway.
As I have progressed through medical school my interest and passion for research has exponentially grown. In my third year of medical school, I applied to the Dean's Research Scholars program offered by the medical school. This program allows students to take a funded year off medical school to pursue research full-time on the UT Southwestern campus. During this year I was able to learn basic science lab techniques and expand my fund of knowledge. I also participated in graduate school classes, such as biostatistics and research design, to learn how to perform efficient and productive research.
Additionally, the unique continuity and schedule of a full-time researcher has allowed me to be more involved in the creative process and spend time bouncing ideas off colleagues. I was able to begin to learn to network with peers who have a similar passion for research and mentors who are leaders in their field.
With the encouragement of the faculty and administration I have been able to participate in many of the wonderful research opportunities offered to medical students. Through this I have learned that I want to be a physician scientist and pursue research as an intricate part of my future career. Each research program I have participated in at UTSW allowed me to grow and take steps toward becoming a successful physician and scientist.
Today, my experiences have cultivated a passion for medicine defined by balance in care, work-life and practicing while advancing. As a physician researcher, I will have the opportunity to effect change not just to society's current state, but also its future. To accomplish my future goals, I have transferred to the M.D./Ph.D. program to dedicate myself to pursuing my Ph.D. Through this, I want to contribute to the ophthalmologic community through scientific discovery.
– Whitney Stuard, Medical School Class of 2021