Our History
Early Beginnings
The origin of UT Southwestern Medical Center lies in the years before World War II, when a group of Dallas citizens formed the Southwestern Medical Foundation to encourage medical education and research in the area. At the time, Baylor University had the only medical school in Dallas, then a city of fewer than 300,000 people. In 1943, however, Baylor decided to move its school to Houston so the Foundation formed Southwestern Medical College. The facilities consisted of a few abandoned wartime barracks housing a small library, classrooms, a few laboratories, and an animal facility.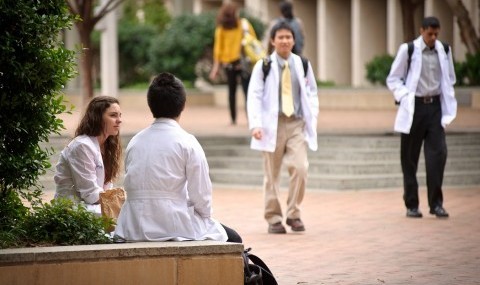 Post-War Progress
After the war, the University of Texas decided to add a medical school. The Foundation volunteered to help, provided the school was established in Dallas, because it already had an infrastructure in place. The university system agreed and in 1949, it became the Southwestern Medical School of the University of Texas, established in the buildings from the old medical college. The school moved to its present site on Harry Hines Boulevard in 1954, setting up next to the new Parkland Memorial Hospital, Dallas' large public hospital. (Parkland became famous Nov. 22, 1963, when President John F. Kennedy was assassinated.)
UT Southwestern Today
The institution has gone through several name changes and is now UT Southwestern Medical Center, of which the Medical School is a part, along with the Graduate School of Biomedical Sciences and the School of Health Professions. UT Southwestern has five affiliated hospitals, including Parkland Hospital, Zale Lipshy University Hospital, William P. Clements Jr. University Hospital, Children's Medical Center, and the Dallas Veterans Affairs Medical Center.
U.S. News & World Report ranks UT Southwestern 19th in Primary Care and 26th in the country in research. Our faculty has won six Nobel Prizes, and has 22 members of the National Academy of Sciences, 16 members of the National Academy of Medicine, and 15 Howard Hughes Medical Institute Investigators.
UT Southwestern continues to move forward, educating the next generation of physicians and researchers. In December 2014, we opened the $800 million state-of-the-art William P. Clements Jr. University Hospital. The 12-story, 460-bed facility is an essential component of UT Southwestern's commitment to become one of the top 10 comprehensive academic medical centers in the nation.