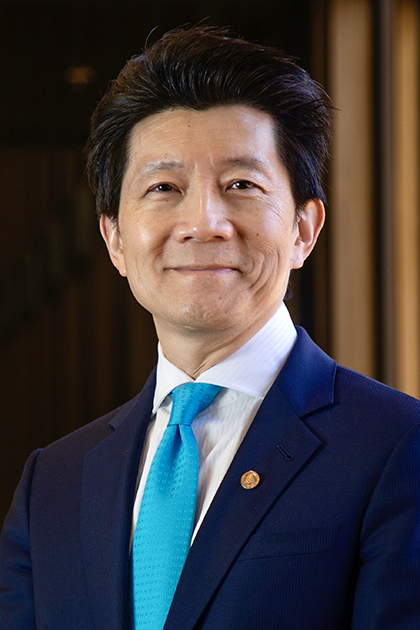 Thank you for visiting the UT Southwestern Medical School website. I hope the information you find here will be helpful as you explore centers of excellence in medical education.
UT Southwestern ranks among the top medical schools in the country. Our faculty is of the highest quality in the areas of the basic sciences, the clinical sciences, and in clinical medicine. In fact, UT Southwestern has had six Nobel Prize recipients among its faculty since 1985. Similarly, we are among the country's leaders in terms of membership in other honorific scientific organizations such as the National Academy of Sciences, the National Academy of Medicine (formerly the Institute of Medicine), the Association of American Physicians, and the American Society of Clinical Investigation.
Yet research is not the only forte of the UT Southwestern faculty. In the annual survey of graduating medical students conducted by the Association of American Medical Colleges, UT Southwestern graduates perennially identify the faculty – their teaching skills and accessibility – as one of the great strengths of our institution. Basic and clinical sciences are taught to medical students by faculty members who are renowned experts in the specialties they teach.
Medical students at UT Southwestern have access to training at some of the best clinical facilities in the country. Parkland Hospital, Dallas County's public health care center, is the primary teaching hospital of the Medical School and provides students with an outstanding setting to learn medicine by observing and participating in the care of patients. Other affiliated hospitals, such as Children's Medical Center Dallas, our University Hospitals – William P. Clements Jr. University Hospital and Zale Lipshy Pavilion – William P. Clements Jr. University Hospital – and Dallas Veterans Affairs Medical Center, add to a clinical experience that is unmatched.
The advances in basic science research, technology, and patient care that are reported on an almost daily basis make now an exceptional time for the study of medicine. Never before in the history of medicine have the opportunities been so great to understand and cure disease. It is within the context of these limitless possibilities that UT Southwestern seeks to educate the physicians and scientists for a new millennium. We're practicing – and teaching – the future of medicine, today.