UT-FOCUS Fund to Retain Clinical Scientists
We are announcing a request for applications for support from the UT Southwestern - Fund to Retain Clinical Scientists (UT‑FOCUS) affected by COVID-19. The UT-FOCUS program provides supplemental support to early-career physician-scientists who face significant caregiving responsibility as a result of the COVID-19 pandemic. The goal of the program is to retain such scientists in the research enterprise. We are one of only a few institutions nationwide to be selected for this important award. We encourage junior investigators, who are experiencing significant caregiving burden, to apply.
Award description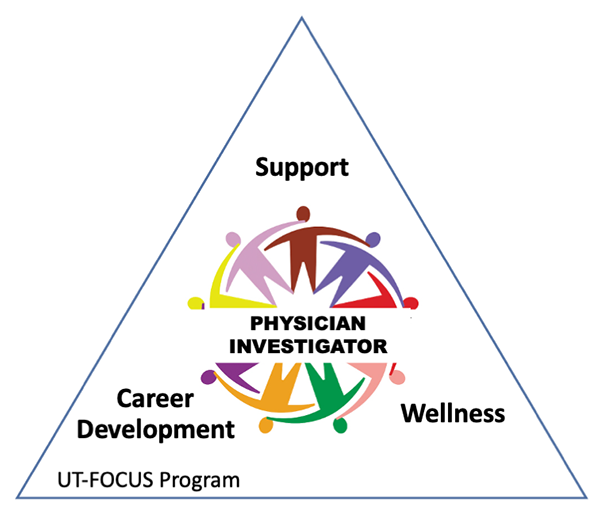 The UT-FOCUS program would provide support in the amount of $50,000 each to early-career research faculty selected through a competitive process. Given that academic faculty facing caregiving challenges find time as a critical and limited resource, the UT-FOCUS supplemental funds would be flexible so that they can be used by awardees to provide access to and command of valuable time resources that are crucial to research productivity and work-life flexibility.
Awardees could, therefore, use the UT-FOCUS supplement to:
Fund "extra research hands" such as additional partial FTE for research coordinators, research technicians, etc., to off-load research tasks to others;
Support salary to protect additional time for research;
Pay for additional resources and services. These include biostatistical services, data analyst services, database development, phlebotomy, human sample processing and storage, among others.
Additional Resources
UT-FOCUS awardees will receive:
Advice and support of their Individualized Career Development Plan to ensure continued success in reaching research, publication, and grant funding milestones. This

will

be organized by the Executive Committee in collaboration with the awardee's Mentorship Committee and Division Chief/Department Chair.

Preferential acceptance for interested faculty who are looking for more training in grant writing and leadership into the following training programs offered at UT Southwestern: Successfully Obtaining an R (SOAR), Professional Coaching, and Leadership Emerging in Academic Departments (LEAD).
Individualized support to help navigate institutional resources ranging from research support to wellness support to reduce time spend on these tasks.
Access to a

trained integrative health and wellness coach

. (jaime.harry@utsouthwestern.edu)
Application and Key Dates
Applications are due by July 15, 2022.
Required information

NIH Biosketch
Other Funding Support
Personal Statement
Research Plan and Itemized Budget - plan should be no longer than 3 pages, 11 point type, narrow margins (0.5 in), including specific aims.
Letter of Support from Division Chief/Department Chair
Letter of Support from Research Mentor/Mentoring Committee
Eligibility Criteria
Physician scientist with an M.D., M.D./Ph.D., D.O., or foreign-equivalent degree from an accredited institution
Any early career full-time Instructor or Assistant Professor OR Assosicate professors at rank ≤1 year
At least 50% effort allocated to research

(basic, translational, or clinical)

Engaged in research with high potential to improve human health
Hold an intramural or extramural career development award or research project grant with annual direct costs sufficient to provide both research and salary support
Ability to demonstrate that the supplement is time-sensitive to regain research momentum because of increased caregiving responsibilities caused by COVID-19
Leadership