New tendon reboots soccer career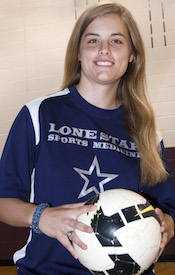 Paige's soccer season during her sophomore year did not go quite as planned. During the first day of soccer practice she went up for a ball when one of her teammates cleated her. She felt her knee hyperextend and fell to the ground from the pain. After several minutes on the ground with the trainers massaging her knee, Paige was able to get to the bench with assistance.
After spending some time on the bench, the coach put her back into the game. Because of the pain, Paige told her teammates, "Whatever you do, don't pass the ball to me!" But, someone sent the ball to her. Instinctively she kicked the ball, hyperextending her knee and falling to the ground again.
"After a week we went to the doctor, got X-rays but nothing showed on that since it was ligaments," Paige said. "That same day I went for an MRI. A couple days later they told me I had torn my ACL and meniscus. But I didn't believe them at first, I was in shock saying, 'No, this can't happen.' After a few days I could walk, I wasn't in that much pain, it was just a little unstable. I kept thinking it was going to get better. But it didn't."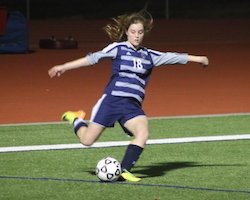 Three weeks after being injured Paige headed to surgery to repair both her ACL and meniscus. The initial plan was to use her own hamstring for the reconstruction. However, during the surgery the surgeon decided to use donated tissue, a gracilis tendon, for the repair.
Paige's total recovery time was eight months with the first six weeks being spent on crutches. Her education as an athletic trainer helped her realize the importance of taking her time and making sure she didn't reinjure the knee by rushing things.
By the start of her junior year Paige was able to return not only to her athletic trainer duties but also to the varsity soccer team. She was named captain of the team that year. Her recovery and attitude were inspirational to her team.
Looking to the future, Paige wants to major in Physical Therapy with an emphasis on sports medicine. Despite being a trainer since her freshman year Paige says her own injury is what opened her eyes to how a moment can change a life. She wants to be able to help others overcome their injury even if they think they can't.
Thanks to a donated musculoskeletal allograft, eight months of rehabilitation, and a drive to succeed, Paige was able return to the game she loves as well as a normal lifestyle. Soon she will be going to college, thanks in part to a soccer scholarship (and of course being in the top 10 percent of her class doesn't hurt).
Not long after the surgery Paige wrote a thank you letter to her donor family saying, "I am not going to let this injury break me, this experience will make me stronger, and make me appreciate the little things in life that matter the most."