New vision for new insights
For Emma, the first semester of her freshman year in high school was going as planned. She was reading, enjoying activities with her friends, and looking forward to an unexpected opportunity to travel to Europe over the Christmas break with her family. The last thing she expected to hear early in her second semester was, "You need a cornea transplant."
Emma avidly reads a wide range and variety of materials. Her reading fuels her enjoyment of discussing politics and current affairs as well as providing relaxation. While philosophy is her favorite thing to read, she balances this with having Mark Twain as her favorite author.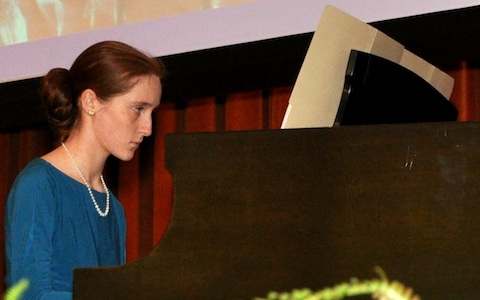 Emma plays the flute in the school band and piano at home, challenging her piano skills through competitions and recitals. She also dances ballet. Her enjoyment of reading and following current affairs fuels her participation in the speech team at school. She dreams of becoming a medical researcher.
In the late fall, Emma noticed her vision in one eye getting hazy. The increasingly poor vision was accompanied by increasing discomfort. Assuming she just needed a new prescription for her contacts, she saw her optometrist, who immediately scheduled an appointment with a cornea specialist. The next day Emma and her parents were on their way to see the specialist.
During this first visit, Emma was diagnosed with keratoconus, a disease where the normally round cornea becomes cone-shaped, and received unexpected news – Emma needed a cornea transplant. The disease had progressed to the point where there were no other treatment options to restore her vision. All she could see from her right eye was colored blurs as if she was looking through wax paper.

"It was very bizarre, people my age don't need transplants," Emma said. "All I could think was someone else needed this transplant more than I did."

The surgery was scheduled and preceded with no difficulties.
"A cornea is not as dramatic as a lung or a heart – if I still had my old cornea I would remain alive," Emma reflected. "But my new cornea improved my life in so many ways. Prior to the surgery I only saw blurs out of my right eye, like I was looking through wax paper, while two weeks after the transplant I could hardly believe how well I see."
Emma wrote to the cornea donor's family to express her appreciation for making transplant possible. "Thank you for giving me the gift of sight … I am so grateful for your generosity and that of my donor. I can't thank you enough."
Later in the year, Emma demonstrated her appreciation by performing on the piano at the Transplant Services Center's annual "A Celebration of Thanksgiving for the Gift of Transplantation Medicine," which honors donors and their families. With almost 500 people attending, it was her largest audience for a performance. It was a powerful demonstration of the gift of sight.