Family completes circle of care
"Completing the Circle of Care Between Donation and Transplantation" is the way the Transplant Services Center describes its mission. For Peg Breeding the phrase describes two events touching people in her life in very different ways.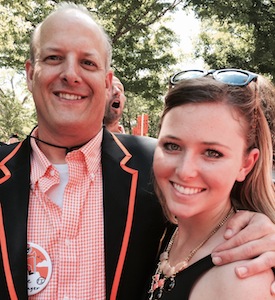 When her daughter Whitney was 17, she needed a tooth implant to take the place of a tooth missing since birth. It was discovered the implant might not be possible since she had suffered so much bone loss along her jaw under the area of the missing tooth. The bone loss was also evident on the other side, putting another tooth at risk.
The solution was donated tissue grafts. On the right side of the lower jaw Whitney received a small graft, while a longer graft was used on the left in the area of the missing tooth. Both grafts were successful and Whitney soon had the full functionality of a healthy jaw and teeth. A secondary success was her dazzling smile, which she puts to good use as a USC cheerleader.
Several years after Whitney's surgery, Peg had an abrupt and painful encounter with the other side of the donation/transplantation story when her partner of eight years, Michael Mayer, suddenly passed away. He was a registered eye and tissue donor.
Raised in Sherman, Texas, Mike played football for and graduated from Sherman High School before earning his undergraduate degree at Princeton and his Master's at Columbia University. Despite such Ivy League influences, Mike was an avid hunter and fisherman, being an excellent shot and a patient angler. Other favorite pastimes included music and attending concerts.
As a Licensed Clinical Social Worker Mike spent his professional life helping people. In particular, Mike focused on using his skills as a mental health specialist to assist children. His goal was to be a resource for those children having issues growing up, being bullied, having difficulty respecting authority, and how to love and accept yourself for your uniqueness.
It was no surprise to his family or friends that Michael was a registered donor. After all, so many of them commented upon his caring, his generosity, and his compassion, as well as the energy and joy he brought to life. Mike was able to donate corneas and bone.
In talking about her decision to register as an eye, tissue, and organ donor, Whitney said Mike made an impact on her life as well as inspired her decision to be a donor. "Mike was the most caring person I've ever met," Whitney said. "He taught me how important it is to care for others; that success is not necessarily on the job you have, but rather how you help people."
Mike left behind a legacy of warm, loving memories and healing. Healing, not only as the results of his professional skills, but also from his decision to be an eye and tissue donor.
The most touching testimony comes from Peg. "I thought we would be together another 30 years. I miss him every day."