Transplants enable more enjoyment with family, grandchildren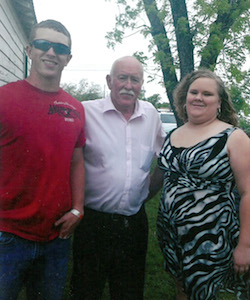 Cornea recipient Kenneth recently shared a work newsletter containing an article he had written about his corneal transplants. He has graciously agreed to share his story.
"My family has a history of having eye disease and as a result five years ago I was told by my ophthalmologist I needed a cornea transplant as well as a cataract removed. At that point I was willing to do whatever I could to improve my vision. The first cornea transplant made a huge difference in my eye sight. I no longer needed to wear corrective lenses to perform daily activities. About three months ago I had another cornea transplant on my other eye. And now that I have had the surgery I am enjoying many more activities with my family, especially the grandchildren."
Kenneth is very grateful to the two families whose gift of donation provided the corneas for his transplants. He has shown his appreciation by sharing his story along with information about tissue and eye donation with friends, family, and through the newsletter at work.
In his newsletter article Kenneth wrote, "Tissue donation occurs after death. While our hearts are saddened by the loss of anyone's loved one, many families find comfort in the knowledge that others are being helped. Just one tissue donor can improve the lives of 50 or more people."
For more information about donation and transplantation or to sign up, visit the Glenda Dawson Donate Life Texas donor registry.