Juan's love story
It is a love story… Anyone listening to Juan speak quickly realized he was sharing a love story. On a beautiful spring morning in Fort Worth at the Transplant Services Center's annual Celebration of Life, Juan Espino, a donor husband, shared the story of his wife and the people she helped through her donation of eyes, organs, and tissues.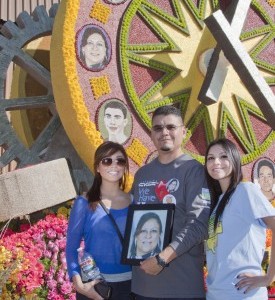 Juan starts off describing the first time he saw Stella. He knew immediately she was the love of his life and soon they were married and raising a family. One day Stella saw a news story on donation which changed the outcome of this love story. Stella was well-known for her loving, generous spirit and the decision she made that day after learning about the benefits of organ, eye, and tissue donation reflected this generosity. From then on, she made sure her family knew about her desire to help "one more person" through donation.
Time passed and Juan and Stella began planning their 25th wedding anniversary. Juan remembers how happy they were and how much he was looking forward to getting to marry the love of his life again. However, Juan learned how quickly life can change. At the age of 44, Stella suffered a brain hemorrhage and three days later Juan and his daughters were able to fulfill her wish to help one more person. In fact, Stella helped 90 people through her donation of eyes, tissues, and organs.
Despite Stella's death, the love story continues. Juan volunteers all across North Texas to share the message of love and hope that Stella's donation represents. Stella's story was shared with the world on the pages of American Way, the in-flight magazine for American Airlines. Stella was also honored with a floragraph on the 2012 Donate Life float entitled, "…One More Day" in the Tournament of Roses Parade. Juan was one of 28 riders on the float.
Looking around at the beauty of the Fort Worth Botanic Gardens, Juan talks about the gift of sight Stella provided to an 81-year-old man and a 55-year-old female.
"Who can't appreciate being able to see on such a beautiful day in such a beautiful place," he said. "Stella would be so pleased."
"Donation is more than saving lives, saving vision or helping people… it is about love," he added.