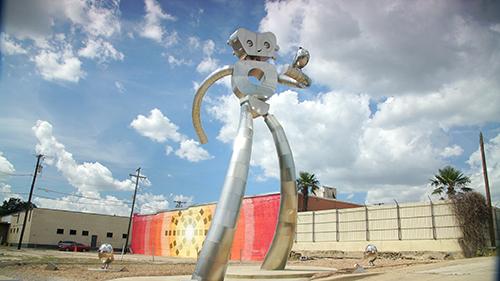 Welcome to Dallas!
Whether it's chicken tikka tacos at 2am, free yoga sessions in Klyde Warren Park, or a new exhibition at the Nasher Sculpture Center, there is always something new to discover in Dallas.
(Photos courtesy of VisitDallas)
It's All About Location
Location matters, even during residency, and Dallas blends culture, music, art, and fun into one big city. There is always something to do, somewhere to go, and something new to see. Jump in, explore, and experience all that Dallas has to offer.
Explore the Neighborhood
Everything is bigger in Texas, and Dallas is no exception. With over 12,000 restaurants, 30 neighborhoods, and millions of residents, Dallas is the 9th largest city in the U.S. It's a veritable melting pot of languages, cultures, and people from all over the world right here in cowboy country. If you are not sure where to start, check out the events calendar and browse the below list for places to go and things to see.
Dallas Arts District
This is the largest contiguous arts district in the nation and it attracts over 40,000 people to its annual block party alone. Park in the lot at Flora and Olive and spend the day exploring the museums, theaters, and music venues. Then walk over to Klyde Warren Park for a bite at Savor or one of the many food trucks that line the park. There are even free yoga classes in the park most Saturdays. Check the calendar or search #DallasArtsDistrict for upcoming events.
Deep Ellum
Deep Ellum is the musical heart of the city. Over thirty live music venues are scattered through this neighborhood of mom and pop shops, restaurants, pubs, and apartment buildings. In the 1920s, Deep Ellum was known for jazz and blues. In the 80s, it was a launch pad for local bands like Toadies and Tripping Daisy, and today its venues host hometown favorites alongside some of the biggest names in the business.
Trinity Groves
The newest kid on the block, Trinity Groves is part of a Trinity River revitalization project that is designed to serve the ever-growing Dallas community. This is the place to host an event at a taproom, grab some sushi with friends, or sample some barbeque while listening to a live blues band, all next to the soaring arch of the Margaret Hunt Hill Bridge.
Bishop Arts District
For those looking for a small town vibe in the big city, Bishop Arts District is the place for you. Nestled among one of the oldest neighborhoods in Dallas, Bishop Arts is home to red brick retail shops and restaurants along tree-lined avenues. Grab a book and coffee at Wild Detectives, a slice at Eno's, or even a new bicycle at the Oak Cliff Bicycle Company.
Uptown
Sleek Uptown is the chic home to over 19,000 residents. Take the dog for a run at Katy Trail, then grab brunch with friends at one of the many spots around town.
Sports in Dallas
Dallas is a haven for sports fans. In fact, 65 events took place in Dallas in 2017 alone. With 22 stadiums and venues open to the public and some of the biggest professional teams in the nation, Dallas residents have the world of sports at their feet. Check the Dallas Sports Commission calendar for upcoming events.