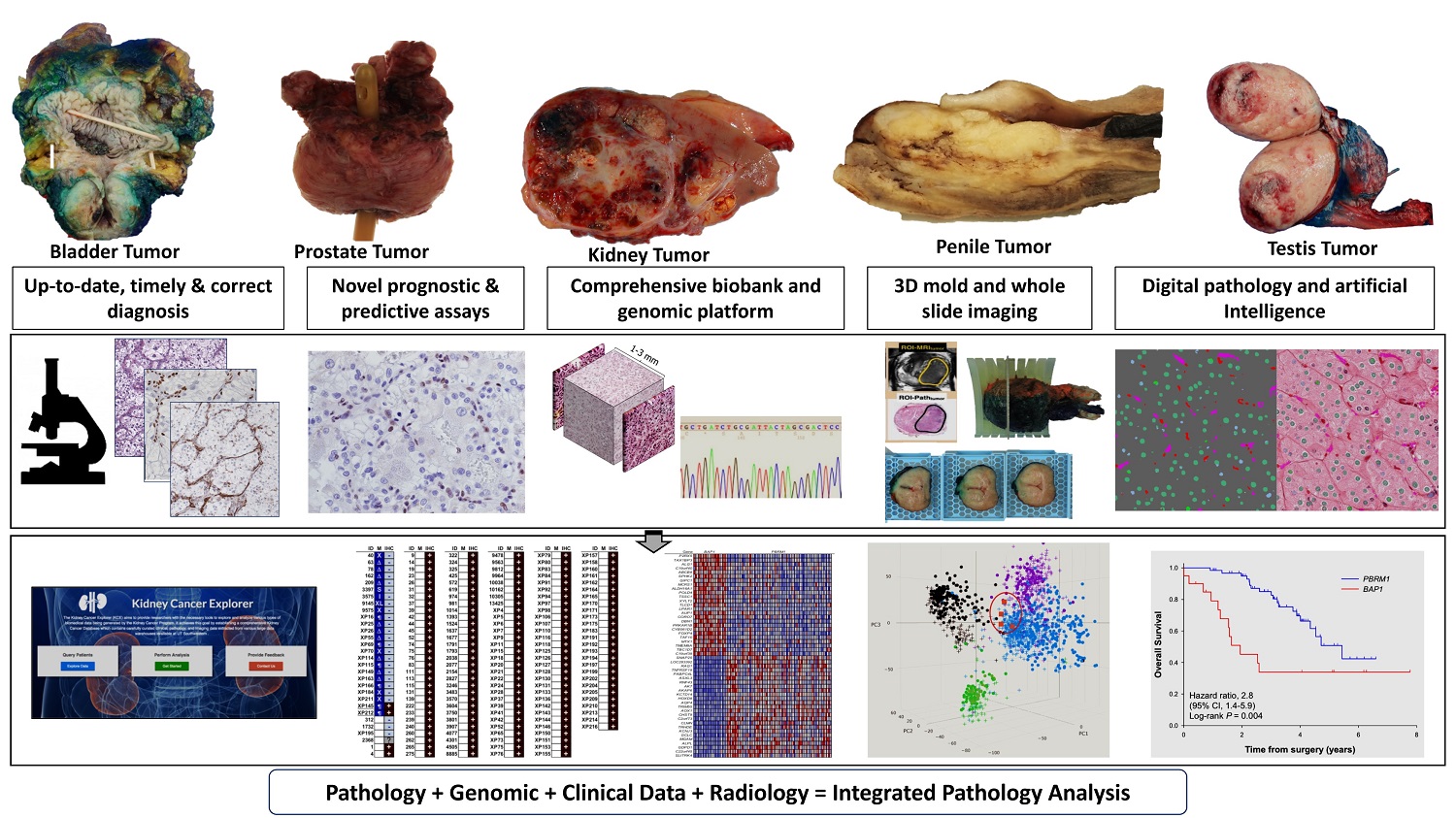 Overview
The Division of Genitourinary (GU) Pathology at UT Southwestern Medical Center (UTSW) has a distinguished team of physicians and staff that are devoted to providing the best care to our patients for urologic conditions of the kidneys, ureters, bladder, prostate, adrenal glands, and the male genital organs. Our team consists of members that are internationally renowned and have made significant contributions to advance the field.
Highlights
Patient Care
Pathology is the center of clinical management. We embrace this responsibility and work toward timely and correct diagnosis and developing novel tools to characterize the spectrum of genitourinary diseases. The following points characterize our team:
Well-trained, board-certified, experienced physicians who focus on GU pathology.
State-of-the-art personalized 3D model and whole mount program for prostate and kidney cancers that can integrate radiology, pathology, and genomics.
Novel clinical assays such as BAP1 analysis are available in our CLIA laboratory that provide better prognostic tools and more informed care for our patients (Joseph et al., Cancer

2014).
Collegial group that values team effort and integrates seamlessly with an outstanding multidisciplinary team focused on treating urologic conditions: the Urology Department at UTSW is consistently ranked among the best urology departments in the nation (U.S. News & World Report), the Kidney Cancer Program is only one of two to receive a Specialized Program of Research Excellence (SPORE) Award from the National Cancer Institute (NCI).
Teaching
The Division of GU pathology offers robust residency and subspecialty fellowship training in an environment that nurtures and supports the science of medicine.
High volume, wide spectrum and complex specimens: UTSW has the largest kidney cancer surgical program in North Texas, with more than 325 patients undergoing nephrectomy or partial nephrectomy and over 360 robotic assisted prostatectomies in 2017 alone (case volume has increased for the 10th straight year). Prostate and Kidney Cancers are amongst the top four most commonly treated cancers at the Simmons Cancer Center.
Vibrant learning environment provided by well-rounded faculty who are world experts in their field with diverse expertise and background, through everyday sign-out, journal clubs, weekly academic conferences, and research opportunities.
Research
Research related to GU Pathology is inherently interdisciplinary and translational. We are integral part of the following contributions and discoveries:
The Kidney Cancer Program and NIH funded Kidney cancer SPORE. We provide high quality biospecimens, and morphologic and pathology expertise. We have been integral in the development of Kidney Cancer Explorer (KCE), a powerful informatics system that integrates up-to-date clinical-pathological data with high-dimensional genomics and research samples into a unified database that supports powerful analytical tools for integrative studies. KCE is instrumental in correlative and translational studies. We are invested in developing state-of-the-art multiscale digital pathology model using automated machine learning algorithms to add predictive and prognostic power beyond the current tools in kidney cancer.
Our work has laid the foundation for the first molecular classification of sporadic clear cell renal cell carcinoma. Our team reported that the gene encoding BAP1 (BRCA1 associated protein-1) is mutated in 15 percent of clear cell renal cell carcinoma (Pena-Llopis et al., Nat Genet

2012), that

BAP1

mutations tend to anti-correlate with mutations in

PBRM1(polybromo 1), and tumors with

BAP1

and

PBRM1 mutations are associated with different biology and outcomes (Pena-Llopis et al.,

Nat Genet

2012; Kapur et al.,

The Lancet Oncology

2013). Our team helped generate the first genetically engineered mouse model that reproduce the mutations of human clear cell renal cell carcinoma (Wang et al.,

PNAS 2014 and Gu et al., Cancer Discovery 2017). We have contributed toward investigating the role of other molecular biomarkers like SETD2 and EZH2 in clear cell renal cell carcinoma (Ho et al., J Clin Oncol 2017, and Ho et al., Mod Pathol 2016).
In collaboration with scientists at Genentech, we reported the first integrated genomic analysis in non-clear cell renal tumors (Durinck et al., Nat Genet

2015).
We contributed to the comprehensive molecular characterization of urothelial bladder carcinoma (Weinstein et al., Nature 2014) and development of molecular marker panel for predicting recurrence and survival urothelial carcinoma (Lotan et al., Eur Urol 2013, Bagrodia et al,. Eur Urol 2012).
We contributed toward developing innovative tools to detect prostate cancer; light reflectance spectroscopy (Morgan et al., J Urol 2016) and imaging derived 3D mold (Costa et al., Invest Radiol 2017).
Diversity and Inclusion
We strive to support, train and empower individuals of all backgrounds. We aspire to provide excellent care to patients in diverse socioeconomic demographics. We take pride of our institutional commitment (Education & Skill Building: Diversity & Inclusion - UT Southwestern, Dallas, Texas).
Our trainee's listed below illustrate our commitment.
2015-2016 Paul Friedman
2016-2017 Ellen King Araj
2017-2018 Qi Cai
2018-2019 Suneetha Chintalapati
2019-2020 Sasan Setoodeh
2020-2021 Christopher Metter
2021-2022 David Kim
2022-2023 Jing Sun
2023-2024 Daniel Shen
Culture
Our team fosters an exceptionally collegial atmosphere and focuses on intellectual vibrancy, integrity, creativity, relationship building and encourages an honest, open and two-way communication. Our prime focus is patient care and we are dedicated to providing timely, accurate and up-to-date diagnosis. We also invest in better care for the future by enabling translational research and provide dynamic learning opportunities for our Genitourinary fellows and residents in Pathology.
Faculty
Professor
Group Leader of Genitourinary Pathology
Kidney Cancer Program Co-Leader
Clements University Hospital
Associate Professor
Q.I. Officer
Asst. Chief Medical Informatics Officer
Clements University Hospital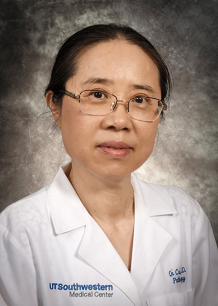 Assistant Professor
UTSW – Professional Office Building 1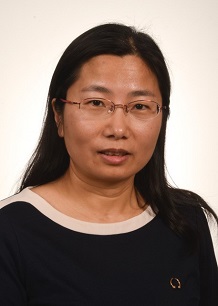 Assistant Professor
Clements University Hospital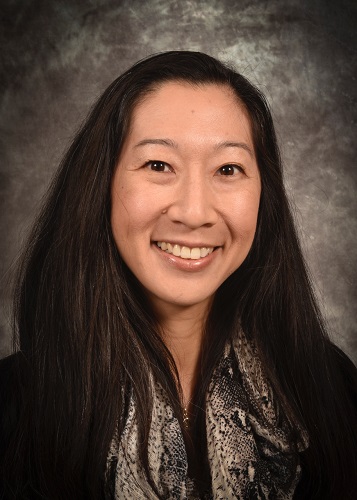 Assistant Professor
Clements University Hospital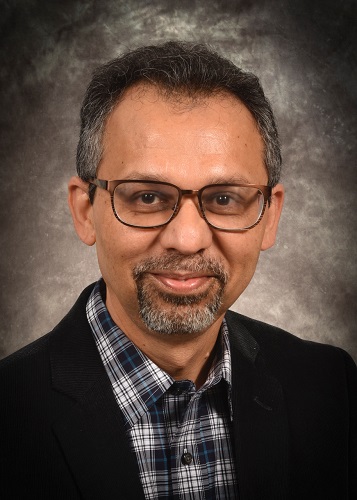 Professor
Fellowship Director of Genitourinary Pathology
Clements University Hospital