Reproductive Endocrinology and Infertility Fellowship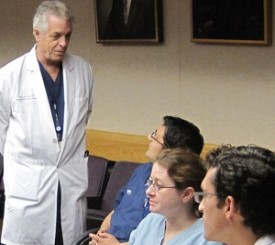 The Reproductive Endocrinology and Infertility (REI) Fellowship Program is a three-year program designed to prepare fellows for a career in academic medicine. The ACGME-accredited program is approved for three fellows.
In 1974 – a year after the American Board of Obstetrics and Gynecology created the subspecialty of Reproductive Endocrinology and Infertility (REI) – the UT Southwestern REI Fellowship Program was begun by Department Chairman Paul C. MacDonald, M.D. From 1985 through 2020, the program was led by Bruce R. Carr, M.D. Upon his retirement in January 2021, Ellen Wilson, M.D. – a 1991 graduate of the REI Fellowship – assumed the role of Fellowship Program Director. Starting in 2022, Orhan Bukulmez, M.D. – a 2007 graduate of the REI Fellowship – became the Fellowship Program Director.
The Fellowship Program is well-rounded and includes extensive clinical experience as well as opportunities for basic and clinical research.
Program Aims
The aims of the REI Fellowship are to train exceptional Ob/Gyn physicians who have an interest in Reproductive Endocrinology and Infertility. We envision our trainees to have excellent clinical skills and to develop and apply these skills in academic settings and leadership roles in women's health. We seek applicants who have demonstrated abilities in clinical arenas, research endeavors, and leadership responsibilities while as a trainee or practitioner.
Our program offers trainees exceptional resources to:
Hone their clinical knowledge and expertise
Recognize, develop, and promote evidence-based care
Create, plan, complete, and publish high quality clinical and translational research
Develop a skill set to lead, teach, and communicate research in the specialty of Reproductive Endocrinology and Infertility.
Graduates of our Fellowship Program are now members of our faculty and at academic medical centers throughout the United States, as well as successful physicians practicing in Reproductive Endocrinology and Infertility. We strive to offer an experience designed to provide the best educational and technical elements necessary for trainees to become highly qualified consultative Reproductive Endocrinology and Infertility specialists, excellent physicians, and leading researchers.
Program Strengths
The UT Southwestern REI Fellowship Program is complemented by a Division Faculty that includes many graduates of this very Program as well as a certified high-complexity laboratory director. Faculty members lead a successful infertility service and are active in basic science research.
The strength of the Program can be measured in the results. Since 1985, all of the fellows who trained in our Program have successfully passed their written REI board examinations the first time, and 98 percent have passed their oral boards on the first try.
Clinical Facilities
Clinical experience is enhanced with rotations in UT Southwestern's Fertility and Advanced Reproductive Medicine Program. Outpatient surgery is available at UT Southwestern's Outpatient Building and inpatient care is provided at William P. Clements Jr. University Hospital.