Patient Care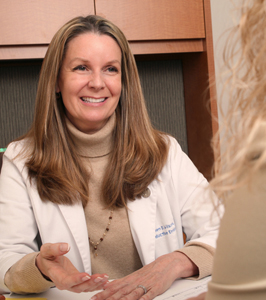 Patient care is central to the mission of the Division of Reproductive Endocrinology and Infertility. With practices at Parkland Health & Hospital System, Children's Health℠, and UT Southwestern Hospitals and Clinics, we provide a full range of gynecologic services to women throughout their lives.
Women suffering from hormonal disorders such as polycystic ovary syndrome (PCOS), abnormal uterine bleeding, endometriosis, and uterine fibroids are referred from Parkland Health & Hospital System neighborhood clinics to a special weekly Parkland gynecology clinic where they are evaluated by a team of REI faculty, fellows, and residents.

If the problem cannot be treated medically, surgical care is offered at Parkland Memorial Hospital or Parkland's Simmons Ambulatory Surgical Center.
Our Fertility and Advanced Reproductive Medicine practice in the UT Southwestern Outpatient Building offers comprehensive fertility services as well as care for women of all ages who suffer from disorders affecting reproductive health.
In addition to ovulation induction and intrauterine insemination, fertility services include a complete in vitro fertilization (IVF) program.
Consultative and diagnostic services are also provided for women suffering from reproductive endocrinology disorders, including menstrual abnormalities, fibroids, endometriosis, recurrent pregnancy loss, and menopause.
The on-site Reproductive Endocrinology, Andrology, and Embryology Laboratory offers hormone testing, semen analysis, sperm banking, and embryologic services including cultures and freezing. They also participate in Departmental and University research studies.
Peri- and post-menopausal women are the focus of our practice at UT Southwestern's Lowe Foundation Center for Women's Preventative Health Care. This center offers an integrated approach to women's health care.

A multi-disciplinary team provides bone density and ultrasound testing as well as the latest medical and surgical treatment options, including advanced minimally invasive and robotic surgical techniques. In partnership with Children's Health, REI faculty and physicians from the Division of Gynecology offer a specialized clinic for girls. The Pediatric-Adolescent Gynecology Clinic, at Children's Health Children's Medical Center Dallas, treats the gamut of adolescent medical conditions, from delayed and precocious puberty, to refractory gynecologic problems, to reconstructive surgeries for Müllerian anomalies.