The mission of the Division of Gynecology is:
To provide excellent, state-of-the-art gynecologic care for our patients
To provide clinical expertise in all areas of benign gynecology
To make resident and medical student training in gynecology the best in the country
To advance state-of-the-art care through outstanding clinical and basic research
To be a resource for community physicians through the institution of regular Continuing Medical Education (CME activities)
Shared Responsibility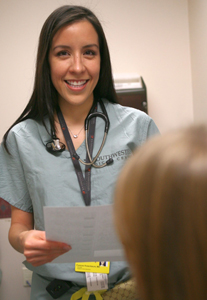 Responsibility for carrying out the Department's gynecological mission is shared by two academic divisions.
The Division of Gynecology includes medical and surgical specialists in refractory gynecological problems. This Division, led by Joseph Schaffer, M.D., practices in both UT Southwestern University Hospitals and Clinics and Parkland Health & Hospital System. In addition to medical management of difficult gynecological problems, they also offer minimally invasive and robotic surgical options.
Joining the Gynecology Division in this mission are obstetrician-gynecologists from the Generalist Obstetrics and Gynecology Division. This Division, led by Barry Schwarz, M.D., also practices at both UT Southwestern and Parkland Health & Hospital System, and has the primary responsibility for family planning and oversight of community-based Parkland gynecology clinics in the Dallas area.
With clinical practices in both the UT Southwestern Hospitals and Clinics and the Parkland Health & Hospital System, the Gynecology Division reaches women across all socioeconomic strata and ethnicity, underscoring our fundamental belief that both private and public clinical service can and must be done well.
Teaching: A Central Focus
Our faculty have published a companion textbook to Williams Obstetrics called Williams Gynecology.
Faculty from our Division as well as gynecologic subspecialists in the Department have recently published a companion textbook to the seminal text, Williams Obstetrics. The new Williams Gynecology focuses on the evaluation and medical and surgical treatment of gynecologic problems. This text forms the foundation for our medical student, resident, and postgraduate fellowship training programs.
Although our physicians practice in both clinical systems, our primary teaching venue is Parkland. With more than 300,000 gynecologic ambulatory visits annually, Parkland Health & Hospital System offers an unparalleled educational experience for students and trainees.
Every three weeks, 30 new medical students are assigned to the gynecology service. They have the option to be assigned to one of the Parkland benign gynecology or subspecialty teams, or they may elect to rotate through a slate of differing two-day blocks with topics such as ambulatory gynecology, family planning, and surgery. Within this multi-block format, students experience our specialty's diversity and develop a knowledge and skill foundation in gynecology.
Resident training builds from these gynecologic basics. Our large gynecologic patient population, combined with a committed faculty from academia and private practice, creates a fertile environment for residents to learn about patient care.