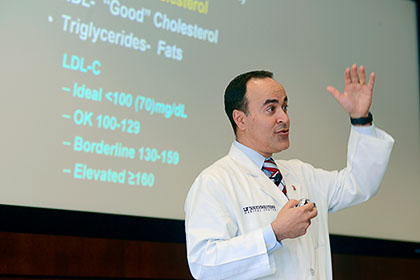 The UT Southwestern Internal Medicine Residency Training Program takes pride in a rich tradition of exceptional teaching both at the bedside and in the classroom. Opportunities for hands-on and didactic learning are available to residents almost every day. See details about each of our educational conferences below.
Monday Didactics
Monday afternoons during a resident's +1 week are protected times where residents, as a Firm learn about important principles of ambulatory medicine. Faculty dedicated to medical education develop and deliver a curriculum that prepares residents to care for their personal panel of patients efficiently and effectively.
Noon Conference
At noon every weekday, residents attend Noon Conference where experts from various fields deliver lectures to residents on high-yield concepts in Internal Medicine. Lunch is provided at these conferences at all three hospital sites. Conference format vary from traditional didactic lectures to interactive Jeopardy-style review sessions. See below for descriptions of some of our Noon Conferences.
Medicine Core Lecture Series
Medicine Core Lecture Series
Traditional lectures covering important topics from all subspecialties of Internal Medicine. As mentioned previously, all of these lectures are recorded and archived for future reference. This includes an annual "Back-to-Basics" series meant to set up new interns and newly-minted upper level residents for success as well as a "Board Review" series at the end of the year to prepare graduating residents for ABIM Boards.
Clinicopathologic Conference
Clinicopathologic Conference
A stimulating, case-based conference where faculty experts from Internal Medicine, Pathology, and Radiology discuss a challenging case in which Internal Medicine residents were involved. Recent cases include neurocysticercosis, meningoencephalitis, Goodpasture's Disease, eosinophilic granulomatosis with polyangiitis, von-Hippel Lindau syndrome, Creutzfeldt-Jakob disease, and disseminated histoplasmosis
Patient Safety and Quality Conference
Patient Safety and Quality Conference
A constructive, multidisciplinary review of cases that highlight important principles in patient safety and quality improvement.
Medical Jeopardy
Throughout the year, the Chief residents organize Medical Jeopardy competitions that  put residents and faculty members head-to-head in a battle of wits for bragging rights (and learning).
Potpourri
Unique to UT Southwestern and a housestaff favorite, this conference sees residents present interesting cases that were originally managed by residents as unknowns to the audience. A discussant, either a PGY-1 resident or a faculty member, work through the case and demonstrate their clinical reasoning skills.
Resident Update Conference
Resident Update Conference
Resident-led lectures that cover a broad range of topics. Residents are at liberty to choose a topic of interest to them.
Literature Battle
A spin on the traditional journal club, this resident-led conference puts residents on different sides of hot topics in medicine. Through critical appraisal of literature, residents debate these topics while demonstrating key concepts of evidence-based medicine.
Morning Report
Interesting cases admitted to resident teams are discussed with a focus on differential diagnosis, disease pathophysiology, and patient management.
Internal Medicine Grand Rounds
Sponsored by the Department of Internal Medicine, this weekly lecture series on Friday mornings features both internal and visiting experts, who address a broad range of topics.
Wellness Outings
Two to three times a year, the program treats each firm to an outing of their choice! Bowling, laser tag, and bubble soccer have been very popular. We hope to foster an inclusive environment whereby your co-residents become life-long friends.