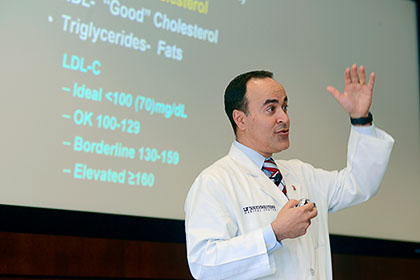 The UT Southwestern Internal Medicine Residency Training Program takes pride in a rich tradition of teaching from bedside to classroom. Rigorous training in scientific principles and pathophysiology of disease lays the foundation for excellence as a clinician, physician-scientist, or both. And if that isn't enough, lunch is provided at the daily noon conference.
Monday Didactics
An interactive weekly conference covering various topics in residency: teaching skills, health policy, managing stress, giving bad news, professionalism, and other challenges in modern medicine.
Clinicopathologic Conference
A stimulating, case-based conference led by faculty experts from Internal Medicine, Pathology, and Radiology. Recent cases include neurocystericosis meningoencephalitis, Goodpasture's Disease, eosinophilic granulomatosis with polyangiitis, von-Hippel Lindau syndrome, Creutzfeldt-Jakob disease, and disseminated histoplasmosis.
Morning Report
Morning report is run separately at our three hospital sites (Parkland Hospital, Clements University Hospital, and the Dallas Veterans Affairs Medical Center). Interesting cases admitted to the wards teams are discussed with a focus on differential diagnosis, disease pathophysiology, and patient management.
Seldin Intern Chart Conference
Exclusive to interns, this weekly conference is led at Parkland Hospital by David H. Johnson, M.D. (former Chair of Internal Medicine), Salahuddin Kazi, M.D. (Residency Program Director), and Carlos Girod, M.D. (Vice Chair of Internal Medicine). These conferences focus on the art of differential diagnosis and provide valuable time with some of the giants in medical education. The conference is named in honor of Dr. Donald Seldin, who led the conference for years and is considered the Father of UT Southwestern medicine.
Internal Medicine Grand Rounds
Our department's flagship conference is a weekly lecture featuring both internal and visiting experts, who address a broad range of topics.
Journal Club
A weekly, resident-led, in-depth analysis and critical appraisal of important articles in various fields of medicine. Journal Club features experts in clinical research and evidence-based medicine.
Medicine Core Lecture Series
A weekly conference featuring topics from all disciplines of internal medicine and other subspecialties important to internists. This series focuses on areas relevant to the internal medicine board exam.
Patient Safety and Quality Conference
A constructive multidisciplinary review of cases that highlight patient safety and quality improvement.
Potpourri
Unique to UT Southwestern and a house staff favorite. During this weekly conference, residents present recent interesting cases as unknowns to the audience, and the faculty, students, and interns help to make the diagnosis.
Wellness Outings
Two to three times a year, the program treats each firm to an outing of their choice! Bowling, laser tag, and bubble soccer have been very popular. We hope to foster an inclusive environment whereby your co-residents become life-long friends.
Medical Jeopardy
Throughout the year, the chief residents organize Jeopardy conferences that sets firms and faculty members in competition for glory!
Resident Update Conference
Resident-led lectures that cover a broad range of topics. Residents are at liberty to pick the topic of their interest.
Literature Battle
A recent addition to our noon conference, in which our residents debate on a controversial topic. This has been a major hit among the residents!