General and Subspecialty Wards Services
The resident is the team leader on the wards. The senior resident advises and educates interns and medical students, supervises each patient's plan of care, and collaborates with consultants. General medicine wards provide residents with a tremendous deal of autonomy. Autonomy, however, does not mean abandonment – our faculty take pride in being always available to assist with difficult cases.
At Parkland Memorial Hospital, each team is composed of one resident, two day-interns, one night-intern, medical students, and a supervising attending. Residents take overnight call every six nights and interns rotate on a night-float coverage system.
The Clements University Hospital medicine team is compossed of one resident and two interns. Residents take overnight call every six days. Interns rotate on a night float coverage system.
The Dallas Veterans Affairs Medical Center wards teams admit patients on a drip system with no overnight call. By varying our team and call structures, we provide our trainees with varying levels of clinical autonomy, patient volume, bedside learning, and traditional didactic teaching.
In addition to general medicine wards, UT Southwestern offers subspecialty ward experiences in several fields: cardiology, hematology/oncology, pulmonary, geriatrics, and gastroenterology.
Critical Care Services
The Medical and Cardiac ICUs at UT Southwestern treat acutely ill patients with diverse and complex disease processes. Residents in the ICUs work closely with fellows and faculty from our nationally renowned training programs in Cardiology and Pulmonary/Critical Care Medicine.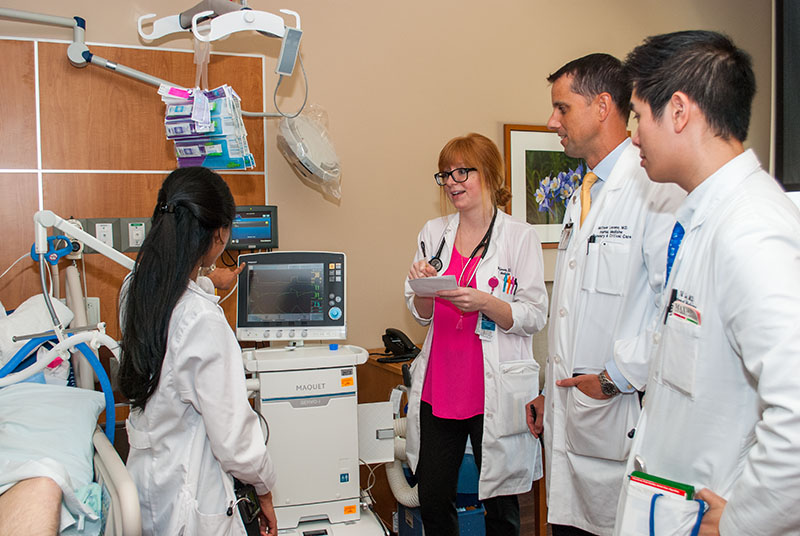 Our internal medicine residents serve as the team leaders for all cardiac and respiratory arrests at our three hospitals. Residents and interns are exposed to bedside ultrasound use in the ICU under the supervision of attendings and fellows and become well-versed in obtaining central venous access and placing arterial lines.
At Parkland Memorial and Clements University Hospitals, the MICU admitting team is led by an on-call resident who takes call every four nights. At the VA Hospital, we have a combined Cardiopulmonary ICU staffed by pulmonary/critical care and cardiology attendings, with residents taking call every four nights.
While all ICU experiences are meant to be rigorous, they are closely monitored and protected to comply with ACGME duty hour and patient census requirements.
Residents also rotate on the Advanced Cardiology Service at Clements University Hospital. This is a unique opportunity to care for patients with complex cardiac histories including those with left-ventricular assist devices and heart transplants. Teams rotate with both heart failure specialists and general cardiologists while seeing patients on the floor and in the ICU.
Continuity Clinics
Firm System
Every resident has their own continuity clinic at one of our three hospital-affiliated Internal Medicine Clinics: the VA Medical Center, Parkland, or UTSW. With the 4+1 system, residents are only in clinic during their +1 week, allowing them to focus on one service at a time. The structure is arranged to optimize continuity of care and ensure that each resident is fully trained in primary care internal medicine.
Learn more about 4+1 Firm System
Subspecialty Experiences
Hybrid Rotations
Our hybrid rotations are a conglomerate of inpatient subspecialty teams, consult services, outpatient clinics, departmental conferences, and faculty-led didactics that give our residents well-rounded experiences in the subspecialties of Internal Medicine. Over their three years at UTSW, trainees will have the opportunity to partake in geriatrics, infectious diseases, nephrology, neurology, hematology/oncology, endocrinology, rheumatology, gastroenterology/hepatology, cardiology, hospitalist medicine, palliative care, addiction medicine, and pulmonary hybrid rotations. Residents can request additional time on a subspecialty hybrid of interest to gain more experience in the field.
Electives
Research
All residents are allotted four (4) weeks of elective time each year. During their elective time, residents can opt for more clinical experience, work on quality improvement projects, or conduct research with our outstanding faculty researchers. UT Southwestern is internationally known for its innovative research and boasts six (6) Nobel Prize winners. Opportunities to participate in exciting clinical and laboratory-based research are virtually limitless. Residents often continue their research past their elective time and produce impactful projects and publications. Resident research is displayed annually at the Seldin Research Symposium. Clinical opportunities during elective time can include direct patient-care services, but also educational services like the procedure team at Parkland Hospital or the ultrasound training elective offered through the Emergency Medicine program.