Cancer Biology Ph.D. Program
About the Cancer Biology Program
The Cancer Biology Graduate Program provides training for students interested in pursuing a research career in investigating the molecules, mechanisms, and pathways involved in the development of cancer. Research by faculty members and students is laying the foundation for tomorrow's clinical advances. Cross-disciplinary collaboration, a hallmark of UT Southwestern Medical Center's approach to research, is essential in cancer biology research, as cancer involves many different biological systems.
The themes of the Cancer Biology faculty are related to four scientific programs in the Harold C. Simmons Comprehensive Cancer Center:
In addition, the center has emerging programs in DNA Repair and Radiation Oncology and Cancer Prevention and Control.
The formal coursework for Ph.D. students is very flexible, with a wide range of choices depending on their interests. In general, courses are taken as necessary to provide sufficient background in the biological sciences so students develop breadth before specializing in a particular area of cancer research. Because cancer research encompasses a wide variety of approaches to the biology, biochemistry, and genetics of various diseases that make up cancer, the curriculum requirements are designed to provide students with the best opportunity for specialization within this multidisciplinary field.
Students interested in joining the Cancer Biology Ph.D. Program may apply here to the Basic Biomedical Sciences umbrella program. First-year students complete a core curriculum that includes a core course, three or four laboratory rotations, and training in the responsible conduct of research. Students who perform satisfactorily in the first semester core course are qualified to enter the Cancer Biology Graduate Program.
A Message from the Program Chair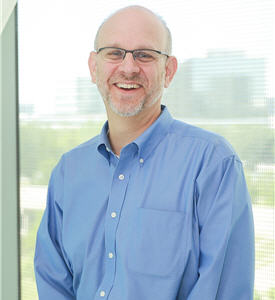 Rolf A. Brekken, Ph.D.
Professor, Surgery
Deputy Director, Hamon Center for Therapeutic Oncology Research
Graduate School: Ph.D., UT Southwestern Medical Center, 1999
Postdoctoral Training: The Hope Heart Institute, Seattle
Cancer remains a leading cause of morbidity and mortality in the U.S. and the world. Cancer care, treatment, and research are areas of excellence at UT Southwestern, exemplified by our NCI-designated Harold C. Simmons Comprehensive Cancer Center and the Cancer Biology Graduate Program. Cancer Biology graduate students work in an array of different disciplines and have the opportunity to interact with world class faculty and utilize outstanding resources to drive impactful projects focused on the development, treatment, or detection of cancer. The program fosters the intellectual, technical, and communications skills required to succeed in the academic or industrial arenas of today and in the future.
We have 69 faculty trainers, over 30 students, three funded training grants, and the State of Texas provides $300 million per year for scientists in Texas to investigate the cancer problem. We have a flexible program focused on developing scientists that can address important challenges within the field of cancer research. The program is supported by truly outstanding faculty who exploit interdisciplinary methods to investigate the challenges of cancer.