Program Vision, Mission, and Goals
Vision
We envision that our graduates will positively impact the lives of critically ill children through their leadership, research contributions, and excellence in patient care.
Mission
Our mission has three parts:
Patient Care: We strive to improve the standard of practice and ensure the highest quality of care to children in our hospitals and around the world. We care for children with the highest respect for their precious lives in a family-centered, compassionate, and caring environment, and utilize evidence-based approaches to treatments that are evaluated and updated regularly.
Research: We pursue new knowledge through high-quality research that explores unanswered questions and challenges, and refines previously established ideas on mechanisms of disease and clinical aspects of pediatric critical care. We engage in world class clinical, translational, and basic science research, aimed at improving children's lives throughout their lifespans. We work collaboratively within and outside our institution to generate important discoveries that enhance medical practice and inform the medical community and the public of evidence-based approaches to pediatric critical care medicine.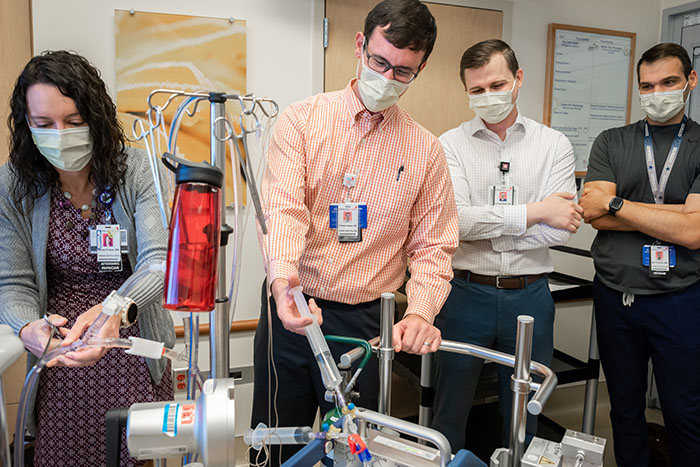 Education: Our Pediatric Critical Care Fellowship Program imparts knowledge, instills excitement for learning, and translates and refines questions into focused areas of research for our trainees. We train future leaders in pediatric critical care medicine who work in academic or private settings and deliver the highest-quality care to their patients. We accomplish this by:
Allowing fellows to pursue their interests in a structured manner in order to produce quality research addressing significant questions in pediatric critical care medicine.
Promoting a collegial environment that provides ample opportunity for fellows to grow and learn from their own and others' experiences.
Aims
To provide a comprehensive curriculum that instructs fellows in fundamental physiology and evidence based medicine of pediatric critical care
To mentor and support fellows as they pursue hypothesis-driven research that advances the field of pediatric critical care
To prepare fellows to become leaders of a multidisciplinary team in general and cardiac ICUs that provides compassionate care to critically ill children
To improve the overall safety and quality of patient care in our tertiary children's hospital
Fellowship Program Goals
The Pediatric Critical Care Fellowship Program integrates a strong background in basic and/or clinical research with excellent clinical training in pediatric critical care medicine and is compliant with all regulations.
The overall goals of the Pediatric Critical Care Fellowship Program are to provide an environment that permits each trainee to:
Develop expertise in the complex care of all critically ill children.
Develop skills in the design, understanding, and performance of clinical and/or laboratory research that will result in a better understanding of mechanisms of disease, physiology, and pathology, and the completion of at least one mentored research or scholarship project under the supervision of a scholarship oversight committee.
Develop expertise at organization, analysis, preparation, and presentation of data.
Develop knowledge of physiology and evidence-based approaches to therapy.
Develop expertise in all six core ACGME competencies.
Be prepared for a successful academic or clinical career, and have the opportunity to pursue her/his own development in a research, clinical scholar, or clinical educator academic track, or to develop all skills required for a private career in pediatric critical care medicine.
Fulfill all the requirements to obtain certification in Pediatric Critical Care Medicine by the American Board of Pediatrics; develop the self-discipline required for life-long learning, maintenance of certification, and compliance with regulations; and develop the expertise, administrative skills, and insight required for career planning, adaptation, leadership, and excellence in patient care.