Pediatric Critical Care Clinical Training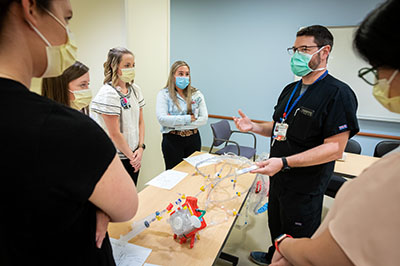 The Pediatric Critical Care fellowship program provides a rich clinical experience at the 487-bed Children's Health℠ Children's Medical Center Dallas, which provides quaternary-level care for children in the Dallas-Fort Worth metropolitan area. The 44-bed PICU has approximately 2,000 admissions per year and has 24/7 coverage by in-house pediatric critical care attendings. Fellows care for a wide range of critical illnesses in this high-volume ICU, with significant exposure to advanced modes of mechanical ventilation, CRRT, solid organ transplants, ECMO, neurocritical care, and trauma. The faculty also provide intensive care in the Children's Medical Center in Plano in a 12-bed PICU.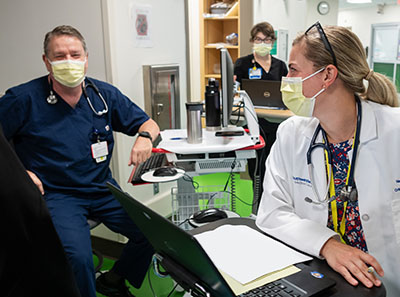 The 30-bed state-of-the-art cardiovascular intensive care unit (CVICU) provides care for children with congenital heart disease as well as other cardiac diseases. Fellows spend a significant portion of their training in this unit, learning how to care for complex congenital heart disease. The unit has an active heart transplantation service as well as a VAD program. Fellows interested in a career in cardiac intensive care medicine may pursue an additional year of training in the CVICU.
Below is the typical breakdown of rotations during the three-year fellowship:
| | PICU | CVICU | Anesthesia | Research |
| --- | --- | --- | --- | --- |
| First year | 4 months | 2 months | 1 month | 4.5 months |
| Second year | 4 months | 2 months | | 6 months |
| Third year | 3 months | 1 month | | 8 months |
When on service in the PICU, fellows take one in-house call each week. When off-service, fellows take an average of 2-4 overnight calls per month. Fellows acting in a senior fellow role in the PICU have no in-house call responsibilities during the block. In the CVICU, for each month of service the fellows cover 6 night shifts during a week, with one night free from duty.
Fellows have the opportunity to tailor their clinical rotations to meet their individual career goals by adding electives. Recent fellows have completed electives in cardiac anesthesia, bedside ultrasonography, transport medicine, and burn ICU.
Research
In addition to clinical care, the Division of Pediatric Critical Care Medicine is involved in basic science research, sponsored clinical trials, and clinical translational research, as well as national collaborative studies. The division maintains a high profile at regional, national, and international meetings, with numerous presentations and invited lectures given by faculty and fellows.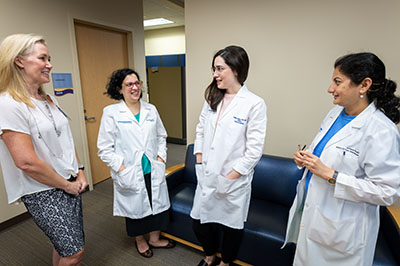 Fellows spend approximately half of their time in fellowship engaging in scholarly activity, and the amount of research time for fellows increases each year, as described above. At the outset of training, fellows meet with program leadership, as well as their individual faculty mentors, with the goal of aiding fellows in identifying a project and research mentor early in their fellowship.
Critical care fellows have the opportunity to take advantage of deep research resources, both within the Division of Critical Care, and in the larger UT Southwestern research community. Faculty within the division are involved in a variety of research endeavors, including bench, translational, and clinical research projects. Other faculty members engage in educational scholarship and quality improvement efforts.
UT Southwestern is a leading research institution, with a distinguished faculty, including six Nobel Prize winners, 25 members of the National Academy of Sciences, and 17 members of the National Academy of Medicine. Critical care fellows have a long history of collaborating with faculty in other departments in both laboratory-based and clinical research.
Several centers within UT Southwestern provide guidance and additional training in research.
The Center for Translational Medicine is an excellent resource for fellows pursuing translational and clinical research.
Advanced training in research is available through the Clinical Scholars Program. This two year program provides additional training and career development opportunities, and includes coursework in biostatistics, grant writing, and research ethics.
The Children's Medical Center Research Institute at UT Southwestern is an interdisciplinary group of researchers with a focus on translational research.
Several internal funding opportunities exist to aid fellows' research, including grants from the Center for Translational Medicine. Fellows are also encouraged to apply for external grant support.