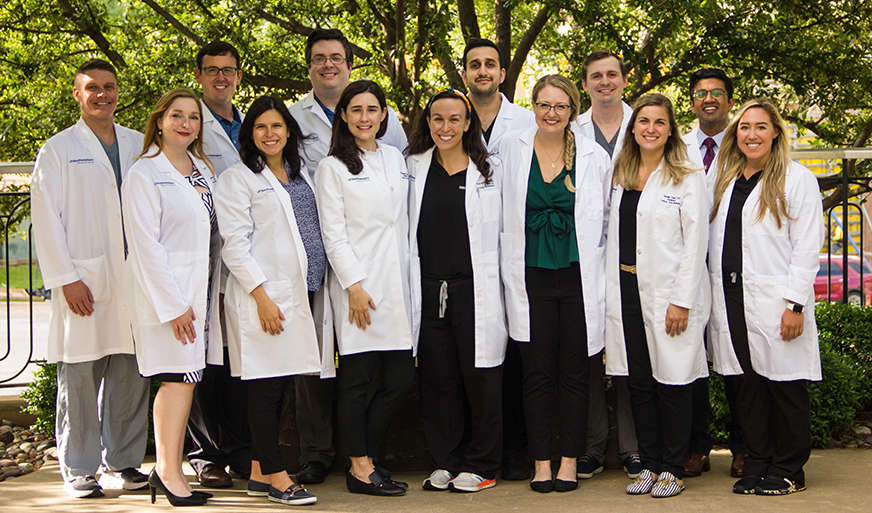 Founded in the 1970s by Drs. Daniel L. Levin and Frances C. Morriss, the fellowship in pediatric critical care at UT Southwestern was one of the first of its kind in the world.
With the objective of providing excellent training in pediatric critical care medicine and preparing individuals to become future leaders in their field, we have trained more than 100 physicians in the art and science of intensive care for critically ill infants and children. Many graduates have become academic leaders within the field, both in the United States and abroad.
Now one of the largest in the United States, the fellowship program ranges from 12 to 15 fellows. It emphasizes intense periods of clinical rotations during the early part of the fellowship, and later shifts to periods of protected time to carry out a research program developed with the help of faculty both within the Division of Pediatric Critical Care Medicine and in the larger UT Southwestern community.
In addition to the clinical and research opportunities, the fellowship program has a robust didactic curriculum designed to give fellows a foundational knowledge of the pathophysiology of critical illness. Other highlights include a simulation curriculum and journal club. Our fellows have an excellent success rate on the American Board of Pediatric Critical Care sub-board examination.
The Pediatric Critical Care Fellowship encompasses three years and is accredited by the Accreditation Council for Graduate Medical Education (ACGME).
Contact Us




Kayleigh Stark
Coordinator, Pediatric Critical Care Fellowship Program
Phone: 214-456-8836
Mailing Address

UT Southwestern Medical Center
Pediatric Critical Care Medicine Fellowship Program
5323 Harry Hines Blvd.
Dallas, TX 75390-9063

Phone: 214-456-7591
Fax: 214-456-6446