Four to six fellowship training positions are available each year. The application cycle begins 12 months prior to the start of the fellowship.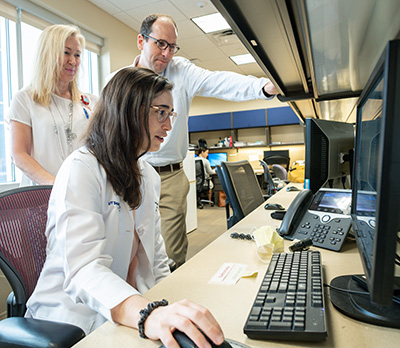 We participate in the Electronic Residency Application Service (ERAS) and the National Resident Matching Program (NRMP)-sponsored match for subspecialties with the following application cycle:
July-November: Submit application package on ERAS
August-November: Interview of selected candidates
December: Submit rank order list to NRMP
December: Match results and offer of appointment (for following July)
Requirements
Applicants must have an M.D. degree or equivalent and must have completed or be enrolled in a three-year residency program in general pediatrics or one of the alternate American Board of Pediatrics (ABP) pathways.
Applicants must have U.S. citizenship, permanent residency, or a J1 visa. Foreign graduates need an ECFMG certification that is valid for the duration of the fellowship.
Applicants should use ERAS, as explained on the following sites:
The application package should be completed on ERAS and include:
Completed application
Curriculum vitae
Personal statement with long-term goals
Three letters of recommendation, including one from a department chair or residency director
Our program is also listed on FREIDA.
Additional Resources
If you are interested in an elective rotation in Cardiovascular Critical Care Medicine at Children's Medical Center, please contact Donna Williams, Manager of Education Programs, at 214-456-4467 or by donnaj.wlliams@utsouthwestern.edu.
Contact Us