Meet Annette and Harold C. Simmons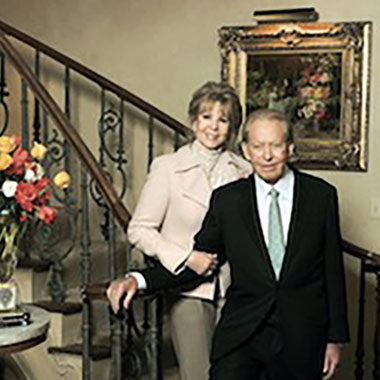 In 1988 Harold C. Simmons and his wife Annette, already generous supporters of UT Southwestern biomedical research, committed $41 million, in part to endow the Cancer Center. Further support for the center was supplemented by Mr. and Mrs. Simmons and the Harold Simmons Foundation.
In 2005 Mr. and Mrs. Simmons committed an additional $50 million to ensure that the Center could mark unparalleled achievement in clinical and research programs concerning all major types of cancer. Later that year, they donated $500,000 to establish an endowed chair in clinical oncology in memory of Dr. Charles C. Sprague, the first president of UT Southwestern.
Mr. Simmons' unwavering personal and foundation support of medical research and clinical care at UT Southwestern also includes funds for arthritis, kidney disease, and diseases of the brain and nervous system. The lifetime contributions to the Medical Center and Southwestern Medical Foundation by Mr. and Mrs. Simmons, the Harold Simmons Foundation, and related entities now exceed $177 million.