Simmons Cancer Center joins elite group of cancer centers with NCI's highest level of designation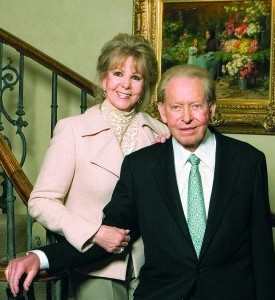 Through the combination of the extraordinary generosity of the Dallas-Fort Worth philanthropic community, commitments to new facilities and to cutting-edge technology, the recruitment of exceptional leadership, and the extraordinary work of dozens of investigators in clinical and research fields, the Simmons Cancer Center achieved that ambition in July when the National Cancer Institute (NCI) announced UT Southwestern had earned comprehensive status.
Designation as a Comprehensive Cancer Center defines broad excellence in oncology, from patient care to research, and from prevention to outreach. The Simmons Cancer Center is one of just 45 in the nation to meet the high standards for comprehensive status, the only one in North Texas, and the second in the University of Texas System, joining MD Anderson Cancer Center in Houston.
"There is no better reinforcement of an investment in the cure for cancer than this very exclusive designation from the NCI," noted Mrs. Simmons at the time of the announcement. "Our hope has always been that we could make a sustainable difference in the fight against this cruel disease, and the comprehensive designation paves the way for even greater advances in the treatment and cure of cancer. We are very proud of the dedicated members of the UT Southwestern team who have made this honor possible."
In 1988, a $41 million gift from the late Mr. Simmons and his wife provided seminal funds to transform cancer research and care at UT Southwestern. In 1991, the Simmons Cancer Center was established. Altogether, the Simmons family has given and pledged more than $100 million to enhance UT Southwestern's cancer programs.
"The continuing generosity of the Simmons family has been transformative in ensuring that cancer patients in North Texas and surrounding regions have access to the highest quality of care available anywhere in the country," said Dr. Daniel K. Podolsky, President of UT Southwestern. "We also are extremely grateful to those in our community who have supported the research, technology, and infrastructure that serve as the foundation for this achievement."

The Simmons Cancer Center reached its first milestone in 2010 when it was designated an NCI cancer center, meaning it met rigorous criteria for state-of-the-art programs in research. Five years later, the highest designation possible with even more stringent criteria had been achieved – comprehensive.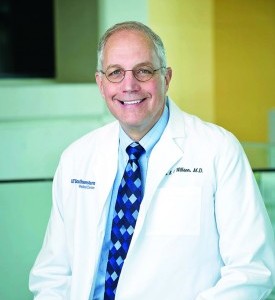 NCI-designated comprehensive cancer centers are a major source of discovery of the nature of cancer and of the development of more effective approaches to cancer prevention, diagnosis, and therapy. They also deliver medical advances to patients, educate health care professionals and the public, and reach out to underserved populations. Partnerships with Parkland Health & Hospital System, Children's Medical Center Dallas, the UT School of Public Health Dallas Regional Campus, and UT Southwestern's Moncrief Cancer Institute in Fort Worth played an important role in attaining the comprehensive designation.
"Underlying this designation is extraordinary dedication by the Dallas-Fort Worth community, the leadership of the Medical Center and our affiliated institutions, and faculty and staff across the university to ensure patients have access to innovative treatments, and to foster groundbreaking research that has the potential to improve patient care and prevention of cancer worldwide," said Dr. Willson, also Associate Dean of Oncology Programs at UT Southwestern. "The NCI designation underscores our dedication to not only improving results in how we manage disease, but also to making an impact on the community in terms of early detection and management of cancer at its most curable stages."
Patient visits, clinical trials, and square footage have all doubled or more since the Simmons Cancer Center earned its initial NCI designation in 2010. And physical expansion is again underway, with renovations and new lab and clinical space expected this year. The Simmons Cancer Center also has broadened its presence across the Metroplex through the Moncrief Cancer Institute in Fort Worth, UT Southwestern's Harold C. Simmons Comprehensive Cancer Center Fort Worth in the Moncrief Cancer Institute, as well as clinical care space in the UT Southwestern Clinical Center at Richardson/Plano. The Simmons Cancer Center also will benefit from a new building project on campus for the Department of Radiation Oncology.
The strength of the Simmons Cancer Center is embedded in the work of multidisciplinary teams for each major type of cancer – breast, head and neck, lung, gastrointestinal, genitourinary, blood, brain, and gynecologic. Teams include surgeons, medical oncologists, radiation oncologists, pathologists, and basic and translational research scientists who offer patients the cumulative expertise of highly trained specialists and state-of-the-art technologies, all delivered in a seamless, integrated environment.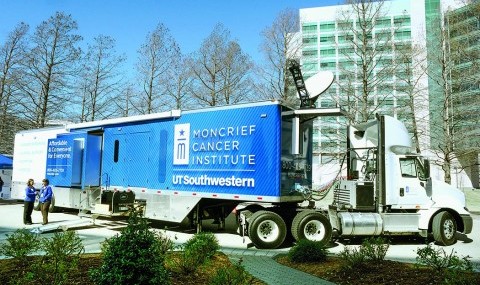 Access to clinical trials is an important part of that effort. The Simmons Cancer Center is the only cancer center in North Texas and among only 30 nationwide to be named a National Clinical Trials Network Lead Academic Participating Site, a prestigious new designation by the NCI. The designation and associated funding is designed to bolster the cancer center's clinical cancer research for adults and to provide patients access to cancer research trials sponsored by the NCI, where promising new drugs often are tested.
"Since our founding, we have tripled the number of patients on clinical trials, and cancer drugs developed at UTSW are being tested in patients. We have created educational and research programs that foster interactions across departments and build bridges between scientific discovery and patient care," said Dr. Willson. "What distinguishes top cancer centers, however, goes beyond the resources, technology, and facilities. It is the depth of expertise that is available to tap into for each patient that comes to us for help, and the synergy we create among those experts once assembled."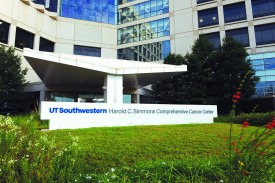 The Simmons Cancer Center has assembled nearly 250 faculty members from more than 30 different departments organized under more than a dozen major cancer care programs. They use the full range of current cancer-fighting strategies – genetic testing, surgery, radiation, chemotherapy, immunotherapy, and bone marrow transplants – to advance cancer treatment and prevention. These clinical efforts go hand-in-hand with cancer research, assisted by world-renowned scientists at UT Southwestern who are the vanguard of future cancer treatments. Among them are a Nobel Laureate, 10 members of the National Academy of Sciences, four members of the National Academy of Medicine, six members of the American Academy of Arts and Sciences, eight Howard Hughes Medical Institute Investigators, eight department chairs, and 10 directors of endowed centers.
Among the esteemed group of pioneers and leaders in cancer care and research that helped the Simmons Cancer Center achieve its NCI comprehensive designation and their areas of focus are the following:
Simmons Cancer Center leadership
Dr. Willson, Director of the Simmons Cancer Center and Professor of Internal Medicine, is world-renowned for his work in the genetics of colorectal cancer. His research led to the development of cell and animal models for colon cancer that have been key to identifying genetic factors in disease progression. Recently, he led a joint investigation that discovered a molecule that may play a significant role in accelerating cell recovery following bone marrow transplants, liver disease, and colon disease. Researchers identified an enzyme named 15-PGDH that regulates tissue regeneration in multiple organs. By blocking this enzyme in mice with the newly discovered molecule, SW033291, the researchers found that they can rescue damaged bone marrow, liver tissue, and colon tissue, which is important to recovery from injury, disease, and certain medical treatments. The molecule may prove useful in accelerating recovery of bone marrow cells following a bone marrow transplant – a common treatment for leukemia patients – and also could be a potential treatment for colitis.
Dr. Michael White, Associate Director of Basic Research in the Simmons Cancer Center and Professor of Cell Biology, received an Outstanding Investigator Award from the NCI last year for work to help personalize therapy. Dr. White's lab is searching for biomarkers that identify patients who may respond particularly well to a given chemotherapy.
Dr. Celette Sugg Skinner, Associate Director and Founder of the Population Research and Cancer Control Program in the Simmons Cancer Center, oversees research on communications interventions to promote health behavior change, especially using computer-tailored interventions (CTIs). Also Interim Chair of Clinical Sciences, Dr. Skinner was a member of the NCI's first Working Group on CTIs in 1994 and is Co-Chair of the NCI's newly established Research Group for Disseminating CTIs for integration into public health and clinical practice. In collaboration with Parkland Health and Hospital System, Dr. Skinner leads one of seven nationwide sites for the NCI-funded PROSPR program, which aims to improve cancer screening and follow-up.
Dr. Ethan Halm, Chief of the William T. and Gay F. Solomon Division of General Internal Medicine and Professor of Internal Medicine and Clinical Sciences, co-leads the Population and Cancer Control Program. He also directs UT Southwestern's Center for Patient-Centered Outcomes Research, which aims to improve patient care by studying the outcomes and effectiveness of different strategies to prevent, diagnose, treat, and monitor health conditions to improve patient care. One of the Center's current projects focuses on improving outcomes for patients with advanced cancer.
Dr. David Boothman, Associate Director of Translational Research in the Simmons Cancer Center and Professor of Pharmacology and Radiation Oncology, co-leads the Experimental Therapeutics of Cancer team. Current research examines cellular responses to DNA damage caused by therapeutic agents, including ionizing radiation.
Dr. Jerry Shay, Associate Director of Education and Training in the Simmons Cancer Center and Professor and Vice Chairman of Cell Biology, studies DNA structures called telomeres that have been found to have an impact on aging and cancer growth and development.
Dr. Keith Argenbright, Director of the Moncrief Cancer Institute and Professor of Clinical Sciences at UT Southwestern, is principal investigator for the largest prevention grant in the history of the Cancer Prevention and Research Institute of Texas to provide colon cancer screening at no cost to the underserved in Tarrant and surrounding counties.
Dr. Arthur Frankel, Professor of Internal Medicine, leads the Simmons Cancer Center's Phase I Clinical Trials Unit. Dr. Frankel, who has expertise in cancer drug development and early-phase clinical studies, has synthesized or performed preclinical testing of eight recombinant targeted immunotoxin protein drugs for cancer and chronic cancer pain. He also has been principal investigator for more than a dozen first-time human clinical studies for both hematologic and solid tumor malignancies.
Dr. Theodora Ross, Professor of Internal Medicine, directs UT Southwestern's Cancer Genetics Program. Her team recently demonstrated that whole-genome sequencing can be used to identify patients' risk for hereditary cancer, a finding that may lead to improvements in cancer prevention, diagnosis, and care. It was the first study that has used whole-genome sequencing to evaluate a series of 258 cancer patients' genomes to improve the ability to diagnose cancer-predisposing mutations.
Dr. Eugene Frenkel, Professor of Internal Medicine and Radiology, is the trailblazing physician who started UT Southwestern's Division of Hematology and Oncology and served as its Chief for 30 years. Dr. Frenkel's research has focused on vitamin B12, chemotherapy drug delivery, and metabolic abnormalities in cancer. He has helped recruit more than 60 cancer researchers and clinicians to UT Southwestern who helped lay the groundwork for the eventual NCI designation.
Lung Cancer
Dr. John Minna, Director of the Nancy B. and Jake L. Hamon Center for Therapeutic Oncology Research, Director of the W.A. "Tex" and Deborah Moncrief Jr. Center for Cancer Genetics, and Professor of Internal Medicine and Pharmacology, co-directs the Experimental Therapeutics Program at the Simmons Cancer Center. His research into cancer biology with his longtime collaborator Dr. Adi Gazdar, Professor in the Hamon Center for Therapeutic Oncology Research and of Pathology, laid the foundation for the highly competitive Specialized Program of Research Excellence (SPORE) grant from the NCI. The UT SPORE program, now in its 17th year, is the largest thoracic oncology effort in the U.S.
Dr. David Gerber, Co-Director of the Experimental Therapeutics Program and co-leader of the Lung Cancer Disease Oriented Team, participated in an international study last year comparing effectiveness of specific immunotherapy and chemotherapy drugs in patients with a certain type of lung cancer who had failed to respond to first-line therapies. They found that the immunotherapy drug nivolumab improved overall survival and was generally well tolerated vs. the standard chemotherapy drug docetaxel. The findings, published in the New England Journal of Medicine, also suggested that excluding patients with a prior cancer diagnosis from lung cancer clinical trials may not be justified.
Radiation Oncology
Dr. Hak Choy, Chairman of Radiation Oncology, has strategically developed the Department as a pioneer in the field of radiation oncology. Achievements under his leadership include: attracting world-recognized experts in stereotactic ablative radiotherapy; discovering new molecular pathways that inhibit cancer for potential drug development; advancing treatments for brain tumors and cancers of the lungs, liver, and kidneys through the Annette Simmons Stereotactic Treatment Center; developing new methods to track and isolate tumors for safer, more accurate, and faster removal; and planning for the nation's first center specializing in heavy ion radiation therapy, a type of radiation treatment that has shown opportunities for increased disease-free survival of cancer patients but needs rigorous scientific study to uncover its full potential.
Dr. Robert Timmerman, Professor of Radiation Oncology and Neurological Surgery, was one of the first researchers in the world to use stereotactic ablative radiotherapy (SABR), also known as stereotactic body radiation therapy (SBRT). SABR uses highly advanced imaging technology and sophisticated planning software to deliver potent radiation doses from multiple angles. This therapy type has been shown to improve cure rates in some instances, particularly for cancers that have spread. Dr. Timmerman also directs the Annette Simmons Stereotactic Treatment Center, where patients can be treated with Gamma Knife and CyberKnife, leading-edge radiation oncology tools.
Dr. Steve Jiang, Professor and Vice Chair of Radiation Oncology and Chief of the Division of Medical Physics and Engineering, is studying how to take lab-developed online adaptive radiotherapy technologies into clinical practice. Online adaptive radiotherapy allows real-time adjustments to provide individualized cancer radiotherapy that may reduce exposure to healthy tissues.
Breast Cancer
Dr. Phil Evans, Director of the UT Southwestern Center for Breast Care, Professor of Radiology, and former President of the American Cancer Society, led the development of the first dedicated breast center in Texas in 1984. Dr. Evans has developed a national reputation in diagnostic technology, combining digital mammography, magnetic resonance imaging, and ultrasound.
Dr. Roshni Rao, Associate Professor of Surgery and Director of the George N. Peters, M.D., Center for Breast Surgery, focuses on the treatment of locally advanced and metastatic breast cancer. Her research involves investigating ethnic differences in breast cancer patients and evaluating the reconstructive decisions made by women. A national clinical trial led by Dr. Rao is collecting DNA samples of triple negative breast cancer survivors in an attempt to identify risk factors for this hard-to-treat disease.
Dr. Barbara Haley, Professor of Internal Medicine, is involved in research that that has led to significant advancements in chemotherapy, hormonal therapy, and biologic therapy, including a national study on mTOR inhibitors, which affect cancer cell growth. These anti-cancer agents may provide an option to delay chemotherapy for patients with estrogen receptor-positive and metastatic breast cancer. These findings led to a new drug approved by the FDA in July 2012. Dr. Haley has gained international recognition for studies of HER2-positive breast cancer therapies. The HER2 protein, which results from genetic mutation and factors in about 1 in 5 breast cancers, can be extremely resistant to hormone therapies. Research have led to ways to target the protein and decrease cancer cell growth.
Dr. Ann Marilyn Leitch, Professor of Surgery, co-authored a practice-changing study in 2011 on the effectiveness of limited lymph node removal to reduce the long-term side effects of breast cancer surgery. This benefits patients who are planning breast-conserving surgery combined with radiation. Removing just part of the lymph nodes achieved effective outcomes, while allowing for shorter recovery times, the study in the Journal of the American Medical Association determined. Previously, the standard of care had been to remove all lymph nodes.
Hematologic Malignancies
Dr. Robert Collins, Professor of Internal Medicine, leads the Adult Hematologic Malignancies/Blood and Marrow Transplantation Program, which he developed from scratch and launched in 1998. Last year, the Program completed its 1,000th bone marrow transplant, marking a milestone that represented strong cancer survivorship. In November, the Simmons Cancer Center team expanded into the new oncology floor at William P. Clements Jr. University Hospital that includes state-of-the-art surgical facilities and the Bone Marrow Transplant Unit, with one of the best one-year survival rates for allogeneic stem cell transplants among adult transplant centers in North Texas.
Pediatric Cancers
Dr. Steven Skapek, Chief of the Division of Pediatric Hematology-Oncology and Professor of Pediatrics, oversees more than two dozen faculty members in a program that is one of the 10 largest in the U.S. The Division is nationally distinguished for its design and participation in NIH-funded, multicenter clinical trials involving childhood cancer, sickle cell disease, and hemorrhagic disorders. In addition, the Division is a national leader in clinical research in nonmalignant hematology. Areas of focus include acute lymphoblastic leukemia, clinical trials for patients with advanced malignancies, genetic alterations in cancer, late effects in cancer survivors, and supportive care of children with cancer.
Dr. Naomi Winick, Professor of Pediatrics, leads UT Southwestern's arm of the Children's Oncology Group, an NCI-supported clinical trials group that is the world's largest organization devoted to pediatric cancer research. The group includes all faculty members in the Division of Pediatric Hematology-Oncology. Dr. Winick's own research involve bone marrow transplants and stem cell transplants for cancer.
Dr. George Buchanan, Director of the Barrett Family Center of Pediatric Oncology and Professor of Pediatrics and Internal Medicine, is a national leader in investigator-initiated and multicenter collaborative research in many areas of hematology, including sickle cell disease, anemia, bleeding disorders, and childhood cancer. He recently co-chaired a nationwide team of experts to develop the first comprehensive, evidence-based guidelines for management of sickle cell disease from birth to end of life for the National Heart, Lung, and Blood Institute.
Gastrointestinal Cancer
Dr. Michael Choti, Chairman of Surgery and the first Surgeon-in-Chief of Clements University Hospital, is one of the world's foremost authorities on gastrointestinal cancers, including pancreatic cancer, one of the most aggressive and difficult-to-treat diseases. He has conducted research directed at surgical innovation, robotics, and image-guided surgical cancer therapy, and has served as principal investigator or co-investigator for a variety of clinical and preclinical studies examining new approaches for the treatment of liver, pancreatic, and colorectal cancers. Dr. Choti also is building a program around more minimally invasive surgical approaches for liver and pancreatic cancer to improve outcomes and speed recovery.
Dr. John Mansour, Associate Professor of Surgery, treats patients with malignancies of the stomach, pancreas, liver, bile duct, and other abdominal organs, and is part of a national team that measures how well doctors and hospitals are caring for patients with hepatobiliary cancers. His research involves the genetic analysis of tumors and blood to help predict a tumor's behavior, how aggressive it will be, and how well patients will tolerate a major operation, all part of a strategy to individualize cancer treatments.
Genitourinary Cancer
Dr. Claus Roehrborn, Professor and Chair of Urology, is a world-renowned expert on prostate cancer and a national leader in robotic surgery. He has performed more than 1,200 urologic surgeries using advanced robotic techniques that offer patients the fastest possible return of continence and sexual function, a level of expertise unmatched in North Texas, and performed more than 500 da Vinci robotic prostatectomies for prostate cancer. In addition, the Department of Urology is a leader in exploring serum biomarkers to find early warning signs for prostate cancer.
Dr. Yair Lotan, Professor of Urology and Medical Director of the Urology Clinic at Parkland Health & Hospital System, is nationally recognized for his research on urine markers in bladder cancer and molecular markers in other urologic cancers. He has been a pioneer in minimally invasive, robotic surgical techniques to treat bladder, prostate, kidney, ureteral, and testicular cancer, including becoming the first surgeon in North Texas to perform a robotic cystectomy, or removal of the bladder. Dr. Lotan, along with Dr. Michael Folkert, Assistant Professor of Radiation Oncology, were the first in Texas to use an injectable gel they are studying to determine whether it can reduce potential side effects from stereotactic ablative radiotherapy for prostate cancer.
Radiology
Dr. Robert Lenkinski, Vice Chair of Research for Radiology and Professor of Radiology and in the Advanced Imaging Research Center, works on the development, validation, and application of magnetic resonance spectroscopic and multinuclear imaging methods for the study of human disease. This program is aimed at understanding how the metabolic information derived from these methods can aid in the diagnosis, staging, and treatment of a variety of pathologies. Current applications involve brain tumors, breast cancer, prostate cancer, and renal function. This work involves clinical investigations and basic and translational research.
Neurological Cancer
Dr. Elizabeth Maher, Associate Professor of Internal Medicine, and Neurology and Neurotherapeutics, helped develop what is believed to be the first clinical application of a new imaging technique to diagnose brain tumors. The unique test could preclude the need for surgery in patients whose tumors are located in areas of the brain too dangerous to biopsy. The magnetic resonance spectroscopy technique provides a definitive diagnosis of cancer based on imaging of a protein associated with a mutated gene that is found in 80 percent of low- and intermediate-grade gliomas. Presence of the mutation also means a better prognosis.
Head and Neck Cancer
Dr. Baran Sumer, Associate Professor of Otolaryngology who leads the Head and Neck Cancer team, performed the area's first transoral robotic surgery to remove tumors in the throat in 2010. Requiring special surgical training, the minimally invasive no-scar procedure had been approved earlier that year by the FDA for benign and cancerous lesions. More recently, UT Southwestern will be the only North Texas location for an international immunotherapy trial testing a drug that stimulates the immune system to fight off head and neck cancer. UT Southwestern now offers multiple radiation therapy trials for head and neck cancer patients in which new approaches are providing higher doses of radiation in shorter periods of time, with the same successes but with fewer side effects.
###
Dr. Boothman holds the Robert B. and Virginia Payne Professorship in Oncology.
Dr. Buchanan holds the Children's Cancer Fund Distinguished Chair in Pediatric Oncology & Hematology.
Dr. Choti holds the Hall and Mary Lucile Shannon Distinguished Chair in Surgery.
Dr. Choy holds The Nancy B. & Jake L. Hamon Distinguished Chair in Therapeutic Oncology Research.
Dr. Collins holds the Sydney and J.L. Huffines Distinguished Chair in Cancer Research in Honor of Eugene, Frenkel, M.D., and the H. Lloyd and Willye V. Skaggs Professorship in Medical Research.
Dr. Evans holds The George and Carol Poston Professorship in Breast Cancer Research.
Dr. Frenkel holds the Elaine Dewey Sammons Distinguished Chair in Cancer Research and the Raymond D. and Patsy R. Nasher Distinguished Chair in Cancer Research, both in his own honor, and the A. Kenneth Pye Professorship in Cancer Research.
Dr. Gazdar holds the W. Ray Wallace Distinguished Chair in Molecular Oncology Research.
Dr. Haley holds the Charles Cameron Sprague, M.D. Chair in Clinical Oncology.
Dr. Halm holds the Walter Family Distinguished Chair in Internal Medicine in Honor of Albert D. Roberts, M.D.
Dr. Jiang holds the Barbara Crittenden Professorship in Cancer Research.
Dr. Leitch holds the S.T. Harris Family Distinguished Chair in Breast Surgery, in her own honor.
Dr. Lenkinski holds the Charles A. and Elizabeth Ann Sanders Chair in Translational Research, and the Jan & Bob Pickens Distinguished Professorship in Medical Science, in Memory of Jerry Knight Rymer and Annette Brannon Rymer, and Mr. and Mrs. W.L. Pickens.
Dr. Lotan holds the Helen J. and Robert S. Strauss Professorship in Urology.
Dr. Maher holds the Theodore H. Strauss Professorship in Neuro-Oncology.
Dr. Minna holds the Max L. Thomas Distinguished Chair in Molecular Pulmonary Oncology, and the Sarah M. and Charles E. Seay Distinguished Chair in Cancer Research.
Dr. Podolsky holds the Philip O'Bryan Montgomery, Jr., M.D. Distinguished Presidential Chair in Academic Administration, and the Doris and Bryan Wildenthal Distinguished Chair in Medical Science.
Dr. Roehrborn holds the E.E. Fogelson and Greer Garson Fogelson Distinguished Chair in Urology, and the S.T. Harris Family Chair in Medical Science, in Honor of John D. McConnell, M.D.
Dr. Ross holds the Jeanne Ann Plitt Professorship in Breast Cancer Research.
Dr. Shay holds The Southland Financial Corporation Distinguished Chair in Geriatrics.
Dr. Skapek holds the Distinguished Chair in Pediatric Oncology Research.
Dr. Skinner holds the Parkland Community Medicine Professorship.
Dr. Timmerman holds the Effie Marie Cain Distinguished Chair in Cancer Therapy Research.
Dr. White holds the Grant A. Dove Distinguished Chair for Research in Oncology, and the Sherry Wigley Crow Cancer Research Endowed Chair in Honor of Robert Lewis Kirby, M.D.
Dr. Willson holds The Lisa K. Simmons Distinguished Chair in Comprehensive Oncology.
Dr. Winick holds the Lowe Foundation Professorship in Pediatric Neuro-Oncology.