On September 21 the awardees of the 2016-2017 CRSM Fellowships were announced.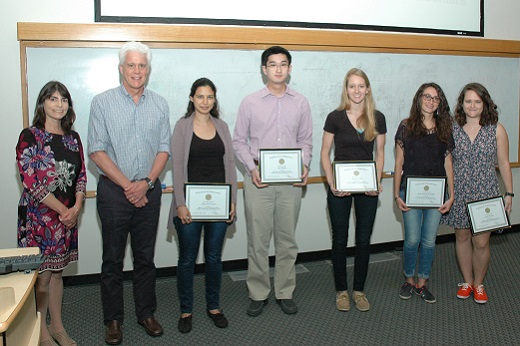 The awardees are:
Cemre Celen
Title: Regulation of β-cell mass and regeneration by SWI/SNF chromatin remodeling
PI: Hao Zhu, M.D.
Department: Children's Research Institute at UT Southwestern
Berfin Azizoglu
Title: Afadin synergizes with RhoA to direct morphogenesis of the pancreatic endocrine cell niche
PI: Ondine Cleaver, Ph.D.
Department: Molecular Biology
Alicia Fessler
Title: Developing techniques to engineer renal replacement tissue in vitro
PI: Tom Carroll, Ph.D.
Department: Internal Medicine – Nephrology
Yu "Bob" Zhang
Rescue of muscular dystrophy in human cardiomyocytes and postnatal mouse model by the novel CRISPR Cpf1 system
PI: Eric Olson, Ph.D.
Department: Molecular Biology
Ayse Ercan, Ph.D.
Title: Imaging myelin degeneration and regeneration in multiple sclerosis patients
PI: Elena Vinogradov, Ph.D.
Department: Radiology
Seven travel fellowships also were awarded to outstanding fellowship proposals.
The awardees are:
Alexandra Ghaben
Magid Mohamed
Andres Ramirez-Martinez
Lauren Tyra
Salim Abdisalaam, Ph.D.
Maria del Carmen Lafita Navarro, Ph.D.
Jamie Wright, Ph.D.