Fellowships
The Hamon Center for Regenerative Science and Medicine (CRSM) Trainee Fellowships support talented graduate student or postdoctoral trainees whose research focuses on tissue formation in health and disease, tissue repair, or tissue regeneration. The $25,000 fellowships are awarded each fall. Any applicant whose project focuses on regenerative medicine is strongly encouraged to apply.
On September 27 the awardees of the 2017-2018 CRSM Fellowships were announced.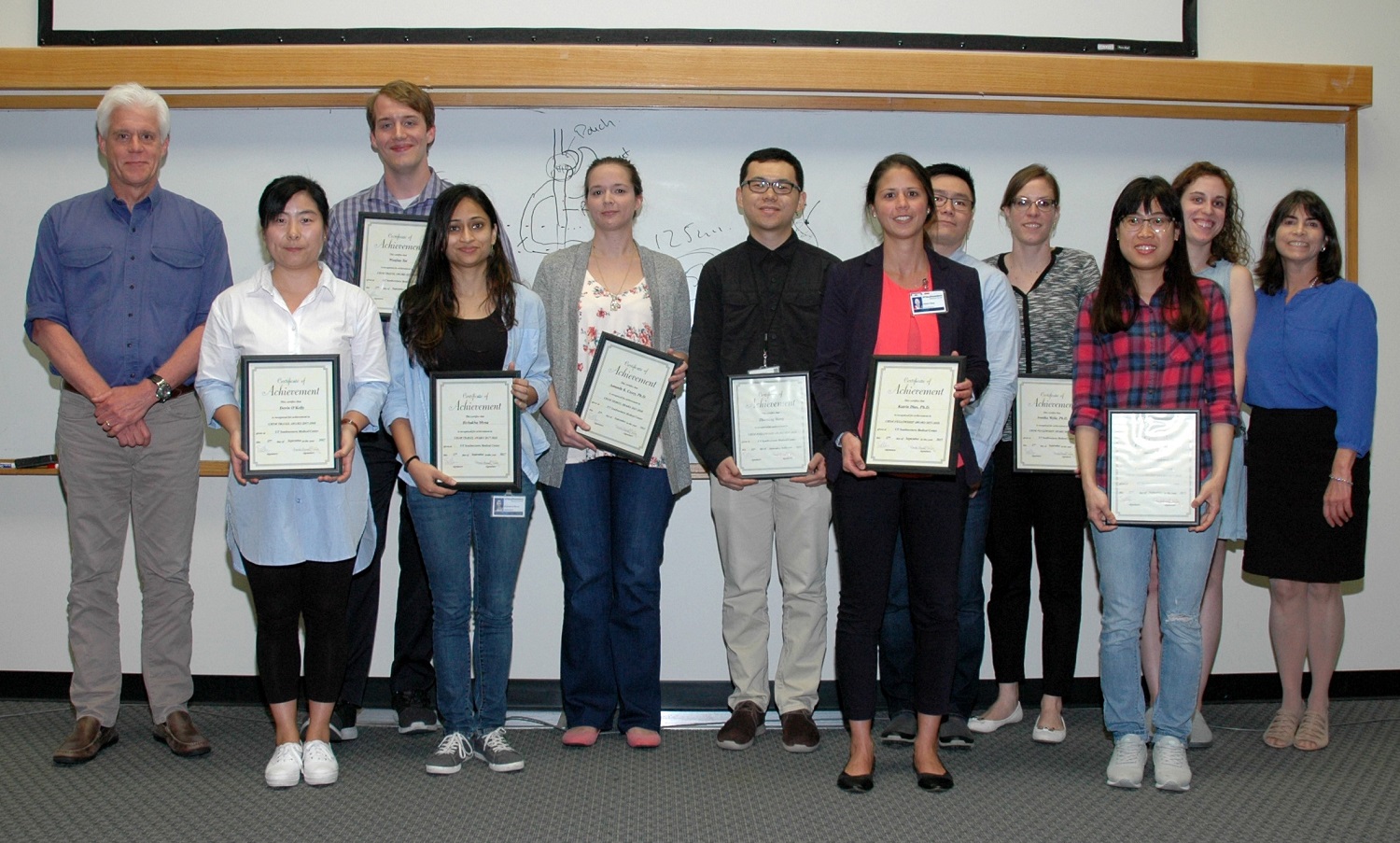 The awardees are:
Anne Ryan
Title: Modeling the vascular-nephron interface using kidney organoid
Mentor: Ondine Cleaver, Ph.D.
Department of Molecular Biology
Annika Wylie, Ph.D.
Title: An in vivo model for deconstructing p53 function in stem cells
Mentor: John M. Abrams, Ph.D.
Department of Cell Biology
Katrin Dias, Ph.D.
Title: Efficacy of high intensity exercise for increasing cardiorespiratory fitness in patients with HCM
Mentor: Benjamin D. Levine, M.D.
Department of Internal Medicine
Ngoc Uyen Nhi Nguyen, Ph.D.
Title: Deciphering the interplay between serine/threonine phosphatase Calcineurin (CN) and cardiomyocyte proliferation
Mentor: Beverly Rothermel, Ph.D.
Department of Internal Medicine
Xin Liu, Ph.D.
Title: In situ analysis of enhancer structure-function in stem cell development
Mentor: Jian Xu, Ph.D.
Children's Research Institute
Zhaoning Wang
Title: An enhancer roadmap to neonatal heart regeneration
Mentor: Eric Olson, Ph.D. and Rhonda Bassel-Duby, Ph.D.
Department of Molecular Biology
Four travel fellowships also were awarded to outstanding fellowship proposals.
The awardees are:
Amanda K. Casey, Ph.D.
Title: Visual system degeneration and recovery
Mentor: Kim Orth, Ph.D.
Department of Molecular Biology
Bishakha Mona
Title: Developmental design principles for generation of the somatosensory spinal cord
Mentor: Jane Johnson, Ph.D.
Department of Neuroscience
Devin O'Kelly
Title: Development of imaging methods to quantify vascular architect
Mentor: Ralph Mason, Ph.D.
Department of Radiology
Wenjiao Tai
Title: Enabling regeneration with small molecules in the injured spinal cord
Mentor: Chun-Li Zhang, Ph.D.
Department of Molecular Biology