The Hamon Center for Regenerative Science and Medicine (CRSM) Trainee Fellowships support talented graduate student or postdoctoral trainees whose research focuses on tissue formation in health and disease, tissue repair, or tissue regeneration. The $25,000 fellowships are awarded each fall. Any applicant whose project focuses on regenerative medicine is strongly encouraged to apply.
2019-2020 CRSM Fellowship Awardees
On November 6 the awardees of the 2019-2020 CRSM Fellowships were announced.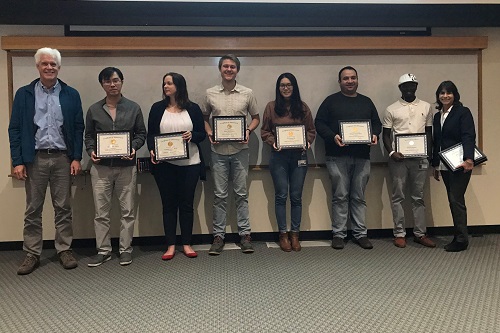 The awardees are:
Amanda Casey, Ph.D.
Title: UPR-induced visual system degeneration and regeneration
Mentor: Kim Orth, Ph.D.
Department of Molecular Biology
Jacob McClendon
Title: Dual specificity phosphatase 16 mediates neuronal regeneration after traumatic brain injury
Mentor: Peter Douglas, Ph.D.
Department of Molecular Biology
Mehmet Takar, Ph.D.
Title: Functional characterization of mitochondrial micropeptide Stmp1 in cardiac metabolism
Mentor: Rhonda Bassel-Duby and Eric Olson
Department of Molecular Biology
Sibiao Yue, Ph.D.
Title: Defining the dynamic changes in mitochondrial metabolism that drive quiescence
Mentor: Matthew Sieber, Ph.D.
Department of Physiology
Yu-Hsuan Lin
Title: Identification of circulating factors that control organ size after regeneration
Mentor: Hao Zhu, M.D.
Children's Research Institute
Five travel fellowships also were awarded to outstanding fellowship proposals.
The awardees are:
Edem Tchegnon
Title: Physiological Function and Regulation of Krox20 (Egr2) in Epithelial Stem Cells
Mentor: Lu Q. Le, M.D., Ph.D.
Department of Dermatology
George Wendt
Title: A hnf4 homolog regulates gut stem cells in the parasitic flatworm Schistosoma mansoni
Mentor: James J. Collins, Ph.D.
Department of Pharmacology
Jiawei Zhao
Title: Differential Requirement of Glucose Transporters Glut1 and Glut3 on Macrophage Polarization
Mentor: Richard Wang, M.D
Department of Dermatology
Lizbeth Perez-Castro
Title: Regulation of colonic stem cell growth and differentiation by intestinal micro-environmental signals
Mentor: Maralice Conacci Sorrell, Ph.D.
Department of Cell Biology
Qinglan Zhao
Title: Regulation of Colon Formation, Repair and Regeneration by a Novel Secreted Micropeptide
Mentor: Yihong Wan, Ph.D.
Department of Pharmacology