The Hamon Center for Regenerative Science and Medicine (CRSM) Trainee Fellowships support talented graduate student or postdoctoral trainees whose research focuses on tissue formation in health and disease, tissue repair, or tissue regeneration. The $25,000 fellowships are awarded each fall. Any applicant whose project focuses on regenerative medicine is strongly encouraged to apply.
2018-2019 CRSM Fellowship Awardees
On October 17 the awardees of the 2018-2019 CRSM Fellowships were announced.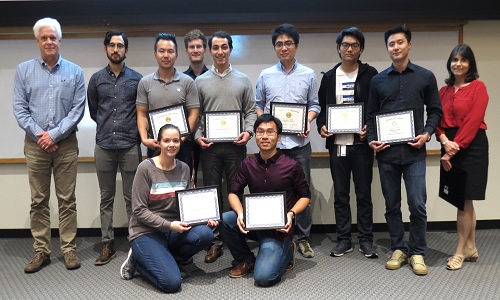 The awardees are:
Leqian Yu, Ph.D.
Title: Conservation or assimilation: study the features of rat pancreas generated inside a mouse
Mentor: Jun Wu, Ph.D.
Department of Molecular Biology
Chunyang Ni
Title: Novel approaches to study ribosome homeostasis in human cells
Mentor: Michael Buszczak, Ph.D.
Department of Molecular Biology
Mahmoud Elguindy
Title: Regulation of tissue homeostasis and regeneration by the NORAD-PUMILIO axis
Mentor: Joshua Mendell, M.D., Ph.D.
Department of Molecular Biology
Kevin Lam
Title: Fabrication of an asymmetrical cargo loading zone for the increased uptake of molecules
Mentor: David Schmidtke, Ph.D.
Department of Bioengineering
Seven travel fellowships also were awarded to outstanding fellowship proposals.
The awardees are:
Amanda K. Casey, Ph.D.
Title: UPR-induced visual system degeneration and recovery
Mentor: Kim Orth, Ph.D.
Department of Molecular Biology
Rui Chen
Title: Defining molecular signals that regulate the regenerative potential of the schistosome reproductive system
Mentor: James J. Collins, Ph.D.
Department of Pharmacology
Rene Solano Fonseca, Ph.D.
Title: Impact of trauma-induced extracellular factors on engraftment efficiency of neural organoids
Mentor: Peter Douglas, Ph.D.
Department of Molecular Biology
Xiaowu Gu, Ph.D.
Title: Deciphering vascular-epithelial co-development in choroid plexus
Mentor: Ondine Cleaver, Ph.D.
Department of Molecular Biology
Yuemeng Jia
Title: Baz2a and Baz2b: new epigenetic targets for the enhancement of liver regeneration
Mentor: Hao Zhu, M.D.
Children's Research Institute at UTSW
Brenden Park
Title: Secreted tyrosine kinase responsible for vision defects in Drosophila melanogaster
Mentor: Vincent Tagliabracci, Ph.D.
Department of Molecular Biology
Leon Straub, Ph.D.
Title: Culprit or Savior? The Adipocyte and the Reversal of Myodystrophy
Mentor: Philipp Scherer, Ph.D.
Department of Internal Medicine