The Hamon Center for Regenerative Science and Medicine (CRSM) Trainee Fellowships support talented graduate student or postdoctoral trainees whose research focuses on tissue formation in health and disease, tissue repair, or tissue regeneration. The $25,000 fellowships are awarded each fall. Any applicant whose project focuses on regenerative medicine is strongly encouraged to apply.
2022-2023 CRSM Fellowship Awardees
On September 7, 2022 the awardees of the 2022-2023 CRSM Fellowships were announced at the Regenerative Medicine Seminar Series.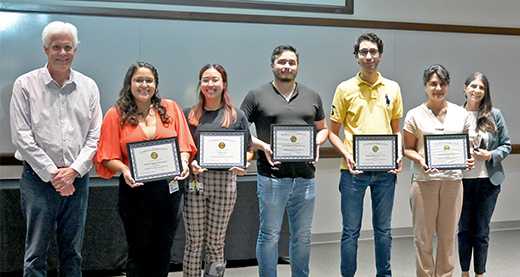 The awardees are:
Abdallah Elnwasany, M.D.
Title: Inhibition of Fatty Acid Oxidation to Promote Cardiac Regeneration
Mentor: Luke I. Szweda, Ph.D.
Department of Internal Medicine, Division of Cardiology
Ambar Cajigas Hernandez
Title: Roles of muscle activity in regulating nerve growth and regeneration
Mentor: Weichun Lin, Ph.D.
Department of Neuroscience
Jose Calva Moreno
Title: E3 Ubiquitin Ligase UBR-5 Regulates Ectodermal Cell Fate Specification
Mentor: Benjamin Weaver, Ph.D.
Department of Pharmacology
Neda Vishlaghi, Ph.D.
Title: Lymphatic vessels in digit tip regeneration
Mentor: Benjamin Levi, M.D.
Department of Surgery
Tiffany Yee
Title: Investigating the Role of PRDM13 in Retinal Development and Degeneration
Mentor: Katherine Wert, Ph.D.
Department of Ophthalmology