Quality Control Laboratory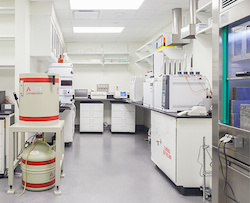 The Cyclotron and Radiochemistry Program's Quality Control (QC) Laboratory ensures the regulatory compliance of radiotracer productions. All procedures involving human use of radiotracers comply with 21 CFR Part 212, the U.S. Food and Drug Administration's cGMP guidance for production of PET drugs, and/or the U.S. Pharmacopeia's Chapter 823 standards for PET drug production and compounding.
CRP operations are monitored by UT Southwestern Medical Center's Radiation Safety Office to ensure compliance with the U.S. Nuclear Regulatory Commission's radiation safety regulations.
Our QC equipment includes:
Agilent 7820A gas chromatograph with flame ionization detector and autosampler
Agilent 7820A gas chromatograph with thermal conductivity detector
Ion chromatograph 1600
HPLC1260-AGI
Bioscan AR-2000 Radio-TLC and imaging scanner
Canberra Broad Energy Germanium Detector BE3825 system with shield
Endosafe®-PTS for endotoxin assay
Dose calibrator and chamber shield
Incubators for TSB and FTM sterility tubes
Water purification system
Agilent liquid chromatography-mass spectrometry (LC-MS), inductively coupled plasma mass spectrometry (ICP-MS)