Research in Surgical Transplantation
Clinical Trials
View a list of current clinical trials below.
Ex-Vivo Machine Perfusion of Liver
The PROTECT Trial is a prospective randomized controlled trial that compares the safety and effectiveness of the perfusion device (OCS) with the standard cold preservation of liver organs. The OCS circulates nutrients and warm oxygenated blood through the liver using warm pulsatile perfusion from the time of organ retrieval until transplantation in the patient. The study device can potentially offer more effective preservation and allows testing of the organ to determine its risk of poor function before transplant surgery is done. To learn more, please visit the MacConmara Lab.
Expanding Pediatric Donor Organs
UT Southwestern's research in pediatric transplantation includes examining utilization of marginal organs in the pediatric transplant population. Outcomes in liver and kidney transplantation in pediatric patients when organs from marginal donors (including CDC high risk donors and donation after cardiac death organs) are being investigated. This is a way to increase the donor pool in the pediatric patients who are listed for transplantation.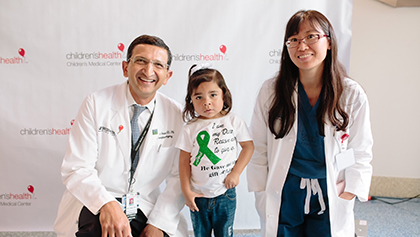 Support Research
The Division of Surgical Transplantation lives up to a long tradition of excellence in clinical care, research and education. Nationally and internationally recognized physicians from many disciplines work together to provide patients with the most advanced treatment options. You can make a difference, and we need your help. When you support transplant research, you are making a significant contribution to advancing our goal of providing the best care for every patient.
If you are interested in supporting our research team, please contact:
Parsia A. Vagefi, M.D., FACS
Chief, Division of Surgical Transplantation
UT Southwestern Medical Center
5959 Harry Hines Blvd, HP04.102
Dallas, TX 75390-8567
Phone: 214-645-6760
Fax: 214-645-6771
Parsia.Vagefi@UTSouthwestern.edu
For questions regarding participation in clinical trials, please contact:
David Wojciechowski, D.O.
Medical Director, Kidney Transplantation
Director, Department of Surgery Transplant Research
UT Southwestern Medical Center
David.Wojciechowski@UTSouthwestern.edu