The Pediatric Surgery Fellowship Program at UT Southwestern
The educational mission of our Pediatric Surgery Fellowship Program at UT Southwestern is to teach pediatric surgical fellows the specialized knowledge and skills needed to manage surgical diseases in children and become competent, thoughtful leaders in academic pediatric surgery. We offer a two-year fellowship training program with a new fellow accepted every year. Our fellows spend the majority of their time at Children's Health- Children's Medical Center of Dallas – the seventh-largest pediatric health care provider in the country, and consistently recognized among the top children's hospitals in the country by U.S. News & World Report.
Our division is dedicated to the education of knowledgeable, independent leaders in academic pediatric surgery. We are committed to fostering and incorporating innovative pediatric surgery treatments and techniques as well as promoting and retaining thoughtful, inquisitive pediatric surgeons to be local and national leaders in academic pediatric surgery. Our fellows are well trained across all aspects of pediatric surgery.
Keys to this training include:
Robust Multi-disciplinary Clinical Programs: Surgical Oncology, Fetal Evaluation and Treatment Alliance Center/neonatal surgery, Pediatric Intestinal Rehabilitation Program, Surgical Endocrine Program, Center for the Pectus and Chest Wall Anomalies, ACS Level 1 accredited Trauma Program, ECMO program (we perform non-cardiac ECMO), Robotic Surgery, Adolescent Weight Loss Program (including Bariatric Surgery), Transplantation
Outstanding array of over 50 pediatric specialty and subspecialty programs including national experts in pediatric Hematology/Oncology, Neonatology, Cardiology, Cardiac Surgery including transplant, Endocrinology, GI (ERCP, endoscopic intervention and endoscopic US), Nephrology, Intervention Radiology, Pathology, Neurology, Neurosurgery, Orthopedics, Pulmonology, and Urology to name a few.
One of the busiest pediatric emergency medicine programs in the country with an annual volume of ~170,000 patients with 20-40% of all hospital admission coming through the ED.
Robust Educational Curriculum: Learn from experts in surgery and other disciplines at regularly scheduled conferences: Grand rounds, Mortality and Morbidity Conference, Journal Club, Pediatric Surgery in Review (utilizing Score curriculum and NAT), SurgRadPath Conference, Oncology Review, Fetal conference, Fetal Journal Club, Professor Rounds, Multidisciplinary Combo Conferences (fetal, NICU, PICU, ECMO, GI, urology) and pediatric tumor boards (solid tumor, thyroid, musculoskeletal tumor board).
Surgical Simulation Center: We utilize fresh tissue and inanimate models to teach advanced minimally invasive neonatal surgical techniques with faculty proctors.
Mentorship: Through our mentorship program, we coach our fellows to identify specific career goals and encourage clinical, educational, research, and leadership opportunities to further develop unique expertise.
Research Opportunities: Our faculty are involved in clinical, translation, and basic science research including multi-center national trials, drug/device trails, local clinical trials, prospective registries, retrospective/prospective reviews, and bench research. Fellows participate in research most fitting with their career goals and clinic interest.
Program Structure
The first year includes rotations in the neonatal intensive care unit and pediatric intensive care unit. The entire second year is spent on the pediatric surgery service. During the second year, the fellow will run the pediatric surgery service, teach the general surgery residents and medical students, and will participate in the organization of the formal teaching conferences. The fellow will also act as the teaching assistant for progressively more complex procedures.
Educational Experience
The Pediatric Surgery Fellowship Program offers a wide range of educational experiences. Training includes the operating room, bedside, outpatient clinic experiences, and the Simulation Center. The Program offers conferences throughout UT Southwestern Medical Center and Children's Health. UT Southwestern conferences are held on Wednesday and Children's Health conferences are held every Thursday; topics are rotated over the length of the program to provide a thorough coverage of diagnoses and management options. We also utilize the Simulation Center for teaching minimally invasive neonatal techniques.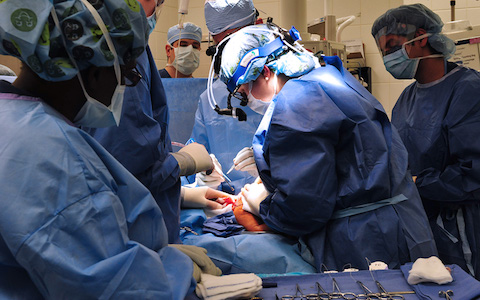 Training Sites
Children's Health – Children's Medical Center of Dallas
Dallas, TX United States
Free standing children's hospital

Children's Health – Children's Medical Center Dallas is a 490-bed hospital with a level 1 trauma center with a large level IV NICU, a PICU, a cardiac ICU, and an active ECMO program. In an average year, the pediatric surgery service performs more than 4,000 cases, sees more than 5,000 outpatients, and is primarily responsible for more than 1,000 injured trauma patients. The surgical team consists of pediatric surgery fellows, PGY 4 surgical residents, surgical interns, medical students, 9-12 nurse practitioners/PAs, and 6 wound ostomy nurses. Our NPs are in house 7 days a week for both trauma and general surgery. Radiology, IR, and ECHO is available 24-7. PICC team is available 7 days a week.
Parkland Memorial Hospital
Dallas, TX United States
With over 12,000 deliveries and over 1400 neonatal discharges per year, Parkland provides an excellent clinical experience for surgical conditions affecting neonates. Located across the street from Children's, these patients are managed cooperatively with the Surgical and Neonatology teams. Patients deemed to need surgical intervention are transferred over to Children's Health for the surgical procedure and acute post-surgical care. Throughout the year, the fellows see and manage complex neonates perioperatively at Parkland and our first-year fellow rotates to Parkland during the NICU rotation.
Pediatric Surgical faculty from UT Southwestern also manage patients cooperatively with the UT Southwestern Neonatologists at Texas Health Regional Hospital. For neonatal index cases beneficial to their education, the fellows evaluate and treat neonates at THR. This additional NICU augments the fellows experience at Children's Health Dallas for the management of complex neonatal index cases.