Basic and Translational Research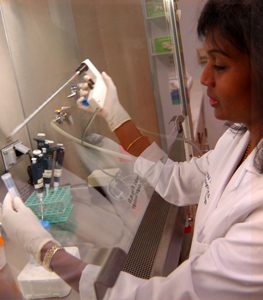 We conduct research in laboratories located in the Department of Obstetrics and Gynecology, the Cecil H. and Ida Greeen Center for Reproductive Biology Sciences, and the Hamon Center for Therapeutic Oncology Research in the UT Southwestern Simmons Biomedical Research Building.
In these laboratories, our faculty and Gynecologic Oncology fellows are evaluating the biologic effects of chemotherapy, genetic therapy, and immunotherapy on gynecologic malignancies.
Our scientific findings are then used to develop and implement new methods for the prevention, early detection, diagnosis, prognostic assessment, and treatment of cancers in the female reproductive tract.
Cancer researchers have access to an institutional review board (IRB) approved gynecologic oncology tumor bank and facilities for tissue culture, in vitro, and in vivo tumor growth assays.
Clinical Research
In tandem with the laboratory, we are active in clinical research on new therapeutics, early detection of cancer, family genetic studies, chemoprevention, epidemiology, and population studies.
As a member institution of the national NRG Oncology organization, we have patients enrolled in National Cancer Institute-sponsored clinical protocols for the treatment of ovarian, uterine, cervical, and gestational trophoblastic cancers. Our patients also have access to several pharmaceutical company-sponsored research trials for the treatment of gynecologic cancers.
From Lab to Bedside
We participate in several Phase 1 clinical trials in pre-invasive and invasive gynecologic cancers and solid tumors. These trials are investigator-initiated, institutional, or collaborations with pharmaceutical companies in the evaluation of drugs for the treatment of ovarian and cervical cancers.
By performing this interdisciplinary research, the Division of Gynecologic Oncology is able to transfer findings to and from the laboratory and bedside, resulting in leading-edge care.