BioBank Study
The Biobank Study at UT Southwestern Medical Center is a multiethnic repository of DNA samples from 10,000 Caucasians, 10,000 Black/African Americans, and 10,000 Hispanic/Latino Americans that will allow researchers to study the relationships between genetics and disease in different ethnic groups. Researchers are currently recruiting Black/African Americans and Hispanic/Latino Americans from North Texas.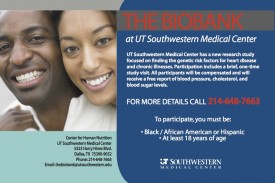 Heart disease and related illnesses are the leading causes of death in the United States. According to the Centers for Disease Control and Prevention, someone dies from a heart attack, stroke, or related illnesses every 39 seconds.
Black Americans and Hispanics are affected more severely by heart disease, hypertension, high cholesterol, and other chronic illnesses than other ethnic groups. Research suggests that genetics may play a role in one's risk for developing these diseases.
To learn more about how genetics contribute to heart disease and other chronic illnesses, researchers at UT Southwestern Medical Center have launched the BioBank Study, a DNA repository.
Participation
Participants complete a brief, one-time study visit. During the visit, participants:
Complete a short health survey
Provide a small blood sample
Enrollment is open to Black/African Americans and Hispanic/Latino Americans age 18 and older.
Compensation
Free copy of cholesterol, blood pressure, and blood sugar levels.
$25 Target gift card for time and effort.
Results
All participants will receive a copy of their lab test results. Interpreting the lab results and how they reflect one's health can only be determined by knowing many other aspects of one's medical history. The lab results should not be considered as a substitute for regular medical treatment and diagnostics. Participants are strongly encouraged to share their results with their personal physician.