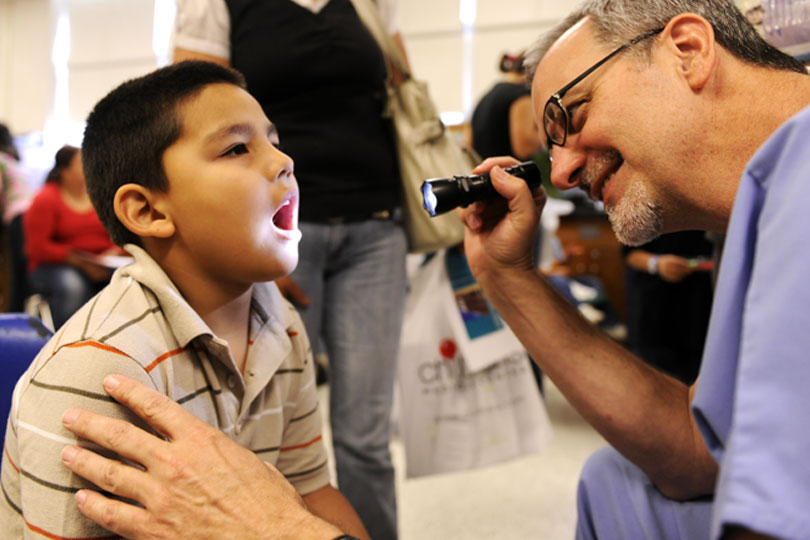 The Community Health Track provides students with practice-oriented and/or service-oriented learning opportunities related to community medicine. The track provides students interested in community health with an immersive and experiential opportunity that blends traditional learning modalities (didactic, lectures, roundtable discussions, and individual-paced study) with field research in collaboration with selected community-based organizations within the Dallas-Fort Worth Metroplex working with underserved populations.
Students experience firsthand how social determinants (poverty, homelessness, access to care, unemployment, etc.) impact population and community health outcomes. During their work with faculty mentors, students learn the principles of community-based participatory research (CBPR). Additionally, students will have opportunities to learn the types and functions of formal and informal medical, public health, and social support programs involved in community health care and community health improvement.
Learning Objectives
After completing the track, students will be able to:
Define the biopsychosocial approach to medical care and explain how the approach is applied in the determinants of health model
Describe health promotion and disease prevention (HPDP) in the community-based setting and as applied to populations of patients
Demonstrate an understanding of the need for protection of human subjects when working with vulnerable populations in the community
Define the principles of community-based participatory research (CBPR)
Describe the relationship between culture and health, and practice skills in delivering culturally sensitive health care services
Discuss the social, financial, and ethical aspects of limiting and promoting access to health care for vulnerable populations
Methods of Instruction
Special emphasis is placed on participating in service-learning opportunities. Service learning refers to a structured learning experience that combines community-oriented service with explicit learning objectives, preparation, and reflection. Students are expected, therefore, to provide direct community-focused service, learn about the context in which the service is provided, and understand the connection between the service-learning opportunity and their academic coursework.
Student Responsibilities
The experience should be tailored to enable the student to pursue special interests in community medicine such as epidemiologic methods, health system evaluation, health policy, and regulation of public health service entities. Specific experiences are agreed upon with the track director in advance. The student is accountable to both the on-site mentor and the track director.
Evaluation
At the conclusion of the scholarly activity project, each student is required to prepare and submit a 5- to 10-page summary, excluding references and figures, detailing the outcomes, recommendations, and lessons learned. Students will have the option of discussing and presenting their report to a meeting of interested faculty, residents, and students, to be arranged by the track director. Students also will be encouraged to disseminate their findings at local, national, and international conferences.
The grade for the scholarly activity track will be pass/fail based on the student's final paper.
The final paper will be graded according to established guidelines across all scholarly activity tracks.