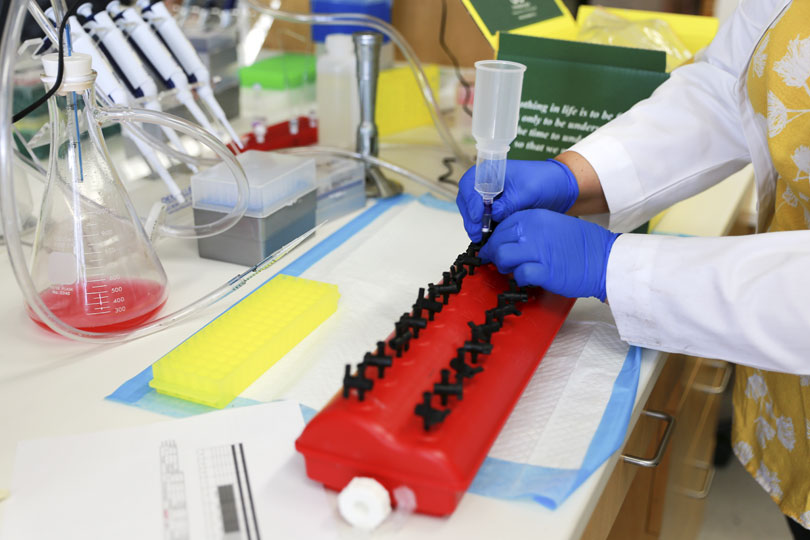 Scholarly activity is an important component of the curriculum at UT Southwestern Medical School. It supports our dedication to providing students with opportunities to grow in diverse areas with novel career opportunities that excite and inspire. Scholarly activity provides students with skills for scholarly inquiry based on ethical principles with a focus on discovery of new knowledge skillfully transmitted to others.
The scholarly activity rotation will be scheduled during the clerkship and post-clerkship periods. The material taught during the pre-clerkship period will serve as the foundation of scientific knowledge that will help inspire and inform students as they identify areas of interest and gaps in medical knowledge. Other than participation in the Academic Colleges, this 12-week period will be solely devoted to scholarly activity.
Students engaged in a dual-degree program will apply their dual-degree experience as fulfilling the scholarly requirement (M.D.-Ph.D., M.D.-M.P.H., M.D.-MBA). Collaboration with other medical students is possible but will need advanced approval by a track director, and each student must have clearly defined roles and responsibilities with appropriate attributions for individual contributions. Thus, each student member of a group will be responsible for a distinct project similar to individual projects as detailed below.
Program Course
Basic Research Track: Understanding hypothesis development, research design, evaluating existing literature, the collection of data, and responsible conduct in laboratory research.
Clinical and Translational Research Track: Providing infrastructure for medical students to participate, design, and lead clinical and translational research projects.
Community Health Track: Providing opportunities to learn the types and functions of formal and informal medical, public health, and social support programs involved in community health care and community health improvement.
Global Health Track: Promoting good health and delivering medical care in low-resource environments here and abroad. With an increasingly interconnected and interdependent world, health providers will be required to deliver culturally appropriate care in all environments with limited resources.
Medical Education Track: Creating new knowledge and improving the quality of education as well as developing the student's professional passion and foundation for a future in academic medicine.
Quality Improvement and Patient Safety Track: Providing the opportunity for medical students to gain formal training and practical experience in quality improvement (QI) methodology.
Preparation
Information about the scholarly activity rotation will be sent to students four months before they are expected to begin their experience. The goals and timelines of the scholarly activity track will be introduced and track-specific resources will be delineated.
The education of scholarly activity begins when the students reach out to potential mentors to begin creating their own research experiences. The scholarly activity directors believe that this organic development is vital to the scholarly activity experience.
A project proposal and identified mentor must be reviewed by a track director no later than two months prior to the start of a scholarly activity rotation.
For projects involving humans and Institutional Review Board (IRB) approval, the student is required to undergo all applicable training as a new member of an IRB protocol prior to the start date of the project. It is recommended that students start any required IRB submissions 60 days prior to their scholarly activity for full IRB review studies and 30 days for modifications to existing protocols. All training must be completed before starting a project.
Similarly, for protocols involving animals, approval by the Institutional Animal Care and Use Committee (IACUC) must be obtained prior to the start of the block with similar timeline considerations.
Assessment
The scholarly activity will be graded on a pass/fail basis with common established criteria consistent among all tracks. A written final scholarly activity summary will be required of each student comprised of a final 5- to 10-page written thesis (excluding references and figures) with introduction, methods/approaches, results, and conclusion.