Admissions Process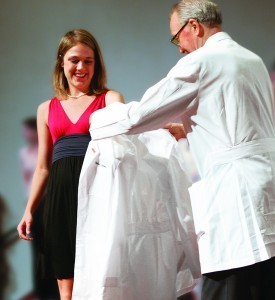 How to Apply
You've taken the Medical College Admission Test, applied to UT Southwestern Medical School through the Texas Medical and Dental Application Service, and made sure you're completing all required courses for admission. Now what?
Complete the secondary application through the UT Southwestern My GateWay site. You will not receive an email or reminder to submit the Secondary Application, so it is your responsibility to complete this requirement.
Your application will be reviewed by the Admissions Committee. If selected to interview, you will receive an invitation by email to visit the UT Southwestern campus.
Applicant Evaluation
Now that you've applied, you might be wondering what makes a competitive candidate? What are we looking for?
At UT Southwestern, the UT Southwestern Admissions Committee seeks to identify the most academically qualified applicants who, in the judgment of the Committee, will make the best physicians. We evaluate candidates in a holistic manner and are interested in identifying applicants who possess not only the academic capabilities but also the personal attributes and characteristics inherent in excellent physicians.
Additionally, the committee will assess the candidate's motivation to pursue a career in medicine, ensuring alignment with mission of the UT Southwestern Medical School which emphasizes the importance of training primary-care physicians, educating doctors who will practice in medically underserved areas of Texas, and preparing physician-scientists who seek careers in academic medicine and research.
The Admissions Committee considers all the following in evaluating each applicant's acceptability:
Scores on the Medical College Admission Test (MCAT)
Academic performance in college as reflected in the grade-point average
The rigor of the undergraduate curriculum
Recommendations from the college premedical committee or faculty
Extracurricular activities
Socioeconomic background
Any time spent in outside employment
Personal integrity and compassion for others
The ability to communicate in English
Race/Ethnicity*
Other personal qualities and individual factors such as leadership, self-appraisal, determination, social and family support, and maturity and coping capabilities
The applicant's motivation for a career in medicine
*As authorized by the Board of Regents, and subject to the approval of the UT System, UT Southwestern Medical Center added race and ethnicity to the broad range of criteria considered for student admission and for awarding scholarships and fellowships beginning with academic year 2006–2007.
In-Person Interview
Interview invitations are sent by email to applicants beginning in mid-July. Invitations for interviews are typically sent at least three weeks before the assigned interview date. You may accept or change the assigned interview date, based on seating capacity, once you receive your invitation. All candidates will have two back to back interviews with UT Southwestern faculty members or researchers.
We offer an informative two-day interview program that includes the opportunity to participate in clinical rounds, tour our amazing facilities and hear presentations on topics including global health, community service, dual-degree programs, and the curriculum, Most important, you'll have the opportunity to engage with our current students, faculty, and staff to experience the collaborative culture and community at UT Southwestern Medical School.
Interviews are by invitation only and take place from early September through early January.