2020-2021 Estimated Tuition and Fees: $22,099
UT Southwestern is one of the most elite and affordable medical schools in the country. In addition to our excellence in education and clinical training, students are also offered an affordable medical education. The cost of living in Dallas is substantially lower than most other cities with medical schools. Our thriving housing market coupled with lower cost of living and tuition rates makes for an even more enjoyable educational experience at UT Southwestern.
Cost of an M.D. Degree at UT Southwestern
The student cost of attendance budget has two primary purposes:
To give students an estimate of reasonable costs;
To establish the federally required cost of attendance to assess eligibility for various types of aid.
Cost Comparison
The cost of education at UT Southwestern Medical School is substantially lower than nearly every private medical school in the U.S., as well as most public medical schools, according to data from the Association of American Medical Colleges.
2019-2020 AAMC Tuition & Fees Comparison
Average Public Medical School
$39,153
Average Private Medical School
$62,529
View Chart Data

| Schools | Tuition & Fees |
| --- | --- |
| UT Southwestern | $21,034 |
| UNC | $35,080 |
| UCSF | $36,062 |
| Vanderbilt | $58,831 |
| Northwestern | $63,512 |
| Harvard | $65,203 |
| Washington U | $66,913 |
Applying for Financial Aid at UT Southwestern
All you need to do to apply for all types of available financial aid at UT Southwestern is file the Free Application for Federal Student Aid (FAFSA). The earlier you file the FAFSA online, the better.
FAFSA is available October 1 of the year preceding your start date
No parental data is required
No supplemental aid applications are needed
Never pay someone to help you file the FAFSA – contact us for free!
Sources of funding
Scholarships
Awarded by UT Southwestern, either at the time of admission or later if funds are available
Private scholarships – apply on your own to foundations, religious or community organizations, places of worship, etc.
Education Loans
Direct Unsubsidized Loan (Federal)
Current interest rate 6.08%
Direct Grad Plus Loan (Federal)
Current interest rate 7.08%
College Access Loan (State)
Current interest rate 5.2%
Private Education Loans (various lenders)
Interest rates vary by lender and are based on borrower's credit
Average Medical School Debt - Class of 2019
UT Southwestern Medical School Debt
$122,776
Public Medical School Debt
$193,186
Private Medical School Debt
$215,005
Source: AAMC
Debt MD
Financial Wellness for Medical Students
Finances during and after medical school can be challenging. That's why we created DebtMD, a plan to provide relevant and digestible information about student loans, borrowing, repayment, and more.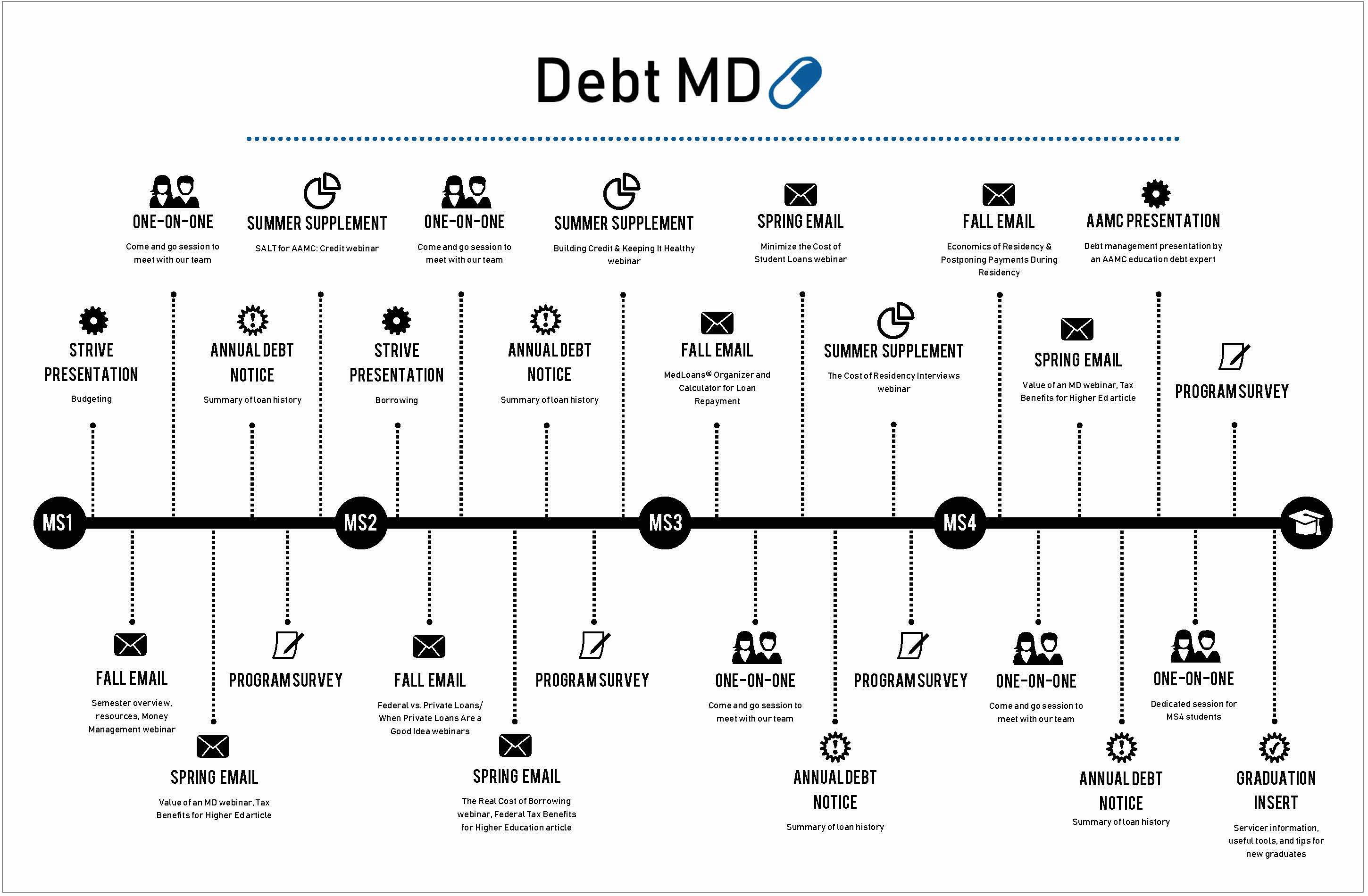 Get Your Finances Ready


Additional Resources