Clerkship Period

And Related Activities
Clerkships start in the middle of the second academic year following the systematic presentation of integrated basic science and clinical topics during the pre-clerkship months. By starting clerkships sooner, medical students have the opportunity to explore more clinical fields to assist them in deciding on their ultimate career specialty. Students who have already decided on a discipline for training are able to explore a selected topic in greater depth or broaden clinical experiences with other opportunities.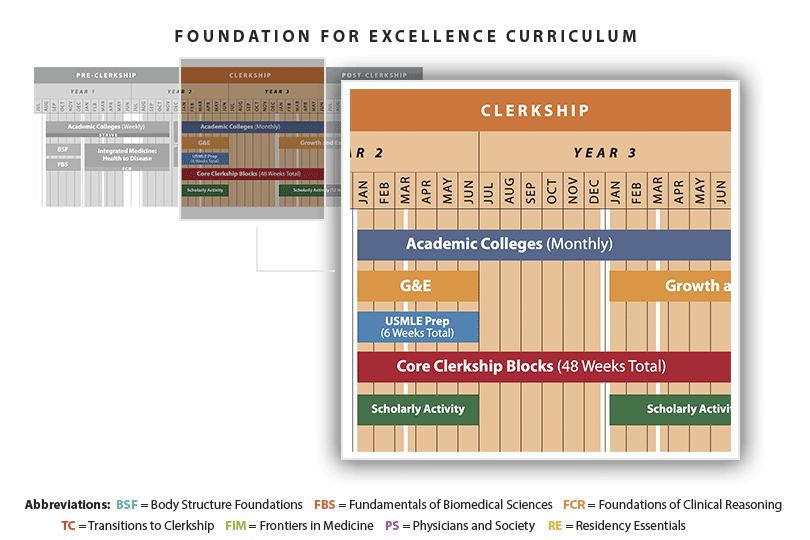 Students have up to six weeks off during the first year of the clinical curriculum to prepare for and take the USMLE Step 1. The timing of this is left up to the student. Evidence shows that some students improve their performance on the USMLE Step 1 after having some clinical experience, so some may prefer not to take the exam immediately after the pre-clerkship period. On the rare occasion that it becomes necessary to repeat the exam, a student could take an additional four weeks to study and retest, which would count as one of the student's vacation months.
The 48 weeks of clerkships are taken within a period of 18 calendar months (January of the second year of medical school through June of the following calendar year, a total of 78 weeks), with 6 weeks of vacation time. The curriculum is scheduled in six 12-week blocks. The current required clerkships take place over 48 weeks (Internal Medicine–8 weeks, Surgery–8 weeks, Pediatrics–6 weeks, Obstetrics/Gynecology–6 weeks, Psychiatry–6 weeks, Ambulatory Care-6 weeks, Neurology–4 weeks, and Family Medicine–4 weeks).
This 18-month period provides students with flexibility and the chance to intersperse other educational opportunities among their clerkship training to develop a personalized learning plan based on their individual priorities and interests. These may include laboratory or clinical research, electives, or scholarly concentration within some of the blocks. Electives could be scheduled at various times during the 18 months, assuming completion of the prerequisite clerkships.
Academic Colleges continue longitudinally during this 78-week period, with small groups meeting monthly with their respective mentors and including such topics as ethics, professionalism, health systems, quality improvement, clinical reasoning, and career advising.