Student Profile in Sleep & Circadian Rhythms
Danyal Alam
Mentor: Todd Roberts, Ph.D.
Undergraduate Degree: Psychology
Undergraduate Institution: Hunter College
Hometown: Queens, NY
Awards/Fellowships: BP ENDURE Scholar, Sleep and Circadian Rhythms T32 Training Program
How did you become interested in science and/or research?
I can't remember a time when I was not interested in science. If I wasn't reading a Philip K. Dick novel, I was glued to the television watching reruns of "The Jetsons." Science and its bold forecasting by artists were ubiquitous growing up. It wasn't until the later years of my undergraduate career that I realized concepts and inventions from my sci-fi-laden childhood, such as the Jetsons' robot vacuum, were becoming an actuality through the efforts of scientists. After becoming introduced to research as a BP ENDURE scholar, I became hooked.
Please describe your research.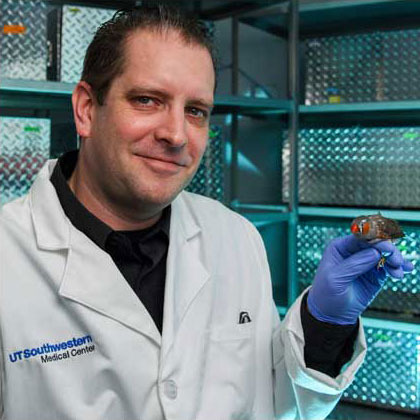 My dissertation in Dr. Todd Roberts' Lab tackles trying to understand the role of sleep in the acquisition of communicative behaviors. I take advantage of the songbird's well-defined neural circuitry underlying a robust and stereotyped learned behavior, along with evidence pointing to changes in song structure during sleep, to examine sleep-based learning mechanisms. By identifying circuit mechanisms involved in memory consolidation, we will stand better equipped to help those affected by sleep disturbances.
Why did you choose UT Southwestern?
I joined the Neuroscience Department at UT Southwestern Medical Center due to the world-class research and the outstanding collaborative environment. UT Southwestern has produced and attracted brilliant independent researchers and has thus played an integral part in my professional development. During my interviews I had the opportunity to engage with top scientists, many of whom, if not all, use state-of-the-art equipment and facilities. UT Southwestern also stood out because of its supportive and collaborative environment between faculty and students. During my interviews, many matriculated Ph.D. students openly discussed their projects and how easily they could seek out the advice of other members of the scientific community.
What do you love about the Neuroscience Program?
Like most faculty at UTSW, the principal investigators in the neuroscience program are trailblazers of their field. My training has benefitted tremendously from the diverse small group discussions and intellectually invigorating lectures. The structure of the courses along with the rotation of different PIs leading these classes allows for a well-rounded, yet detailed training. Doctoral students also benefit from the weekly seminars of invited speakers. Not only are we given the opportunity for a behind-the-scenes look into renowned labs outside of UTSW, but we also get an opportunity to network and collaborate with the scientists leading them. Ultimately, I believe the neuroscience program thoroughly prepares doctoral students in every facet to ensure for a successful career as a scientist.
– Danyal Alam, Neuroscience Graduate Program