Molecular Microbiology Ph.D. Program
About the Molecular Microbiology Program
The Graduate Program in Molecular Microbiology emphasizes an integrated approach to the study of prokaryotic and eukaryotic organisms. The overall objective of the Molecular Microbiology Program is to provide a rich environment of multidisciplinary training in research strategies and technology that will prepare the graduate for a career as an independent investigator in both the basic and applied biomedical sciences.
Major Ph.D. Degree Program Areas
Microbial Pathogenesis
Analysis of virulence factors, bacterial toxins, lipopolysaccharides, and outer membrane proteins; interactions of pathogens and their products with eukaryotic host cells (cellular microbiology); antigenic variation; contemporary vaccine strategies; bacterial gene regulation (osmoregulation, quorum sensing); bacterial export and secretion; and genetic regulation of bacterial virulence expression.
Virology
Human immunodeficiency virus; West Nile virus; polio virus; dengue virus; hepatitis C virus; resistance to viral infections; viral replication and persistence; viral vaccines; eukaryotic gene regulation; signal transduction pathways; and cellular and molecular mechanisms of human oncogenesis.
Cellular and Molecular Immunology
Functions of natural killer cells; antigen processing and presentation; functions of T cell subsets; mechanisms of immune cell activation by microbial modulins; immunotoxins; immunoprivileged sites; mechanisms of inflammation; dendritic cells; tumor immunology; and generation of antibody diversity.
Faculty members in the Molecular Microbiology Program offer advanced courses in:
Medical microbiology and infectious diseases (including immunology)
Molecular basis of microbial pathogenesis
Microbial genetics
Virology
Viruses in human cancer
Cell and molecular immunology
Genetic manipulation of the immune system
Participation in seminars, elective courses, journal clubs, and works-in-progress seminars contributes to each student's success.
Students interested in joining the Molecular Microbiology Ph.D. Program should apply to the interdisciplinary umbrella program within the Division of Basic Science. First-year students complete a core curriculum that includes a core course, three or four laboratory rotations, and training in the responsible conduct of research. Students who perform satisfactorily in the first semester core course are qualified to enter the Molecular Microbiology Graduate Program.
Message from the Program Chair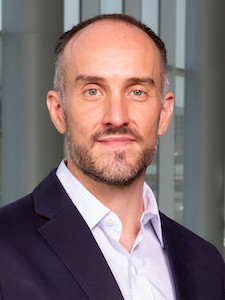 John Schoggins, Ph.D.
Associate Professor, Microbiology
The Molecular Microbiology Graduate Program emphasizes an integrated approach to the study of prokaryotic and eukaryotic organisms. A major focus of the research programs of many faculty members of the Molecular Microbiology Graduate Program is the study of medically relevant bacteria and viruses, with an emphasis on the molecular mechanisms underlying how these pathogens interact with respective hosts to cause disease.
Across the Program, interdisciplinary approaches are employed to analyze the unique biology of these important pathogens and their hosts.
Overall, the research Program is dedicated to providing a superior level of training in biomedical research strategies and technologies related to the major principles of molecular microbiology.