Sixth Annual Simulation-Based Quality Improvement and Research Forum
Wednesday, May 17, 2023
Hosted In-Person and Virtually by the UT Southwestern Simulation Center
Speaker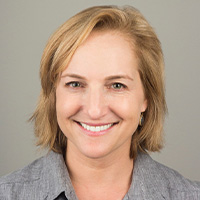 Laura K. Rock, M.D., is a pulmonologist and critical care physician at the Beth Israel Deaconess Medical Center (BIDMC) and an Assistant Professor at Harvard Medical School. She has been leading communication training and implementation of programs to promote patient dignity, effective and empathic communication, and team collaboration for more than a decade. Dr. Rock conducts research on interprofessional team debriefings and patient safety.
She leads programs related to effective, empathic communication, including patient-centered critical care, trust, listening, feedback, teamwork, and managing conflict, primarily to the benefit of faculty, students, residents, and fellows. She is a core faculty member at the Harvard Center for Medical Simulation and serves as a VitalTalk instructor. Dr. Rock was honored to be included among the inaugural faculty of the BIDMC's Katherine Swan Ginsburg Humanism in Medicine Program and the Academy for Communication in Healthcare's Putnam Scholars Program.
She received additional communication training as an IntensiveTalk faculty member, as a BIDMC Rabkin Fellow, and as a Harvard Medical School Shore Family Fellow. In addition, she has served as faculty director of the BIDMC's Gold Humanism Honor Society resident chapter.
Agenda
7 to 8 a.m.
Keynote Address
8 a.m. to noon
Panel Discussion and Research Presentations
1:00 to 3:30 p.m.
Experiential Learning