Fourth Annual Simulation Symposium
Wednesday, May 12, 2021
Hosted Virtually by the UT Southwestern Simulation Center
Speaker
Carla Pugh, M.D., Ph.D., is a Professor of Surgery at Stanford University School of Medicine and Director of the Technology Enabled Clinical Improvement (T.E.C.I.) Center. Her clinical area of expertise is acute care surgery, and her research involves the use of simulation and advanced engineering technologies to develop new approaches for assessing and defining competency in clinical procedural skills. She is a leading, international expert on the use of sensors and motion-tracking technologies for performance measurement.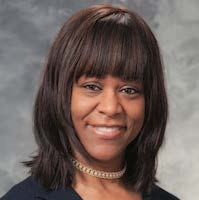 Dr. Pugh earned her undergraduate degree in neurobiology at U.C. Berkeley and her medical degree at Howard University School of Medicine. Upon completion of her surgical training at Howard University Hospital, she attended Stanford University to obtain her Ph.D. in education. Her goal is to use technology to change the face of medical and surgical education.
Dr. Pugh holds multiple patents on the use of sensor and data acquisition technology to measure and characterize hands-on clinical skills. Currently, more than 200 medical and nursing schools are using one of her sensor-enabled training tools for their students and trainees. Her work has received numerous awards from medical and engineering organizations, including the Presidential Early Career Award for Scientists and Engineers from President Barack Obama at the White House in 2011. In 2014, she was invited to give a TEDMED talk on the potential uses of technology to transform how we measure clinical skills in medicine. Dr. Pugh was inducted into the American Institute for Medical and Biological Engineering in 2018, the American College of Surgeons Academy of Master Surgeon Educators in 2019, and the American Board of Surgery Council in 2020.
Agenda
7 to 8 a.m.
Keynote Address
8 a.m. to noon
Panel Discussion and Research Presentations
1:30 to 4 p.m.
Experiential Learning