CodeBlack Virtual Simulation Day
Saturday, February 13, 2021, 1-3 p.m.
CodeBlack is a virtual competition in which teams of health care professions students triage, diagnose, and manage simulated patient cases in a variety of scenarios.
Participating student organizations include:
American Association of Neurological Surgeons (AANS)
Biomedical Innovation Society (BI)
Cardiology Interest Group (CIG)
Cardiovascular and Thoracic Surgery Interest Group (CVTS)
Choosing Wisely Liaisons (CWL)
Dermatology Interest Group (DIG)
Emergency Medicine Interest Group (EMIG)
Family Medicine Student Interest Group (FMIG)
Geriatric Interest Group (GIG)
Global Surgery Student Alliance
Interprofessional Student Collaborative (ISC)
Interventional Radiology Interest Group (IRIG)
John Paul North Society
Medical Students HELP
Oncology-Hematology Medical Society (OHMS)
Ophthalmology Student Interest Group (OphthoSIG)
Orthopedic Surgery Interest Group (OSIG)
Pathology Society
Pediatric Interest Group (PIG)
Physical Medicine and Rehabilitation Student Interest Group (PM&R SIG)
Preventive and Lifestyle Medicine Interest Group (PMIG)
Psychiatry Student Interest Group (Psych SIG)
Pulmonary Critical Care Interest Group (PCCIG)
Seldin Society for Internal Medicine (SSIM)
Student Initiatives in Medical Simulation (SIMS)
Student Interest Group in Neurology (SIGN)
Trauma Surgery Students Society (TSSS)
UGM Clinics – Calvert Place and The Center of Hope
Wilson Surgical Society (WSS)
Women's Health Enrichment Elective
Women's Health Interest Group (WHIG)
Fourth Annual Simulation Symposium
Wednesday, May 12, 2021
Hosted Virtually by the UT Southwestern Simulation Center
Speaker
Carla Pugh, M.D., Ph.D., is a Professor of Surgery at Stanford University School of Medicine and Director of the Technology Enabled Clinical Improvement (T.E.C.I.) Center. Her clinical area of expertise is acute care surgery, and her research involves the use of simulation and advanced engineering technologies to develop new approaches for assessing and defining competency in clinical procedural skills. She is a leading, international expert on the use of sensors and motion-tracking technologies for performance measurement.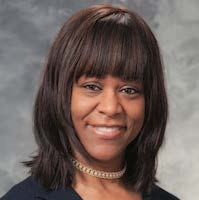 Dr. Pugh earned her undergraduate degree in neurobiology at U.C. Berkeley and her medical degree at Howard University School of Medicine. Upon completion of her surgical training at Howard University Hospital, she attended Stanford University to obtain her Ph.D. in education. Her goal is to use technology to change the face of medical and surgical education.
Dr. Pugh holds multiple patents on the use of sensor and data acquisition technology to measure and characterize hands-on clinical skills. Currently, more than 200 medical and nursing schools are using one of her sensor-enabled training tools for their students and trainees. Her work has received numerous awards from medical and engineering organizations, including the Presidential Early Career Award for Scientists and Engineers from President Barack Obama at the White House in 2011. In 2014, she was invited to give a TEDMED talk on the potential uses of technology to transform how we measure clinical skills in medicine. Dr. Pugh was inducted into the American Institute for Medical and Biological Engineering in 2018, the American College of Surgeons Academy of Master Surgeon Educators in 2019, and the American Board of Surgery Council in 2020.
Agenda
7 to 8 a.m.
Keynote Address
8 a.m. to noon
Panel Discussion and Research Presentations
1:30 to 4 p.m.
Experiential Learning
Call for Abstracts
Students, residents, fellows, faculty members, scientists, and other interested individuals are invited to submit abstracts for the UT Southwestern Simulation Center Quality Improvement and Research Forum. This forum is intended to bring together individuals from a broad array of backgrounds, all with a common interest in health care simulation quality improvement and research. Abstracts may be submitted for any project investigating simulation-based activities related to medicine, medical science, medical education, or patient safety.
Work that has been previously presented or published is welcome in this forum.
There will be poster and oral presentations. Submissions for both will be accepted until February 19, 2021.
New this year is the Emerging Ideas Session! This is intended for presenters to share their ideas or works in progress. This session will involve a panel of experts who can provide their perspectives and advice. Submit your ideas now!
Emerging Ideas Template Submit Template
If you have challenges accessing the box, please email your submission to MK Adcock. mk.adcock@utsouthwestern.edu