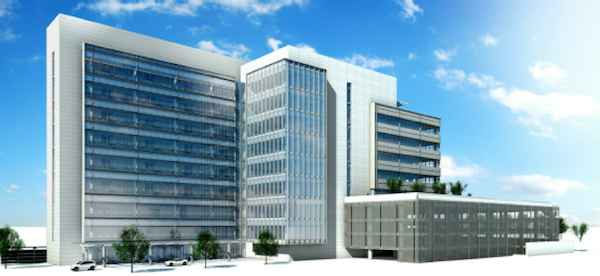 At 49,000 square feet, UT Southwestern's Simulation Center is one of the largest and most advanced simulation centers in the country. Spanning two floors of the West Campus Building 3, the Center replicates real life through authentic and immersive environments for health care learners to develop the knowledge, skills, and attitudes to become effective, compassionate, and competent clinicians. See a virtual tour of the space.
Facility
The facility includes 20 exam rooms, six in-patient rooms, and five high fidelity clinical replicas of obstetrics, intensive care, emergency, and surgery rooms. A control room adjacent to each simulation room lets the team and educators facilitate robust, high-tech simulations.
Each simulated clinical environment boasts multispecialty, state-of-the art equipment. For example, one surgery suite is equipped with a da Vinci Xi surgical robot dedicated to resident and practicing surgeon training and research. Another is outfitted with a fully operational Storz OR-1 set-up.
Four dedicated rooms are available 24 hours a day to provide learners the opportunity to practice on their schedule. These rooms include:
Two virtual reality rooms
An open/laparoscopic lab
A da Vinci Skills Simulator (a virtual reality-based trainer)
Additional space includes:
Four large multiskills rooms that can each be set up as one room or sectioned into four smaller classrooms
A devoted wet and dry prep area immediately off the multiskills rooms, providing clients with a space to prep for wet labs, clean instruments, and sterilize equipment
Adjacent to the multiskills rooms, two locker rooms offering clients the ability to change into appropriate attire and for clean-up when participating in wet labs
Two large classrooms and seven debrief rooms provide flexible spaces for lectures, prebriefs, debriefs, task training, or interviews
Simulators/Models
The Center is equipped with:
More than 20 full-body high technology manikins, ranging in age from infant to adult
More than 100 task trainers
12 virtual reality trainers
The facilities can support large animal studies in addition to training with manikins, standardized patients, and other physical (animate or cadaveric) models.
Audiovisual
Enhancing the physical space, the Center is outfitted with an innovative audiovisual recording system that enables audiovisual capture of each room into an advanced clinical simulation management platform. Additionally, a large display in each room enhances learners' simulations with multimedia or a live-feed demonstration. This system allows review, debriefing, and analysis of the captured activities.
Additional Resources
With more than 20 full-time team members, including some who hold advanced degrees in simulation, the Simulation Center staff are experts in the field. The Center incorporates best practice educational theories, high fidelity environments, and innovative teaching modalities in a formal partnership process. The partnership lets the Center team with a diverse group of subject matter experts to develop, implement, and facilitate simulation activities.
More than 100 expertly trained standardized patients allow the Center to execute high fidelity, high stakes simulations.
UT Southwestern has the largest surgical residency training program in the country for general surgery, urology, and gynecology. These surgical subspecialties are the largest clinical adopters of surgical robotic platforms for clinical practice. These factors all contribute to the Center's unique ability to carry out research projects.
Highlights of Our Facilities
High-Fidelity Training Environment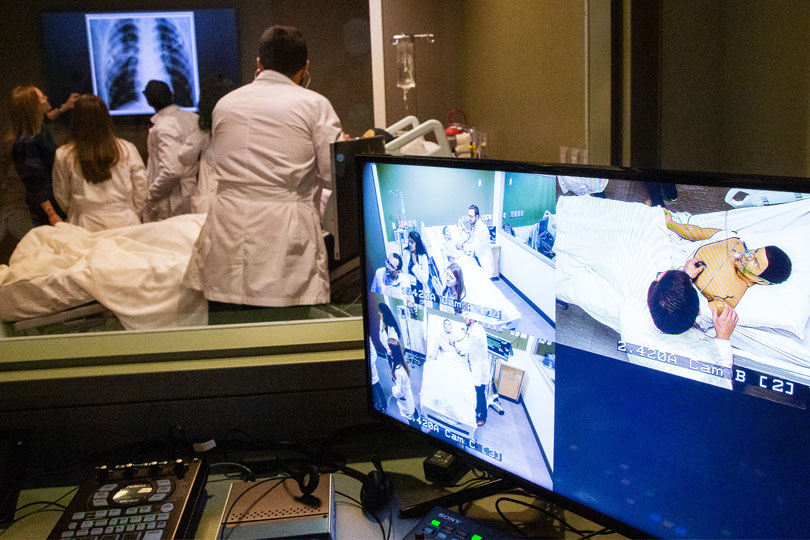 High-fidelity training environments include an emergency department room, an intensive care room, and a labor and delivery room. These rooms are large enough to run multiple patient scenarios, and have direct observation control rooms equipped with one-way mirrors. They can also accommodate additional mobile equipment such as crash carts, fluid infusers, intubation scopes, and more.
Rooms have overhead communication equipment, a large wall monitor for image display, and four ceiling-mounted pan-tilt-zoom cameras to record video-assisted debriefing.
Robotic operating room suite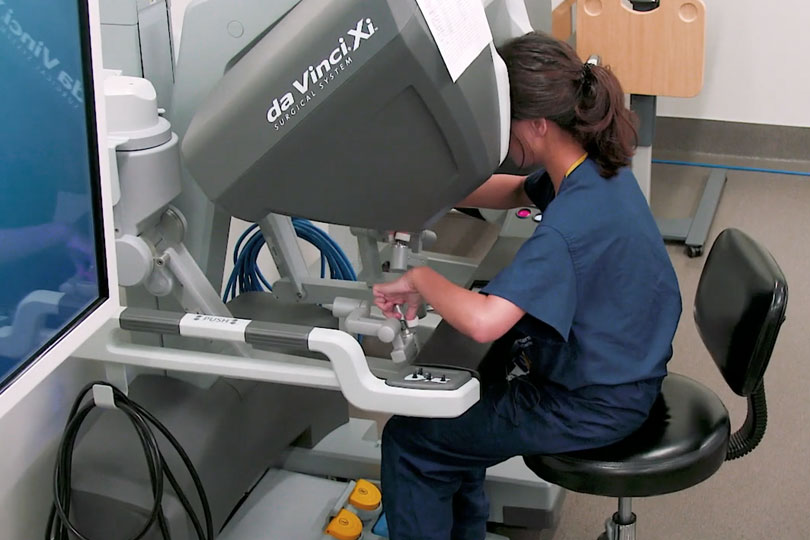 The robotic operating room suite includes a da Vinci surgical robot and control console, as well as a multiscreen surgical display. The room also is equipped with cameras and recording capabilities.
Operating room suite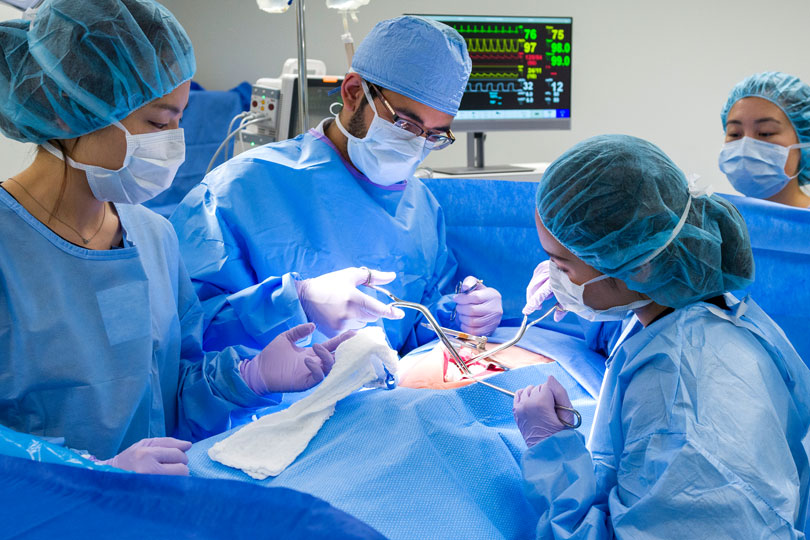 The operating room suite is set up as a true OR. From overhead displays to patient arrangement, learners are immersed in the OR environment from the moment they step in the door. Simulation is operated from an adjacent control room with direct view through a one-way mirror.
Robotic surgery-training environments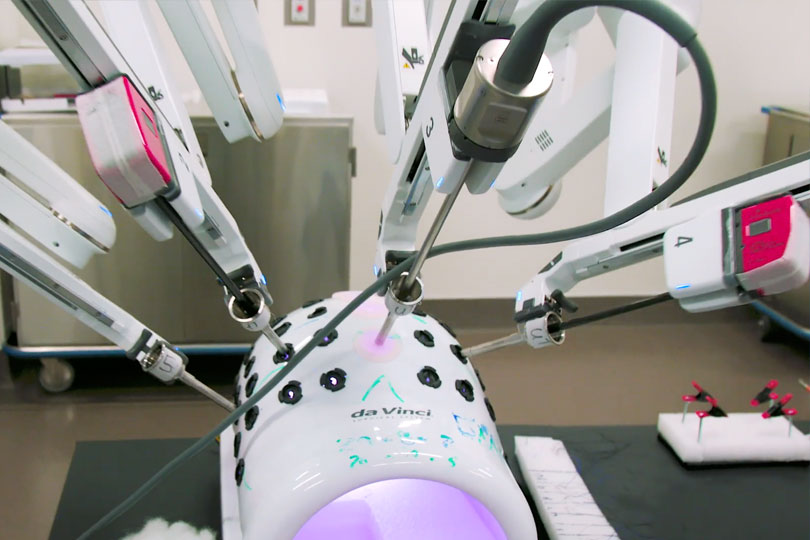 In addition to the robotic operating room suite, other robotic surgical locations are available to use with the "in-house" robot, as well as ones brought in for particular training sessions.
Laparoscopic and suture training lab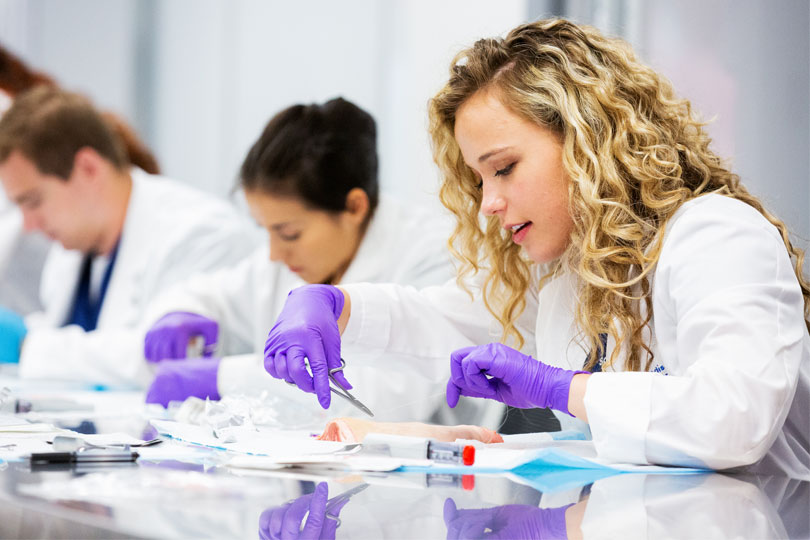 The laparoscopic and suture training lab is used by many levels of learners, but is available to graduate-level trainees 24 hours a day. Here they can practice suturing and laparoscopic techniques that require intensive eye-hand coordination.
Standardized Patient Exam Rooms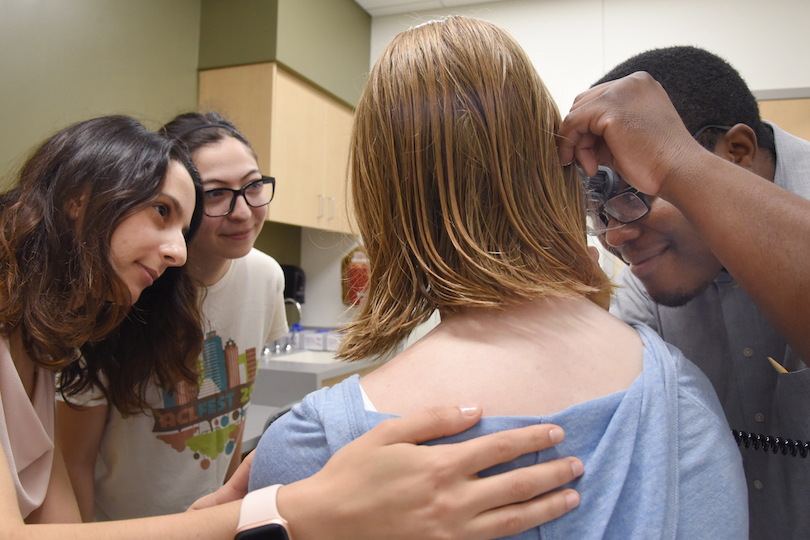 The 20 clinical exam rooms provide learners with the opportunity to master their ability to interact with patients in outpatient settings by practicing their exam, interview, teamwork, and communication skills. These rooms can be used with any type of simulation modality and are outfitted with real clinical equipment and advanced audiovisual features, which include two cameras, intercoms, as well as simulated workstations.