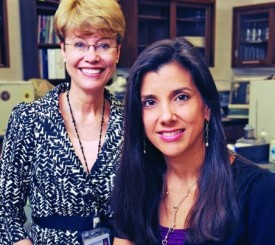 UT Southwestern has a history of participation in groundbreaking research, led by Dr. Rebecca Gruchalla's involvement with the Inner City Asthma Multicenter Study, which started in 1996. This collaborative group, which became the Inner City Asthma Consortium (ICAC) received NIH funding for over two decades contributing to clinical and mechanistic understanding of pediatric asthma in inner city patients.
Drs. Drew Bird and Chris Parrish continue conducting active research into novel interventional therapeutics for treatment of life-threatening food allergies and treatment of eosinophilic esophagitis (EoE). Since 2010, more than 20 clinical research trials have been conducted in the Food Allergy Center with support from a variety of sources, including private foundations and grants, industry support, and in 2019, Dr. Bird was invited to participate in the NIH/NIAID-funded Consortium for Food Allergy Research OUtMATCH trial. In 2020, Drs. Bird and Parrish along with collaborators from the University of Arkansas for Medical Sciences were awarded the FARE Clinical Network Discovery Center of Designation grant. Importantly, efforts from trials conducted in the Food Allergy Center have led to the first FDA-approved therapy for peanut allergy and the first FDA-approved therapy for eosinophilic esophagitis.
David Khan, M.D., is conducting various research projects in adults focused on drug allergies, refractory chronic urticaria, mood disorders and asthma, and rush immunotherapy. He and Dr. Gruchalla contributed as a site investigating reactions to COVID-19 vaccines.
Dr. Chris Wysocki collaborates with Dr. Nicolai Van Oers in the basic Immunology department on projects related to novel gene discovery in primary immunologic disorders, and on various aspects of DiGeorge/22q11.2 deletion syndrome. In collaboration with Dr. Victor Aquino from the Stem Cell Transplant team, the program is involved in clinical research through the Primary Immunodeficiency Treatment Consortium (PIDTC).
Dr. Tim Chow is conducting various research projects focused on pediatric drug allergy including assessing tools to increase penicillin allergy delabeling in the primary care setting, investigating parental perceptions of pediatric drug allergy, and collaborating with the United States Drug Allergy Registry to further characterize pediatric adverse reactions to drugs.
List of publications by our recent graduates.