Mission and History: 2000 to 2007
International Preeminence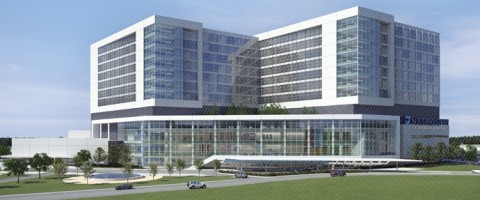 2000
UT Southwestern acquired the land and facilities of St. Paul University Hospital and Zale Lipshy University Hospital, and assumed responsibility for their management. The two hospitals were acquired in 2005 by UT Southwestern Medical Center and operated as UT Southwestern University Hospitals.
2001
In 2001, the Southwestern Medical Park Apartments, located at 6401 Maple Avenue, became the first campus housing accommodation in the history of UT Southwestern. Known to students as "Med Park," the apartments feature a 24-hour on-site study center, as well as a club room, fitness center, and pool. By 2004, it had doubled in size.
2004
Nobel laureate Dr. Alfred Gilman, Chairman of Pharmacology at UT Southwestern, was named Interim Dean of Southwestern Medical School and appointed Dean in 2005. Dr. Gilman later went on to lead the Cancer Prevention and Research Institute of Texas.
The Cecil H. and Ida Green Comprehensive Center for Molecular, Computational, and Systems Biology was established to utilize information technology that enables scientists to link basic research on molecules and cells with analysis of the function of entire biological systems. The center evolved thanks to a major grant from the Cecil and Ida Green Foundation, representing the final distribution of the Foundation's assets by its trustees, which was combined with a specific bequest from the late Mr. Green through his Trust to provide $12.8 million to UT Southwestern.
2005
UT Southwestern occupied its newest biomedical research tower, the largest in the nation, in 2005. That same year, the Texas Legislature approved the largest increase in the institution's state support in more than two decades.
The President's Lecture Series debuted, providing an opportunity for leading UT Southwestern scientists and physicians to share information about their ongoing research and clinical advances with UT Southwestern staff – the people who support their work in a variety of ways. The inaugural lecture featured Nobel Prize recipients Dr. Michael Brown and Dr. Joseph Goldstein discussing – in laymen's terms – the 33-year history of their groundbreaking discoveries on cholesterol, in a talk titled "The Cholesterol Cycle: From Bed to Bench and Back."
Twelve researchers were selected as the first investigators to participate in the Clinical Scholars Program, a UT Southwestern initiative designed to support the next generation of leaders in patient-oriented research, administered by the Center for Biostatistics and Clinical Science.
The medical center introduced an electronic medical record portal called "MyChart" for patients to access their health records. The portal is now used by more than 50,000 patients to pose questions to physicians, schedule appointments, and refill prescriptions over encrypted, secure connections. MyChart capped an effort that began in 2002 as UT Southwestern became the first health care facility in North Texas to switch to electronic medical records.
2006
Former Texas Gov. William P. "Bill" Clements Jr. contributed $10 million to Southwestern Medical Foundation to open a new, state-of-the-art research and clinical building. The facility was named the Bill and Rita Clements Advanced Medical Imaging Building in recognition of the significant contributions to higher education and academic medicine of Gov. Clements and his wife. The center houses some of the world's largest and most sophisticated imaging equipment — including one of the nation's first 7-Tesla magnetic resonance imaging devices for human studies.
Dr. Raul Caetano, regional dean of the UT School of Public Health, was named dean of the UT Southwestern Allied Health Sciences School, which evolved in 2008 into the UT Southwestern School of Health Professions.
2007
In 2007, the T. Boone Pickens Foundation – formed by oil and gas industry leader and philanthropist T. Boone Pickens – contributed $50 million for a special investment fund that was projected to grow to $500 million within 25 years, at which time the funds will become available to support UT Southwestern programs in perpetuity. In recognition of this landmark gift, UT Southwestern renamed its 800,000-square-foot medical research and education facility the T. Boone Pickens Biomedical Building. Completed in 2005, the $240-million, 14-story facility on the North Campus was the largest research building ever built for a Texas university at that time.
UT Southwestern received $34 million from the National Institutes of Health to establish the North and Central Texas Clinical and Translational Science Initiative, as part of the agency's highly competitive Clinical and Translational Science Award program. The funds were used to energize patient-oriented research and translational science and led to the creation of the Center for Translational Medicine.