Mission and History: 2008 to Present
A New Era of Leadership: Dr. Daniel K. Podolsky Becomes Third President
In September 2008, Daniel K. Podolsky, M.D., was appointed as the third President of UT Southwestern.
Since coming to UT Southwestern, Dr. Podolsky has focused on keeping the medical center at the frontiers of science by enhancing its faculty and activities in basic, translational, and clinical research, as well as promoting clinical transformation through a commitment to excellence and innovation in patient care. His priorities include ensuring that UT Southwestern educates and trains future physicians, scientists, and allied health care professionals in programs that optimally prepare them for the changing landscape in scientific research and health care delivery. He also has launched important new initiatives in global health and faculty diversity.
As President, Dr. Podolsky holds the Philip O'Bryan Montgomery, Jr., M.D. Distinguished Presidential Chair in Academic Administration. He also is a Professor of Internal Medicine and holds the Doris and Bryan Wildenthal Distinguished Chair in Medical Science.
2008
Legendary philanthropists Harold and Annette Simmons committed an additional $50 million to UT Southwestern's Innovations in Medicine campaign, raising the total Simmons contributions for the campaign to a record-setting $125 million. This addition to the Simmons' campaign contribution pushed the campaign total over the $740 million mark — making it the most successful philanthropic fundraising effort in Dallas history.
Buildings on the 24-acre, $38-million Exchange Park site were acquired by UT Southwestern and renamed the Paul M. Bass Administrative and Clinical Center on the North Campus. The center was named in honor of Mr. Bass, chairman emeritus of the Southwestern Medical Foundation, who served in that role until 2008, after more than a decade of leadership. With this additional property, UT Southwestern's campus grew to 9 million square feet of laboratory, clinical, educational, and administrative space, covering 387 acres.
2009
Former Texas Gov. William P. Clements Jr. made an unprecedented $100 million gift to Southwestern Medical Foundation. This visionary act, intended to have a transformative impact, marks the largest single donation in the institution's history. Mr. Clements said his goal was to help encourage and advance scientific discovery and innovation, prepare the next generation of physicians for Texas and the nation, and ensure the delivery of world-class medical care. The gift, especially noteworthy in Mr. Clements' insistence that there be no restrictions on its use, created the William P. Clements Jr. Fund, which later became a key supporting donation to the Building the Future of Medicine fundraising campaign. That campaign is helping to fund construction of the new William P. Clements Jr. University Hospital.
A fund to aid in recruiting the most promising early-career physicians to UT Southwestern and launching their careers under the mentorship of senior clinicians and clinical scientists was established in late 2009. A $12 million gift from the Dedman Foundation, matched to create a $24 million endowment, supported the establishment of the Dedman Family Endowed Program for Scholars in Clinical Care, which supports an average of eight clinical scholars at any given time.
Dr. J. Gregory Fitz, M.D., Chairman of Internal Medicine at UT Southwestern at the time, was named the 13th Dean of the UT Southwestern Medical School and Provost of the Medical Center, as well as Executive Vice President for Academic Affairs.
The $186 million Biomedical Research Building (NL Building on the North Campus) opened, marking an important contribution to environmental stewardship. The building is the largest LEED (Leadership in Energy and Environmental Design) silver-certified laboratory space in Texas. LEED is an international rating system for designing and building the world's greenest, most energy-efficient, and highest-performing buildings. The NL Building certification came following a five-year review.
2010
President Daniel K. Podolsky, M.D., submitted plans for a new, state-of-the-art University Hospital had been offered for approval to the UT System Board of Regents. By the summer of 2010, the Regents and the Texas Higher Education Coordinating Board approved the $800 million facility. Construction of the 1.3 million-square-foot project began in March 2011.
In the summer of 2010, the Harold C. Simmons Cancer Center attained National Cancer Institute (NCI) designation, an elite distinction held by only the top-tier cancer centers nationwide. The Simmons Cancer Center is the first and only medical center in North Texas to attain this prestigious status, which the NCI bestows upon the nation's top cancer centers in recognition of innovative research and excellence in patient care.
A dedication was held for BioCenter at Southwestern Medical District. This facility serves as a springboard to drive biomedical innovation in North Texas and encourage the development and commercialization of university-created technologies. BioCenter opened in April on a 13-acre biotech park site, located on UT Southwestern's East Campus at Inwood and Forest Park roads. Overseen by UT Southwestern's Office of Technology Development, the center is home to six startup companies that have raised more than $500 million in venture capital.
Bruce A. Meyer, M.D., M.B.A, Vice President for Medical Affairs at UT Southwestern, was named Executive Vice President for Health System Affairs, responsible for overseeing the entire UT Southwestern clinical enterprise, including its clinics and hospitals.
UT Southwestern established an Office for Global Health to direct and develop training and research initiatives with partners around the world. Dr. Fiemu Nwariaku was named Associate Dean for Global Health to oversee the office, facilitating agreements with medical institutions in several countries, including China, Israel, South Africa, and Peru.
2011
In 2011, UT Southwestern leadership, faculty members, employees, donors, and community supporters assembled for a foundation-laying event that commemorated a key milestone for the construction of the William P. Clements Jr. University Hospital. The state-of-the-art facility is named after legendary Texas Gov. William P. Clements Jr., who died in 2011, recognizing his generous 2009 gift, which helped fund construction of the new hospital.
Bruce Beutler, M.D., director of the Center for the Genetics of Host Defense at UT Southwestern, shared the 2011 Nobel Prize in Physiology or Medicine with two other scientists for their immune system investigations. Dr. Beutler was honored for the discovery of receptor proteins that recognize disease-causing agents and activate innate immunity – the first step in the body's immune response.
2012
Dr. John Warner, who was instrumental in the design and planning of the William P. Clements Jr. University Hospital, was named Vice President and Chief Executive Officer for UT Southwestern University Hospitals.
Children's Medical Center partnered with UT Southwestern to establish the $150 million Children's Medical Center Research Institute at UT Southwestern (CRI), focused on the discovery of transformative advances related to the understanding and treatment of cancer, birth defects, and metabolic diseases. A $10 million gift from the Hamon Charitable Foundation established an endowment to support CRI and establish the Hamon Laboratory for Stem Cell and Cancer Biology, overseen by Dr. Sean Morrison, founding director of the Center.
UT Southwestern, seeking to broaden an already robust array of radiation oncology treatments it offers to patients, announced plans to play a key role in operating a state-of-the-art proton therapy center for North Texas, being planned and funded by San Diego-based Advanced Particle Therapy (APT).
UT Southwestern announced an agreement for its physicians to oversee the health needs of the Dallas Stars as the team's official medical care provider. This marked the first time a single organization managed the entire spectrum of medical care for a National Hockey League club. The collaboration expanded a longstanding relationship between the Stars and UT Southwestern, and gave greater prominence to UT Southwestern's Sports Medicine program.
UT Southwestern became one of 25 sites selected for the National Institute of Neurological Disorders and Stroke's new Network for Excellence in Neuroscience Clinical Trials.
UT Southwestern became one of only two academic medical centers in the country to receive two major patient satisfaction awards from Press Ganey, a national consulting firm specializing in health care performance. UT Southwestern earned a Patient Voice Award, which honors academic medical centers that achieve outstanding patient satisfaction scores, and a Summit Award, for hospitals that sustained consistently high levels of excellence in patient satisfaction over a three-year period. Both awards recognized outstanding care provided to patients at Zale Lipshy University Hospital.
2013
Thomas Südhof, M.D., Adjunct Professor of Neuroscience and former Chairman of the Department at UT Southwestern, was one of three scientists awarded the 2013 Nobel Prize in Physiology or Medicine for their discoveries of key information about how cellular transport systems work.
UT Southwestern and Fort Worth's Moncrief Cancer Foundation jointly contributed more than $13 million to bring comprehensive cancer services to Fort Worth and surrounding communities through the Harold C. Simmons Cancer Center's Moncrief Cancer Institute. The Institute is a nonprofit, community-based cancer prevention and support center that serves the social, emotional, and physical needs of individuals with cancer and their support network.
Geneticist and UT Southwestern alumnus Dr. Andrew R. Zinn, professor in the Department of Internal Medicine and the Eugene McDermott Center for Human Growth and Development, was named the eighth Dean of the UT Southwestern Graduate School of Biomedical Sciences. The graduate school, ranked in the top 20 programs in the nation for biological research, has more than 600 students and offers more than a dozen programs leading to doctor of philosophy, master of science, or combined doctor of medicine-doctor of philosophy degrees for biomedical scientists, counselors, engineers, and communicators.
UT Southwestern received a $28.6 million grant from the National Institutes of Health to promote rapid translation of basic laboratory findings into patient care through the Center for Translational Medicine at UT Southwestern. With the award, UT Southwestern joined a national Clinical and Translational Science Award consortium that includes more than 60 medical research institutions working collaboratively to improve bench-to-bedside translation across the country. Dr. Robert Toto, Associate Dean for Clinical and Translational Research and Director of the Center for Translational Medicine, led the initiative.
2014
UT Southwestern launched the new Texas Institute for Brain Injury and Repair, a state-funded initiative to promote innovative research and education, with the goal of, ultimately, revolutionizing diagnosis and care for millions of people who suffer brain injuries each year.
UT Southwestern established the Center for Patient-Centered Outcomes Research to support and conduct high-quality research comparing the outcomes and effectiveness of different strategies to prevent, diagnose, treat, and monitor health conditions to improve patient care. The center, part of a national network involving seven institutions engaged with these activities, was funded through a $5 million, five-year grant from the federal Agency for Healthcare Research and Quality. The center is led by Dr. Ethan A. Halm, Chief of the William and Gay Solomon Division of General Internal Medicine, and Chief of the Division of Outcomes and Health Services Research in the Department of Clinical Sciences.
UT Southwestern's Robert D. Rogers Advanced Comprehensive Stroke Center became the first and only Joint Commission-certified Advanced Comprehensive Stroke Center in North Texas and only the second in Texas. Recognizing UT Southwestern's high-level capabilities in treating the most complex stroke cases on a round-the-clock basis, the designation is the highest level certification for stroke care, with only 67 centers across the nation receiving this distinction.
UT Southwestern's Harold C. Simmons Comprehensive Cancer Center was among 30 U.S. cancer research centers to be named a National Clinical Trials Network Lead Academic Site, a prestigious designation by the National Cancer Institute. It is the only Cancer Center in North Texas to be so designated.
UT Southwestern launched the Hamon Center for Regenerative Science and Medicine, led by Dr. Eric Olson, Chairman of the Department of Molecular Biology, supported by a $10 million endowment from the Hamon Charitable Foundation. The Center was established to promote discoveries that will provide new approaches to healing and regeneration, including advances in stem cell biology, tissue engineering, and organ fabrication.
UT Southwestern opened its 12-floor, 1.3 million-square-foot William P. Clements Jr. University Hospital on Dec. 6, 2014 – a milestone for the Medical Center as it decommissioned the 50-year-old St. Paul University Hospital.
Among the hospital's innovations were individual rooms for every patient, bedside control of the room's temperature lighting and blinds, special videoconferencing capabilities to talk to hometown physicians and family members, nursing stations directly outside the rooms with the ability to monitor patients without disturbing them, and dedicated space to promote the learning and research missions.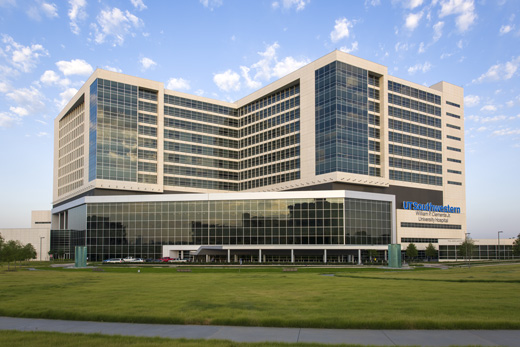 2015
The UT System Board of Regents approved creation of an integrated regional health network aligning UT Southwestern and Texas Health Resources. The integrated network, called Southwestern Health Resources, leverages the strengths of the two local health care systems to provide increased access to primary care and specialized care for citizens of North Texas.
The Peter O'Donnell Jr. Brain Institute at UT Southwestern was established, initiated by a $36 million gift from the O'Donnell Foundation. The Institute would be a comprehensive center dedicated to better understanding the basic molecular workings of the brain and applying these discoveries to the prevention and treatment of brain diseases and injuries.
UT Southwestern's Harold C. Simmons Comprehensive Cancer Center was designated a Comprehensive Cancer Center by the National Cancer Institute, the highest distinction possible, making it only one of 47 comprehensive cancer centers nationally and one of only three in Texas.
UT Southwestern established the Lyda Hill Department of Bioinformatics, dedicated to developing UT Southwestern's capability in bioinformatics, a discipline that provides tools for managing and analyzing the extremely large data sets that are often key to important scientific and medical discoveries. Established with a $25 million gift from Lyda Hill, the Center is led by Dr. Gaudenz Danuser.
Approval for the Medical Center's first named campus outside of Dallas, the UT Southwestern Monty and Tex Moncrief Medical Center at Fort Worth, was received from the University of Texas Board of Regents. The new Center was made possible by a $25 million commitment from W.A. "Tex" Moncrief Jr.
A $5 million gift from the Hersh Foundation helped establish the Center for Depression and Clinical Care at UT Southwestern Medical Center. The Center, led by Dr. Madhukar Trivedi, aims to accelerate new discoveries into the causes and treatment of depression, bipolar, and related conditions.
Cancer care services expanded to Fort Worth with the launch of UT Southwestern's Harold C. Simmons Comprehensive Cancer Center Fort Worth. The initiative encompassed 22,500 square feet in the Moncrief Cancer Institute, designed to enhance the patient's experience with exam space, state-of-the-art imaging capabilities, onsite lab and pharmacy services, and 14 all-private infusion rooms for chemotherapy – a first for Fort Worth.
A $7.8 million grant from the National Institutes of Health helped establish a Senator Paul D. Wellstone Muscular Dystrophy Cooperative Research Center, one of six nationally, at UT Southwestern. The Center is led by Dr. Eric Olson and Dr. Pradeep Mammen.
The UT Southwestern Medical School launched a new curriculum in the fall of 2015 for incoming medical students. The curriculum emphasized more team-based learning and clerkships that can begin earlier than in the past, giving students the opportunity to explore other activities such as laboratory or clinical research and internships.
Sadly, the year concluded with the death of Nobel Laureate Dr. Alfred G. Gilman. As a former Dean of UT Southwestern Medical School, Executive Vice President for Academic Affairs and Provost, Chairman of the Department of Pharmacology, leading scientist, and mentor to hundreds throughout his 28-year career at UT Southwestern, Dr. Gilman's contributions to science were extraordinary. He shared the 1994 Nobel Prize in Physiology or Medicine for the discovery of G proteins and the role they play in the complex processes by which cells communicate with each other.
2016
A $17 million cryo-electron microscope facility launched, featuring a unique collection of instruments that researchers can use to view 3-D images of objects as tiny as an atom all the way up to intact cells. The advanced instruments will help accelerate UT Southwestern biomedical investigations on everything from cancer biology to drug discover and operate 24 hours a day, seven days a week.
Southwestern Health Resources officially launched in April, with the network to be led by jointly by new Board of Directors Co-chairs Dr. Daniel K. Podolsky, President of UT Southwestern, and Barclay Berdan, Chief Executive Officer of Texas Health Resources. Other key executives were named, including Dr. John Warner, Senior Executive Office of the joint operating company overseeing three major hospitals; Dr. Bruce Meyer, Senior Executive Officer, Population Health Services Company; Dr. Dan Varga, Senior Executive Officer of the physician network; Dr. Mack Mitchell, Chief Medical Officer of the physician network; and Marinan R. Williams, Senior Executive Officer, Market Relations.
The Kidney Cancer Program at UT Southwestern's Harold C. Simmons Comprehensive Cancer Center received $11 million in funding from the National Cancer Institute. The highly competitive Specialized Program of Research Excellence (SPORE) award from the NCI is the first for kidney cancer research earned by a single institution, and only the second in the nation for the disease. It was UT Southwestern's second SPORE grant, the first being for lung cancer. The Special Program of Research Excellence (SPORE) in Lung Cancer program, now in its 18th year, is the largest thoracic oncology effort in the U.S.
Construction got underway on UT Southwestern's new $66 million Radiation Oncology treatment facility next to the BioCenter. The new three-story center will consolidate radiation oncology patient care into a single, 63,000-square-foot building with features including seven treatment vaults and a dedicated area for each major disease site – such as brain, breast, or gastrointestinal cancer. The center will be the largest individual facility for radiation treatment in North Texas and it will be home to some of the world's leading therapeutic technology, enhancing disease-site specialization for cancer patients.
UT Southwestern Medical Center geneticists Dr. Jonathan Cohen and Dr. Helen Hobbs were awarded one of the nation's highest honors in biomedical science – the 2016 Passano Award – for developing and applying transformative genetics techniques to the understanding of lipid metabolism related to heart disease. The award, in recognition of exemplary U.S.-based research that leads to real-world applications in clinical medicine, honored work that resulted in a new class of PCSK9 drugs to treat high cholesterol approved by the Food and Drug Administration.
Transplant surgeons at UT Southwestern Medical Center performed the first lung transplant in Texas using donated lungs treated with new technology known as ex-vivo lung perfusion that allows physicians to evaluate and recondition lungs, making lungs that would have been unsuitable for transplantation potentially viable. UT Southwestern was one of 16 medical centers across the country – and the only one in Texas – participating in a national clinical trial of the technology.
Texan Chuck Dandridge became the first adult in the U.S. to receive a newly modified stem cell transplant that uses genetically engineered blood cells from a family member. The procedure was performed at the Harold C. Simmons Comprehensive Cancer Center.
UT Southwestern Accountable Care Network generated savings of nearly $30 million and earned shared savings of more than $14 million, making its financial performance first among ACOs that launched in 2014, eighth in the country overall, and second in the state, while demonstrating material improvements in quality measures.
Researchers confirmed that a new class of drugs called HIF-2 inhibitors are more effective and better tolerated than the standard of care drug in treating kidney cancer. The HIF-2 inhibitors grew out of research begun more than 20 years ago at UT Southwestern Medical Center by Dr. Steven McKnight, Chairman of Biochemistry, and molecular geneticist Dr. David Russell, Vice Provost and Dean of Basic Research, and advanced over the course of a decade by Dr. Richard Bruick, Professor of Biochemistry, and Dr. Kevin Gardner, Adjunct Professor of Biochemistry, who solved the structure of HIF-2α.
The William P. Clements Jr. University Hospital expansion project involves construction of a 12-story third tower, along with additional parking facilities for staff and visitors. Among its features, the new tower will add operating rooms and expand the Emergency Department. Construction will parallel the hospital's current innovative design, allowing for state-of-the-art technology, leading-edge research, and exemplary patient care.
UT Southwestern unveiled the $875 million West Campus Facilities Replacement Plan, to unfold in five phases over 20 years. Ultimately, the plan will add 1.1 million square feet of facility space. The first phase involves construction of a nine-story, 305,000-square-foot academic and clinical building that will house faculty offices, outpatient clinics, and a state-of-the-art simulation center, all estimated to be completed in early 2018. The high-tech simulation center in the nine-story building will include four mock operation rooms, ICU, emergency, and obstetrical rooms; 20 mock patient exam rooms; and six advanced technology team training rooms. Clinical areas of the nine-story building will include 220 exam rooms and procedure rooms for multiple specialties. An 805-space parking garage also will be added as part of phase 1.