Intramurals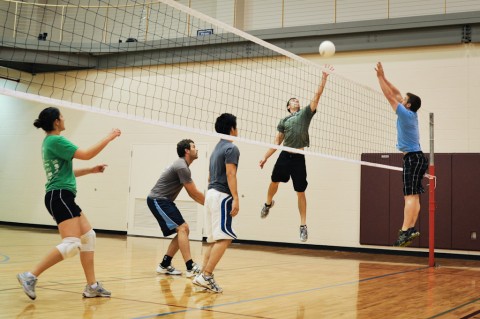 Intramural sports give students the opportunity to engage in exercise and develop lifetime interests in leisure activities and an appreciation of cultural diversity through recreation and competitive play.
General information
Information and entry forms are available in the Student Center Office in the Bryan Williams, M.D. Student Center or online. Registration dates are included on the calendar.
Eligibility
Currently enrolled students and members of the Bryan Williams, M.D. Student Center are eligible to participate in intramurals sports.
Entries
Participants and/or team captains must submit an entry form with signed waivers from each participant. Participation fees must be paid at the time of entry.
Divisions of Play
For most sports, participants may choose to enter one of several divisions. Categories available include an A or B league option for team sports and beginner, intermediate, and advanced for individual or dual sports. Most sports include men's, women's, and mixed divisions.
Health Risk and Responsibility
Participation in intramural activities is voluntary. Neither UT Southwestern nor the Student Center will accept responsibility for injuries sustained while participating in the Intramural Program. It is strongly recommended that participants carry medical insurance coverage.