The Student Center has a longstanding tradition of supporting students in their pursuit of active, vibrant experiences.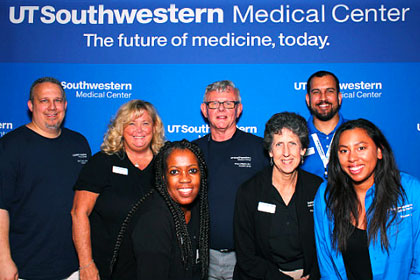 Our staff members have a rich tradition of participating in National Intramural – Recreational Sports Association (NIRSA), the national association for recreational sports professions. NIRSA is a leading resource for professional and student development, education, and research in collegiate recreational sports. Our staff serves on various committees on student development and leadership and also serves as a member of the NIRSA Foundation.
Suzette Smith
Director
suzette.smith@utsouthwestern.edu
Mike Chadee
Recreation Facilities and Programs Manager
mike.chadee@utsouthwestern.edu
Chris Ward
Member Services/Accountant
chris.ward@utsouthwestern.edu
Tim Williamson
Senior Events Coordinator
timothy.williamson@utsouthwestern.edu
Leigh McAtee
Events Coordinator
leigh.mcatee@utsouthwestern.edu
Cynthia Brooks
Events Coordinator
cynthia.brooks@utsouthwestern.edu
Student Staff Opportunities
Join the team! Our flexible positions are designed for you and your schedule with the hours you select.
The Student Center employs more than 150 students to assist with daily operations and the management of the center. Employees can gain experience relative to decision making, leadership, problem-solving, and supervisory skills, while making new friends.
Positions are available for building supervisors, website assistants, and group fitness instructors. The Student Center accepts job applications in August and April. Pick up an application at the Student Center.
Please suzette.smith@utsouthwestern.edu for more information.