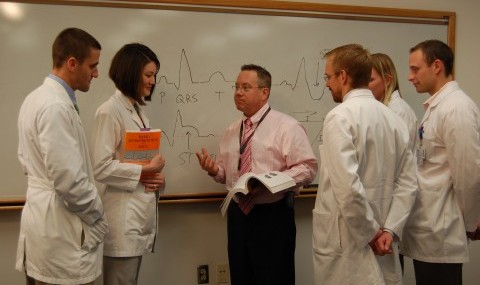 The Department of Physician Assistant Studies is led by an expert faculty recognized for excellence in academics, research, and clinical care. Faculty members have received prestigious teaching awards and hold important leadership positions in the physician assistant profession.
In addition, our faculty members have published research in nearly a dozen leading journals, including the Journal of Physician Assistant Education, Journal of the American Medical Association, Annals of Emergency Medicine, Academic Medicine, Journal of Environmental and Public Health, Journal of Surgical Education, Academic Emergency Medicine, Journal of American Academy of Physician Assistants, and the Journal of Vascular Surgery.
Their knowledge, expertise, and dynamic teaching create a rich environment for learning and professional growth.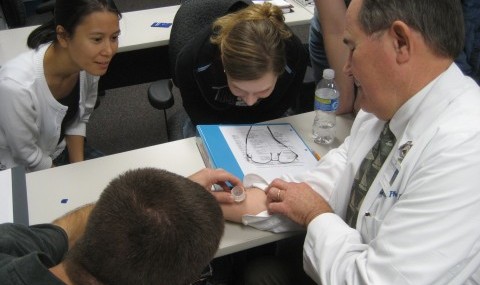 Temple Howell-Stampley, M.D., MBA, FACP
Professor and Chair, Master of Physician Assistant Studies
Graduate School: M.D., East Carolina University School of Medicine, 1993
Interests: General Internal Medicine; Primary Care; Physician Assistant Education; Clinical Integration of Advanced Practice Providers; Patient Centered Medical Home; Quality Improvement and Patient Safety; EPIC Workflow Optimization
Carolyn Bradley-Guidry, Dr.P.H., PA-C, B.S.N.
Associate Professor and Director of Diversity and Inclusion
Education: M.P.A.S., University of Nebraska Medical Center, 2006; B.S., UT Southwestern Medical Center, 1998
Interests: Health Equity, Health Professions Workforce Diversity, Hypertension Management
Veronica L. Coleman, M.P.A.S., PA-C
Assistant Professor and Director of Admissions
Education: M.P.A.S., Louisiana State University Health Sciences Center, 2012; B.S. Physician Assistant, Louisiana State University Health Sciences Center, 2010, B.S Clinical Laboratory Science, Louisiana Tech University, 2002
Interests: Plastic & Reconstructive Surgery, Surgical Oncology, PA Surgical skill development, Professionalism & Leadership.
Laurette K. Dekat, M.D., M.P.H.
Assistant Professor and Medical Director
Education: M.D., University of Texas Health Science Center at Houston, 1983, M.P.H., Johns Hopkins School of Public Health, 1987, B.A. Biology, University of Dallas, 1979
Residency: Department of Pediatrics, University of Oklahoma Children's Hospital, 1986
Interests: Physician Assistant Education, Adolescent Medicine, School-Based Health, Public Health, Quality Improvement
Bethany Grubb, M.P.H., M.P.A.S., PA-C
Assistant Professor
Education: M.P.H., UT Health Science Center, 2014; M.P.A.S., University of Nebraska, 2003; B.S. in Physician Assistant Studies, UT Southwestern, 2002
Interests: Public Health, Health Disparities and Inequities, Adolescent Sexual Health, Global Health, Health Policy and Leadership, Health Services Research, Dermatology
David J. Klocko, M.P.A.S., PA-C
Associate Professor and Academic Coordinator
Education: B.S.P.A., King's College, 1986; M.P.A.S., University of Nebraska, 1998
Interests: Innovative teaching methods, technology in the classroom, educational outcomes assessment, improving access to care.
Venetia L. Orcutt, Ph.D., MBA, PA-C
Associate Professor and Associate Director
Education: Ph.D., University of North Texas, Toulouse Graduate School, 2007
M.B.A., University of Dallas, Graduate School of Management, 1994; B.S., UT Southwestern Medical Center
Interests: Health Workforce, Faculty Development, Educational Assessment
Michel Statler, M.L.A., PA-C
Associate Professor
Education: Master of Liberal Arts, Southern Methodist University, 2000; Bachelor of Science (Allied Health), University of Alabama in Birmingham, 1980
Interests: Neurology, Psychiatry, Curriculum Development, Assessment, Faculty Development, Professional Practice Issues
Bau P. Tran, M.S., Pharm.D., PA-C
Assistant Professor
Education: Doctorate of Pharmacy, University of Oklahoma College of Pharmacy, 2000; M.S., St. Francis University, 2008
Interests: General Internal Medicine, Interprofessional development, Educational advancement using technology, Underserved populations