Master of Physician Assistant Studies
About the Program
UT Southwestern's Master of Physician Assistant Studies Program is a full-time, post-baccalaureate program that begins once a year in May and is completed 30 months later in November with graduation held in December.
The curriculum is a powerful blend of academic learning and hands-on clinical training. Students begin with four semesters of lecture and bedside demonstration in medical and behavioral sciences. This foundational coursework is followed by four semesters of clinical rotations in a wide range of disciplines and settings.
Madison Bahe
Master of Physician Assistant Studies
Elexis Stephens
Master of Physician Assistant Studies
UT Southwestern Advantage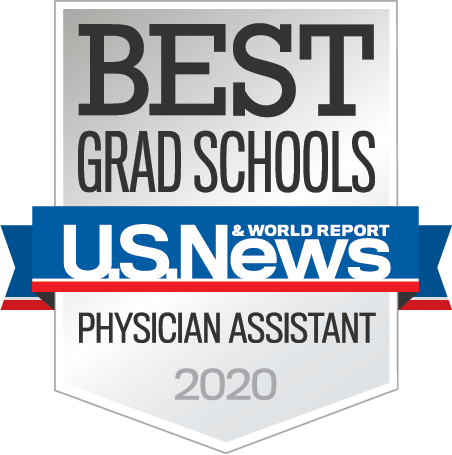 Ranked seventh in the nation by U.S. News & World Report in "America's Best Graduate Schools 2020," our physician assistant (PA) program's unique advantages include:
A noted faculty recognized for student interaction and teaching excellence
A 30-month curriculum that blends comprehensive academic training with 15 months of clinical rotations
The unmatched resources of UT Southwestern, including Parkland Memorial Hospital, ranked one of the nation's best for more than a decade
Tuition and fee rates that are among the most reasonable in the country
A premier location near the heart of Dallas, a thriving center for health care, business, education, and the arts
A 100 percent first-time pass rate on the Physician Assistant National Certifying Examination over the last 10 years
Selecting UT Southwestern for your physician assistant education can be the first step toward a career rich in personal and professional rewards.
Clinical Facilities

For students, residents, and fellows, the new William P. Clements Jr. University Hospital is a dynamic learning environment that includes areas for collaborative, team-based education. The facility has more than 35,000 square feet of space dedicated to research and learning.
Parkland Memorial Hospital is a high-energy, 862-bed county facility that admits nearly 41,000 patients a year. Parkland has earned a place on U.S. News and World Report's list of America's Best Hospitals for more than a decade.
In addition to Clements University Hospital and Parkland, your clinical training will take you to other teaching hospitals with formal affiliations with UT Southwestern Medical Center.
Mission
The mission of the Physician Assistant Studies Program is to:
Excel in the art and science of physician assistant education.
Promote interprofessional primary health care delivery to a diverse and dynamic population.
Encourage leadership, service, and excellence among our faculty, staff, students, and graduates.
Foster a commitment to diversity and inclusion, evidence-based medicine, quality improvement, and patient safety.
Postgraduate Opportunities

After graduation, physician assistants have a host of areas to consider for additional study and specialization, including cardiothoracic surgery, dermatology, emergency medicine, hospitalist care, neonatology, neurology, neurosurgery, obstetrics/gynecology, oncology, orthopedic surgery, pediatrics, psychiatry, rheumatology, surgery, and urology.
UT Southwestern offers an opportunity in Urology, for example. The Physician Assistant Postgraduate Urology Residency Program at UT Southwestern Medical Center prepares PAs interested in urology for a productive career. Our program emphasizes all clinical, research, and teaching aspects of urology so that the trainee completing our program has the ability to independently function as a urology physician assistant.
Additional postgraduate training opportunities are described by the Association of Postgraduate Physician Assistant Programs (APPAP).
Certification
Graduates of our program are eligible to take the national certification examination given by the National Commission on Certification of Physician Assistants.
Accreditation
UT Southwestern's Master of Physician Assistant Studies Program is in compliance with and accredited by:
Accreditation Review Commission on Education for the Physician Assistant
12000 Findley Road, Suite 150
Johns Creek, Georgia 30097
Phone: 770-476-1224
Meet the Program Director