Application Deadline: September 1
Cost to apply is $179.
CASPA charges $179 for the first program you apply to and $56 for each additional program.
Important Dates
September 1: Completed application deadline including GRE scores
September – January: Interviews
January – February: Admissions Committee makes final acceptance decisions
May: Classes begin
GRE Code
UT Southwestern Medical Center's institutional and departmental GRE Code is 6686.
Equal Opportunity
We welcome applications regardless of race, color, national origin, religion, sex, age, veteran status, or disability. Our commitment to equal opportunity includes nondiscrimination on the basis of sexual orientation.
Requirements
To be considered for UT Southwestern's Master of Physician Assistant Studies Program, applicants must:
Complete a baccalaureate degree from a regionally accredited U.S. or Canadian institution by the end of May of the year you matriculate. (Graduate studies course work will not be accepted or applied toward required prerequisites.)
Earn a required minimum GPA of 3.0 on a 4.0 scale in science and overall in undergraduate course work
Complete and submit a CASPA online application
Submit your TOEFL scores to be received by September 1 if you're an international student
Complete all prerequisite courses by the date the application is submitted
Submit your scores from the Graduate Record Examination (GRE) to be received by September 1 of the year you apply.
The GRE is not required of applicants who have a U.S.-accredited Bachelor's and Master's degree or higher.
Holistic Applicant Evaluation
Each year, we receive a large number of completed applications for a limited number of class positions.
The Admissions Committee takes a broad range of factors into consideration as we select candidates, including:
Quality and quantity of academic preparation; the typical candidate has earned a bachelor's degree with more than 50 hours of science courses, with a science and overall required grade-point average of at least 3.0 on a 4-point scale
Hands-on patient care experience
Evidence of service and leadership, including awards and honors
Superior interpersonal skills
Enthusiastic letters of reference
A mature, insightful essay
Because we value diversity in each class, be sure to tell us if you:
Speak more than one language
Come from a rural or medically underserved area
Are the first person in your family to attend college
Come from a disadvantaged background
Have rare talents or accomplishments
Competitive Candidates
A required minimum cumulative and science GPA is 3.0 on a 4.0 scale. All required courses must be passed with a grade of "C" or better. As with other universities or colleges, higher GPAs make a more competitive candidate. Science grades above a "C" are more competitive. The goal is to be competitive and academically prepared to successfully handle the demands of the program's curriculum.
However, the admissions committee does not base its decision solely on grade point averages. It evaluates the application packet as a whole. Therefore, the quality and quantity of academic preparation, strong letters of recommendation, prior "hands-on" health care experience, community service activities, leadership evidence, and awards are all part of the evaluation process.
An ideal candidate has a strong work ethic and embodies the program's vision and mission with a commitment to primary care practice and diversity in the workplace. They will have a combination of life, work, and academic experience that demonstrates their ability to perform under the demands of a challenging academic and professional program.
Timing Your Application
When to Submit Application?

The application deadline is midnight EST on September 1, but we encourage you to apply early if all of your materials are ready. We're not able to review applications that arrive late or are incomplete, so be sure to apply on time.

How Many Received and Accepted?

Total numbers of applications for the past three years have exceeded 2,000. The Master of Physician Assistant Studies Program will admit 60 students each year to begin classes in May.

Can I Attend Part-Time?

Due to the fixed sequence of the didactic curriculum, all students must enroll on a full-time basis and we recommend that students do not work while enrolled.
In-Person Interviews
After reviewing applications, the Admissions Committee invites approximately 180 prospective students to visit campus between August and November for in-person interviews.
The evening before features a "meet and greet" event with faculty, staff, students, and alumni. The next day, you will participate in 10 seven-minute mini-interviews on a range of topics. You'll also meet with current students, take a campus tour, have lunch, and attend a financial aid presentation.
UT Southwestern Physician Assistant program has a two interview maximum for applicants. Prospective applicants who have interviewed for our program for two cycles and have not been offered acceptance, will not be reviewed for a third application cycle.
Acceptance Decisions
After the interviews, our Admissions Committee conducts a final review and will notify candidates of their decision.
Information Sessions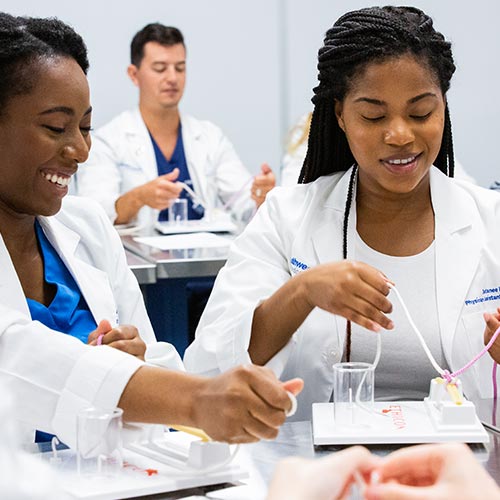 If you would like to take a closer look at the UT Southwestern Master of Physician Assistant Studies Program, plan to attend one of our information sessions.
You will learn about the physician assistant profession, meet faculty and staff members, get answers to your questions, and find out how to apply. Please call the program office at 214-648-1701 to reserve your seat. All information sessions are held in the School of Health Professions Building on the corner of Record Crossing and Harry Hines Boulevard.
Please download our current Information Session Powerpoint for more information on our program.
2023 Information Session Dates and Times
Wednesday, May 3, 2023, 1:00 p.m.
Thursday, May 11, 2023, 1:30 p.m.
Tuesday, June 6, 2023, 12:30 p.m.
Thursday, July 6, 2023, 3:00 p.m.
Tuesday, July 18, 2023, 2:00 p.m.
Thursday, August 3, 2023, 3:00 p.m.
Wednesday, August 30, 2023, 3:00 p.m.