Meet the Chief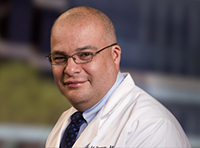 Carlos H. Timaran, M.D., Professor, is Interim Chief of the Division of Vascular and Endovascular Surgery at UT Southwestern Medical Center.
"In surgery, bleeding is the enemy, so surgeons are always trying to avoid blood vessels," says Timaran. "But vascular surgeons work with the blood vessels, so we can't be afraid of them.
"We must be fearless, but we also must be very careful, gentle, and precise in our technique – we really use art as much as science to provide our patients the treatments they need."
Dr. Timaran performs primarily minimally invasive techniques, treating vascular problems from inside the vessels, although he also has extensive experience in traditional open surgeries for aneurysms, carotid artery disease, and peripheral vascular disease.
Dr. Timaran is an expert in repairing complex abdominal aneurysms; he is one of only a few surgeons in the United States who performs aneurysm repair using fenestrated endovascular grafts, which are custom-made to each patient's unique anatomy. This technique has enabled Dr. Timaran to treat people who are unfit for traditional open surgery and who previously would not have been considered candidates for minimally invasive techniques.
He also specializes in the endovascular repair of complex aortic and peripheral arterial problems, and he is UT Southwestern's principal investigator for the National Institutes of Health-funded Carotid Revascularization Endarterectomy vs. Stenting Trial (CREST2), a multicenter study of the outcomes between traditional surgery and interventional techniques in the treatment of carotid disease, one of the main causes of stroke.
Because his training and expertise allows him to choose from and perform both open and endovascular procedures, no matter what issue he sees a patient for, his goal is to find the right approach for each person.
"We do what's right for the patient," he says.