Simulation Courses
Jump to …
Open I: Basic Knot-Tying and Suturing Skills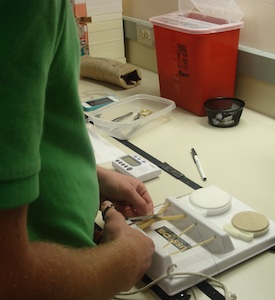 The Open I course is a three-part proficiency-based curriculum designed to teach fundamental skills for open surgery.
Part 1 is an orientation and pre-test on 12 commonly used open surgery knot-tying and suturing techniques; Part 2 involves independent practice; and Part 3 is a post-test to verify that residents are indeed proficient in basic knot-tying and suturing skills.
Open II: Intermediate Knot-Tying and Suturing Skills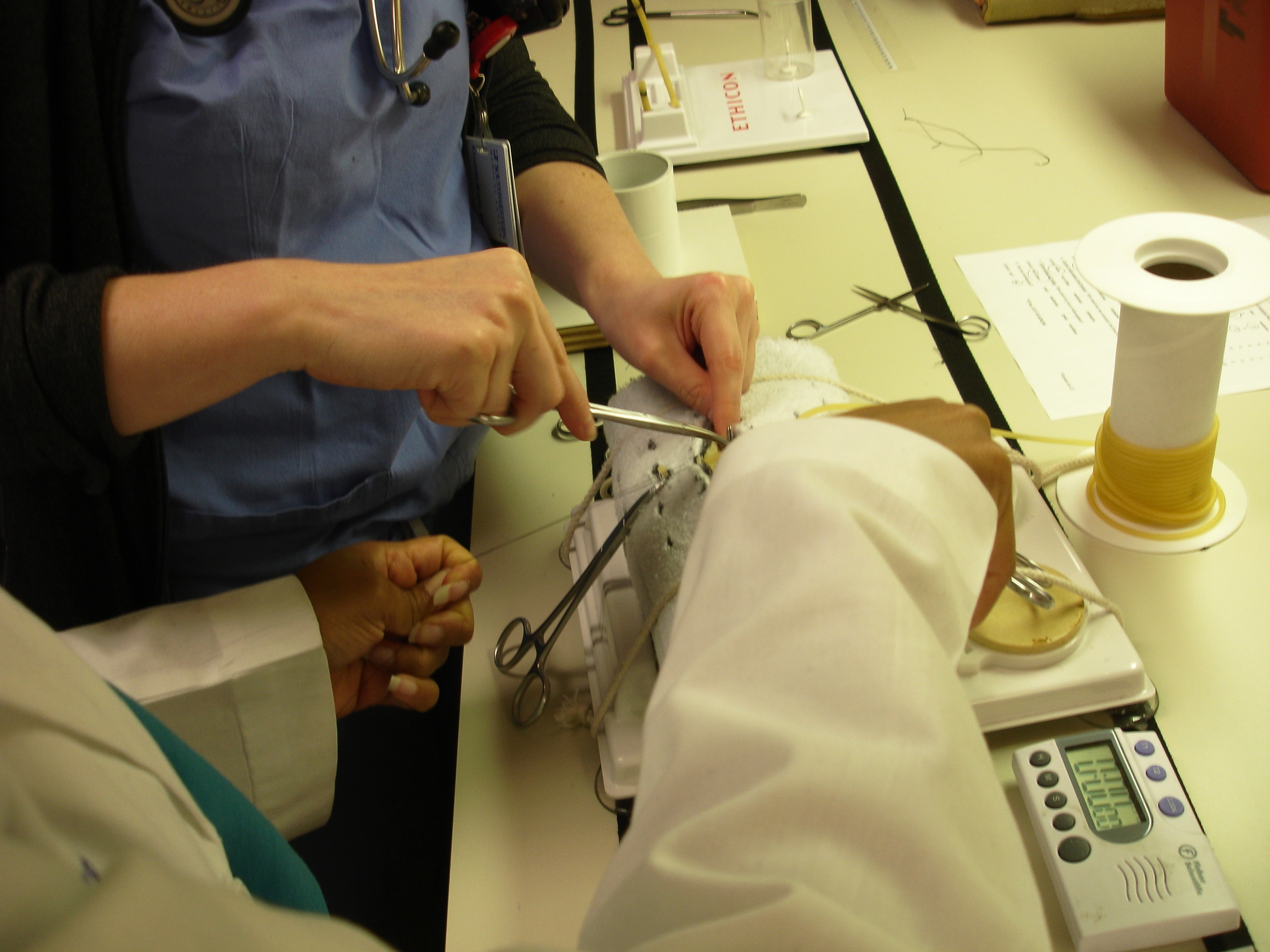 Open II encompasses six more advanced knot-tying and suturing techniques aimed at increasing a resident's ability to control suture tension, minimize instrument movement, and tie square knots. Ob/Gyn residents take this course toward the end of their intern year.
Lap I: Basic Laparoscopic Skills (Southwest Stations)
The course is composed of five proficiency based tasks designed to teach technical skills required in basic laparoscopic surgery.
Lap II/ Fundamentals of Laparoscopic Surgery (FLS): Advanced Laparoscopic Skills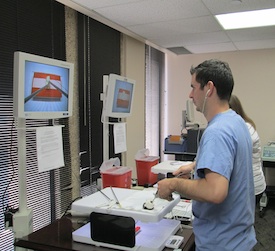 The Lap II course focuses on five tasks involving managing differences in tactile feedback, manual dexterity, psychomotor skills, knot-tying, and precision cutting. Mastery of this three-part, proficiency-based course enables residents to optimize their experience in the operating room.
Cesarean Delivery Training Curriculum
Cesarean deliveries are taught in a three-part training curriculum that includes formal didactic sessions.
Forceps Course
We feel very strongly that in competent hands, forceps are extremely useful and safe tools. During this course, which is directed toward second-year residents, trainees participate in simulated forceps deliveries using a pelvic model. Trainees also attend a 3-hour didactic session covering topics such as instrument selection and anatomy, procedural techniques, and evaluation of the maternal pelvis.
Vacuum-Assisted Vaginal Delivery Course
This course is given in the late spring as the fourth-year residents are planning to enter their own practices. It consists of a formal didactic session followed by simulated vacuum-assisted vaginal deliveries on a pelvic model.
Hysteroscopy Course
Trainees learn instrument assembly, troubleshooting, distention fluid management, and proper usage of equipment. Trainees also practice operative procedures, including resectoscopy and hysteroscopic sterilization techniques, in the simulation lab.
Laparoscopic Hysterectomy and Dissection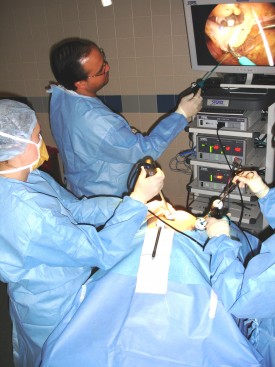 The Pelvic Anatomy and Laparoscopy course is structured into four half-day sessions consisting of lectures, hands-on surgical procedures, laparoscopic training, and dissection of unembalmed cadavers.
Trainees who complete the course acquire knowledge of pelvic anatomy, proper laparoscopic and robotic surgical technique, and good operative judgment.
Basic Skills Course for Robotic Console Surgeon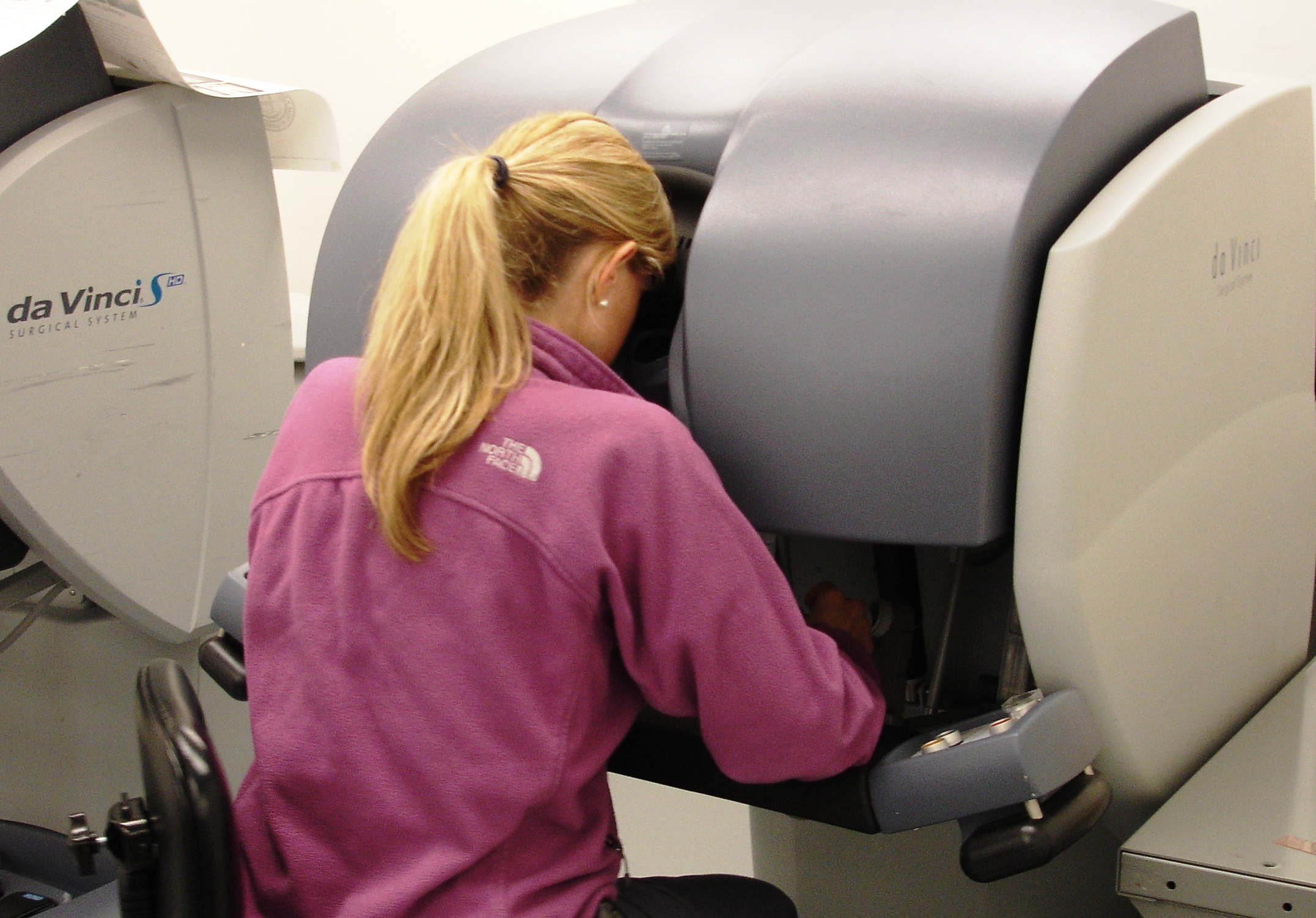 The Robotic Console curriculum was developed for surgical trainees to acquire basic robotic surgical skills on the da Vinci platform. The course is a comprehensive, proficiency-based curriculum consisting of online pre-course work, a hands-on interactive orientation, personal training sessions, and pre- and post-tests. Upon completion, Ob/Gyn residents receive certification for basic robotic console skills.